New England Revolution Surprisingly Heavy Favorites Over Philadelphia Union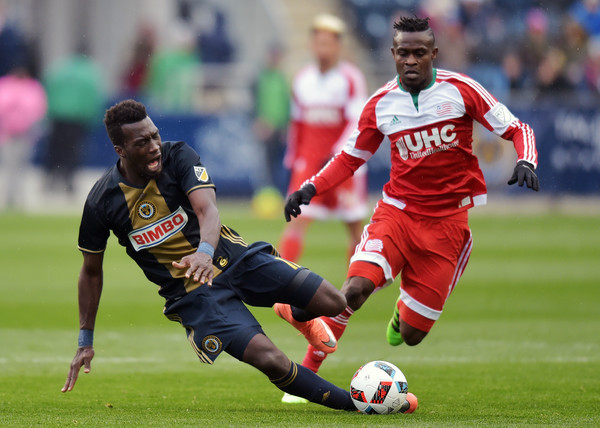 Who: Philadelphia Union v. New England Revolution
When: Saturday July 29th, 2017 7:30PM EST
Where: Gillette Stadium—Foxborough, Massachusetts
The Philadelphia Union and New England Revolution have a whole lot in common, which is something you could have probably derived from looking at MLS Eastern Conference standings. The teams, both of which are currently outside of the post-season, are separated by 2 places and 3 points. What's more, their recent forms are almost identical.
In their last 5 matches, the Revolution have lost 4 and won 1. One of those losses was a 3-0 thumping at the hands of their opponents this Saturday. When it comes to the Revs, it isn't a lack of scoring that has been their problem. Though they were shutout in 2 of the aforementioned 5 matches, the other 3 matches saw them score 3, 2, and 1 goals respectively. To make a long story short, the Revolution need to make significant strides with regard to their defending. Getting the ball in the back of the net is one thing, but if you cannot keep your opponents off the scoresheet it is going to grow increasingly difficult to earn 3 points. Having said all of this, New England are still very much alive with regard to making the post-season, and their match with Philadelphia will be viewed as a must-win.
For the Union, they will enter this Saturday's match coming off of a 3-0 thumping of Columbus this past Wednesday; the same Columbus team that defeated them 1-0 just 4 days earlier.
Philadelphia has not necessarily been poor at one area of the pitch, but rather inconsistent as a whole. One night they will come out and pass all over a worthy opponent and secure 3 points, while other nights it seems as though the starting 11 players have never played with each other before. Still, having defeated New England emphatically less than a month ago, you have to think the Union will be liking their chances as we head into this all-important conference showdown.
Match Overview and Analysis
The Union (+450) will enter this match as huge underdogs. I suppose the oddsmakers are not reading too much into their 3-0 victory over this same New England team only 27 days ago, but that is no matter. For the Union to win, they will need to do exactly what they did Wednesday night against the Crew.
Philadelphia need to establish themselves in the offensive third before anything else. By coming out on the front foot and forcing opponents to defend, Philly has found success. Unfortunately, if they cannot establish an upper-hand early on, they very well might lose, and lose big. I will be looking for big names like CJ Sapong and Fafa Picault to step up and be the players they are capable of being. For me, this match comes down to the opening 20 minutes. If dominance can be established by the Union, I would like to think that a draw would be the worst possible outcome. Having said all of this, the Union have been known for giving up goals on the road this season, so even if they do score a win is not even close to a guarantee.
The Revolution (-165) will be looking to build off of an impressive victory against the LA Galaxy last weekend, where they scored 4 goals. Of course, though the Revs managed to sneak in 4, they also allowed 3, so the match, as a whole, was not exactly the best performance of the season.
As was mentioned before, the Revolution first and foremost need to concern themselves with defending. As seen by their -1 goal differential, and Philly's +5 GD, it is clear to see which of the two teams has the better offense. I feel as though, if the Revolution can keep Philadelphia out of their net, the goals will come.
Betting Prediction
As far as wager to place in this one, I think your best bet is the draw (+329) as offered by MyBookie. Being that the Union are heavy underdogs but won the last meeting with the Revolution, I have a difficult time reconciling a Revolution moneyline (-165) wager. Plus, at -165, a winning wager on the Revs will not net you a large sum of money. All in all, I think this match will end as a 1-1 or 2-2 draw.
The over/under for this match is listed by MyBookie at 3 goals (-105/-115). This may be a riskier bet, but I think you should take the under (-115). As was just mentioned, I think a 1-1 draw is a highly likely outcome to this match, and would not be surprised if this match stays under 3 goals. Even if one of the two teams does win by a 2-1 scoreline, the bet will be a push.
I cannot agree with the oddsmakers listing the Revs as heavy favorites, and do not recommend betting on them. They are at home, but in a stadium as massive as Gillette Stadium, the home field advantage is nothing like it would be in a soccer-specific arena.