LeBron James 2018-2019 Team Proposition Betting Odds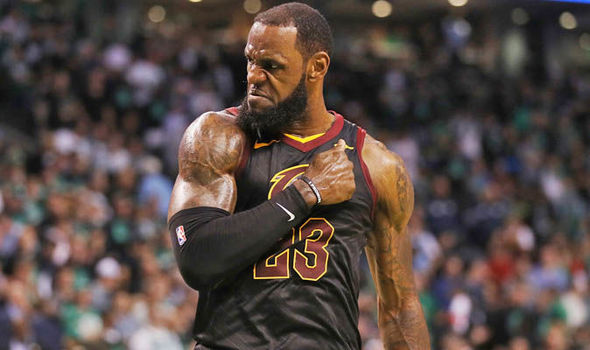 –LeBron James is expected to decline a $35.6 million contract option for next season with Cleveland.
–Assuming that he declines his contract option he'll become an unrestricted free agent.
–There a strong possibility that LeBron could end up as a member of the Los Angeles Lakers.
Yesterday, we talked about the Kawhi Leonard situation and where the current San Antonio Spurs' star could wind up before he becomes a free agent after next season. He was the 'opening act' but clearly the big fish in the 2018 free agent class is the 'face of the NBA', LeBron James. On Friday, LeBron is expected to decline a $35.6 million contract option for next season with the Cleveland Cavaliers and become an unrestricted free agent. Although he hasn't ruled out a return to Cleveland–he's a native of Northern Ohio and has spent 11 of his 15 NBA seasons with the Cavaliers–there's plenty of speculation that he'll take his act to the coast and become the latest in a long line of franchise superstars to wear the purple and gold of the Los Angeles Lakers.
Most of the speculation has focused on the Lakers although LeBron has several other options in addition to a return to Cleveland. A few years ago, the thought of LeBron going to Philadelphia would have been laughable though that is no longer the case. The Sixers have Ben Simmons and Joel Embiid as the focal point of an exciting and talented young team. The Sixers are in a position to be a contender in the Eastern Conference without LeBron but with him they're the presumptive favorite to reach the NBA Finals. Houston has also been talked about as a possible destination for LeBron but a pairing with current MVP James Harden has as much downside as upside. Several other teams are not out of the LeBron sweepstakes (San Antonio, Boston) but are considered longshots.
LeBron is reportedly taking a different approach to making his decision this time around. He's letting his agent, Rich Paul, and his other business representatives handle 'the numbers' and field pitches from various teams. LeBron is going on vacation with his family and there is no timetable for making up his mind about his immediate future. That reality notwithstanding, LeBron's destination for the 2018-2019 NBA season is going to share the spotlight with the World Cup as the biggest sports story of the Summer.
Here are the official SPORTS BETTING EXPERTS odds for LeBron James' team at the start of the 2018-2019 NBA Regular Season:
LEBRON JAMES' TEAM AT START OF 2018-2019 NBA SEASON
Los Angeles Lakers: -150
Philadelphia 76ers: +300
Cleveland Cavaliers: +500
Houston Rockets: +750
San Antonio Spurs: +2500
Boston Celtics: +2500
Los Angeles Clippers: +5000
Miami Heat: +5000
Any Other Team: +10000