Kawhi Leonard 2018-2019 Team Proposition Betting Odds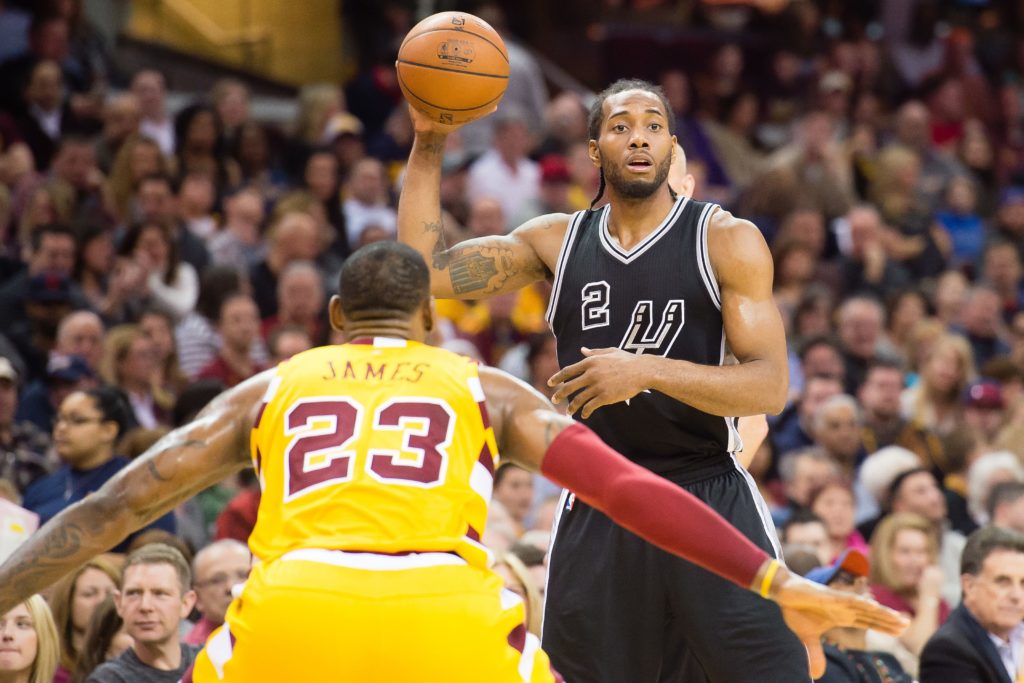 –Kawhi Leonard has been a very effective player throughout his career, winning a NBA Title with San Antonio in 2014.
–He spent much of the 2017-2018 season on the bench recovering from the slowest healing quadriceps injury in history.
–There's much speculation that the Spurs want to part company with a player that has become a major headache for the team.
First things first, I *really* wanted to title this article 'Don't Kawhi For Me San Antonio' but after the SPORTS BETTING EXPERTS hierarchy gave me a good talking to about SEO I relented. Last week, I spoke to a couple of media outlets about the odds of LeBron James ending up with one team or another for the 2018-2019 NBA season so I figured that I should give the San Antonio Spurs Kawhi Leonard the same treatment.
Kawhi Leonard is a very good basketball player and until this past season was a favorite of San Antonio Spurs' head coach Greg Popovich. After Leonard's rookie season, Popovich went as far to proclaim him 'the face of the Spurs' as he effused about his superstar potential:
"I think he's going to be a star. And as time goes on, he'll be the face of the Spurs, I think. At both ends of the court, he is really a special player. And what makes me be so confident about him is that he wants it so badly. He wants to be a good player, I mean a great player. He comes early, he stays late, and he's coachable. He's just like a sponge. When you consider he's only had [two years] of college and no training camp yet, you can see that he's going to be something else."
Popovich wasn't wrong–Leonard became a monster NBA talent and particularly on the defensive end of the floor. Leonard was named NBA Finals MVP in 2014 as the Spurs captured their fifth championship. He was named defensive player of the year in 2016 and 2017, along with NBA First Team All Star. He's a three time NBA All-Defensive Team member as well. He was the type of player that coaches love, particularly old school guys like Popovich. He was willing to do the dirty work in the trenches but had a nice scoring touch when it was needed.
IS KAWHI LEONARD ON HIS WAY OUT OF SAN ANTONIO?
This is where the story gets weird. Leonard has never been an 'iron man' type and even before his injury decimated 2017-2018 season he averaged right around 66.5 games played per year. For that reason, no one really thought much about it when Leonard missed the first 27 games of the year with a right quadriceps injury. No big deal–after all, Coach Popovich was notorious for 'resting' his aging superstars Tim Duncan and David Robinson during the late days of their NBA careers. The idea was to keep them fresh for the playoffs and that appeared to be the 'worst case scenario' here–Leonard having fewer miles on the odometer during the postseason. The concern over Leonard grew after his return to action–he almost immediately suffered a partial tear in his left shoulder.
The Spurs fanbase breathed a collective sigh of relief when that turned out to not be particularly serious. Leonard would miss only three games with the shoulder tear but after returning to action in mid-January he was very quickly back on the sidelines. This time, however, the report was not so good–Leonard was ruled out indefinitely to continue his rehab…for the early season quad injury. That would be the last time Leonard would play during the 2017-2018 NBA regular season or playoffs and his rehab became more bizarre by the moment. Just before the All-Star Break, Leonard was cleared to return to action by the Spurs' team medical staff but he had no interest in doing so. Instead, he sought a second opinion from his own doctors and then took of to New York to 'continue his rehabilitation'. The standard operating procedure for players with a long term injury is to stay with the team as they recover in the interest of team chemistry and so Leonard's decision to bolt for the 'Big Apple' was not warmly received.
Privately, the team was starting to lose patience with Leonard and that impatience became public in March when the Spurs roster held a 'players only' meeting. At that meeting, his teammates asked Leonard to play in a meeting that was described as 'tense and emotional'. It also did nothing to change the situation, and Leonard continued to ride the pine for the rest of the regular season and playoffs. Despite Leonard's absence, the Spurs did well in the postseason advancing all the way to the Western Conference Finals before being swept by the eventual champion Golden State Warriors. On June 15, Leonard requested a trade out of San Antonio.

SO WHAT HAPPENS NOW?
Strange is it may seem, NBA teams take a dim view of paying a player over $18 million for a season and only getting 9 games (and a ton of headaches) in return. Despite this obvious fact, the Spurs showed a lot of equanimity in dealing with the situation and have repeatedly stressed their desire to keep Leonard 'in the family'. At the same time, they're well aware of the realities surrounding the situation. Leonard can opt out of his contract next Summer and become a restricted free agent. That puts the Spurs in a situation where they have to think about the future and the potential 'worst case scenario' of Kawhi leaving town and the team having nothing to show for it. This leaves Spurs' general manager R.C. Buford in a tough situation–does he try to work out a sign and trade deal for Leonard (since no team has much interest in acquiring him without a long term guarantee) or does he cross his fingers and hope that Leonard's health/attitude/mental state improves and he can be convinced to stay in San Antonio.
For now, Buford is taking the 'tranquillo' approach with comments like this one:
"Kawhi and his family mean a lot to our organization and to our community. While none of us would wish we are where we are, we are going to do what we can do to build the best relationship we can with him. We will explore all of our options, but the first one would be to keep Kawhi as part of our group."
Kawhi does have one legitimate gripe–he's likely underpaid by the standards of the NBA's insane salary market. Leonard made $18.68 million in 2017-2018 which barely puts him inside the top 50. He's the second highest paid player on the Spurs behind LaMarcus Aldridge ($21.46 million this past season). Oddly enough, however, there's never been much of a suggestion that this beef is about money. Leonard has reportedly indicated that he wants to be traded to Los Angeles and join the Lakers who might be welcoming a whole slew of new talent to town. The Spurs have indicated that the don't want to trade Leonard to a Western Conference rival which might just be a negotiating posture. Since Leonard would have to agree to a long term deal for a team to trade for him, he's holding all the cards. The Spurs would likely end up with a ton of young talent in return if they trade Leonard to the Lakers. Current rumors suggest the Lakers would send Brandon Ingram, Kyle Kuzma, Josh Hart, Luol Deng and future first-round pick to San Antonio in exchange for Leonard. Lonzo Ball's name has also been mentioned as part of a deal but it's doubtful that Popovich, Buford et. al. would want anything to do with the off court carnival sideshow that comes with him. Would you?
Here's the official SPORTS BETTING EXPERTS odds on Kawhi Leonard's next team and his performance during the 2018-2019 NBA season/playoffs:
KAWHI LEONARD 2018 TEAM PROPOSITION BETTING ODDS
KAWHI LEONARD'S TEAM AT THE START OF THE 2018-2019 NBA REGULAR SEASON?
Los Angeles Lakers: +150
Boston Celtics: +250
San Antonio Spurs: +450
Philadelphia 76ers: +600
Los Angeles Clippers: +900
Miami Heat: +1500
Phoenix Suns: +1500
Any Other Team: +3500
KAWAI LEONARD'S GAMES PLAYED DURING THE 2018-2019 NBA REGULAR SEASON?
Over 59.5 games: +110
Under 59.5 games: -130
KAWHI LEONARD'S GAMES PLAYED DURING THE 2018-2019 NBA PLAYOFFS?
Over 12.5 games: +130
Under 12.5 games: -150
KAWHI LEONARD'S POINTS PER GAME AVERAGE DURING THE 2018-2019 NBA REGULAR SEASON?
Over 16.5 PPG: +180
Under 16.5 PPG: -210
KAWHI LEONARD'S REBOUNDS PER GAME AVERAGE DURING THE 2018-2019 NBA REGULAR SEASON?
Over 6.1 RPG: +150
Under 6.1 RPG: -180
KAWHI LEONARD'S POINTS PER GAME AVERAGE DURING THE 2018-2019 NBA PLAYOFFS?
Over 16.5 PPG: +180
Under 16.5 PPG: -210
KAWHI LEONARD'S REBOUNDS PER GAME AVERAGE DURING THE 2018-2019 NBA PLAYOFFS?
Over 6.5 RPG: +150
Under 6.5 RPG: -180
All bets are action regardless of number of games played by Kawhi Leonard during the 2018-2019 NBA season or playoffs.