Hainan Danzhou GrandMaster Chess Tournament 2018 Round 4 Betting Odds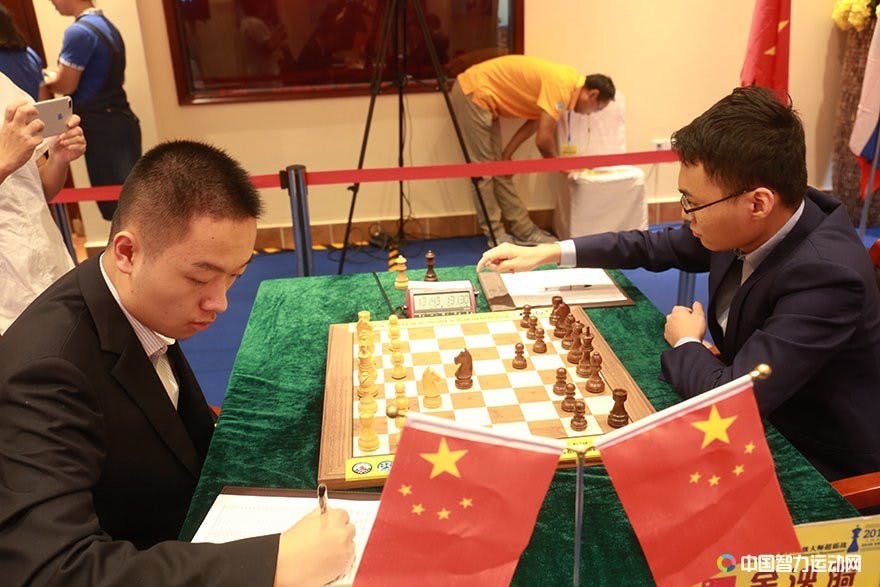 –Chess is a surprisingly popular game among bettors–particularly in Europe and Asia.
–This is the 9th Hainan Danzhou GrandMaster Chess Tournament
–19 year old Wei Yi is the defending champion.
We head into the fourth round of the 9th Hainan Danzhou GrandMaster Chess Tournament where Bu Xiangzhi is currently heading up the field.
Here are the current standings after three rounds:
HAINAN DANZHOU GRANDMASTER CHESS TOURNAMENT 2018 STANDINGS AFTER ROUND 3
1) Bu Xiangzhi: 2.5
2) Jan-Krzysztof Duda: 2
3) Vladimir Fedoseev: 1.5
4) Gujrathi Vidit Santosh: 1.5
4) Yu Yangyi: 1.5
6) Quang Liem Le: 1
6) Samuel Shankland: 1
6) Wei Yi: 1
The 9th Hainan Danzhou GrandMaster Chess Tournament will begin on July 26 and run through August 4. The tournament will be held at the China Chess Association's Training Base in Danzhou, a western city in China's Hainan province. The prize pool is $60,000 (USD) with the winner claiming 140,000 CNY or approximately $20,869 USD. The tournament is the centerpiece of a variety of activities intended to promote chess in the Hainan provence including the national youth tournament and a chess themed summer camp.
The tournament will have a strong international flavor with only three Chinese nationals among the eight competitors. Yu Yangyi, Wei Yi and Bu Xiangzhi will represent the host country with Russia's Vladimir Fedoseev, Vietnam's Quang Liem Le, Poland's Jan-Krzysztof Duda , India's Gujrathi Vidit Santosh and Samuel Shankland of the United States comprising the rest of the field.
Here's the updated odds to win and to finish top two in the 9th Hainan Danzhou GrandMaster Chess Tournament along with the odds on every Round 4 matchup. Tuesday will be a rest day with Round 5 scheduled for Wednesday, August 1:
2018 HAINAN DANZHOU GRANDMASTER CHESS TOURNAMENT BETTING ODDS
TO WIN 2018 HAINAN DANZHOU GRANDMASTER CHESS TOURNAMENT (UPDATED 7/29/18)
Bu Xiangzhi: +200
Jan-Krzysztof Duda: +350
Vladimir Fedoseev: +500
Gujrathi Vidit Santosh: +550
Yu Yangyi: +550
Wei Yi: +1200
Samuel Shankland: +1200
Quang Liem Le: +1200
TO FINISH SECOND 2018 HAINAN DANZHOU GRANDMASTER CHESS TOURNAMENT (UPDATED 7/29/18)
Bu Xiangzhi: -150
Jan-Krzysztof Duda: +125
Vladimir Fedoseev: +250
Gujrathi Vidit Santosh: +250
Yu Yangyi: +250
Wei Yi: +600
Samuel Shankland: +600
Quang Liem Le: +600
2018 HAINAN DANZHOU GRANDMASTER CHESS TOURNAMENT ROUND 4 BETTING ODDS
BU XIANGZHI VS. WEI YI
Bu Xiangzhi: -180
Wei Yi: +150
Bu Xiangzhi: +300
DRAW: -350
Wei Yi: +650
Bu Xiangzhi/DRAW: -1750
Bu Xiangzhi/Wei Yi: +200
Wei Yi/DRAW: -600
QUANG LIEM LE VS. VLADIMIR FEDOSEEV
Quang Liem Le: -210
Vladimir Fedoseev: +180
Quang Liem Le: +215
DRAW: -175
Vladimir Fedoseev: +525
Quang Liem Le/DRAW: -900
Quang Liem Le/Vladimir Fedoseev: +125
Vladimir Fedoseev/DRAW: -300
SAMUEL SHANKLAND VS. JAN-KRZYSZTOF DUDA
Samuel Shankland: -150
Jan-Krzysztof Duda: +130
Samuel Shankland: +325
DRAW: -200
Jan-Krzysztof Duda: +425
Samuel Shankland/DRAW: -750
Samuel Shankland/Jan-Krzysztof Duda: +125
Jan-Krzysztof Duda/DRAW: -450
YU YANGYI VS. GUJRATHI VIDIT SANTOSH
Vladimir Fedoseev: -350
Gujrathi Vidit Santosh: +300
Vladimir Fedoseev: +225
DRAW: -200
Gujrathi Vidit Santosh: +850
Vladimir Fedoseev/DRAW: -2500
Vladimir Fedoseev/Gujrathi Vidit Santosh/: +125
Gujrathi Vidit Santosh/DRAW: -300