Biel International Chess Festival 2018 Round 7 Betting Odds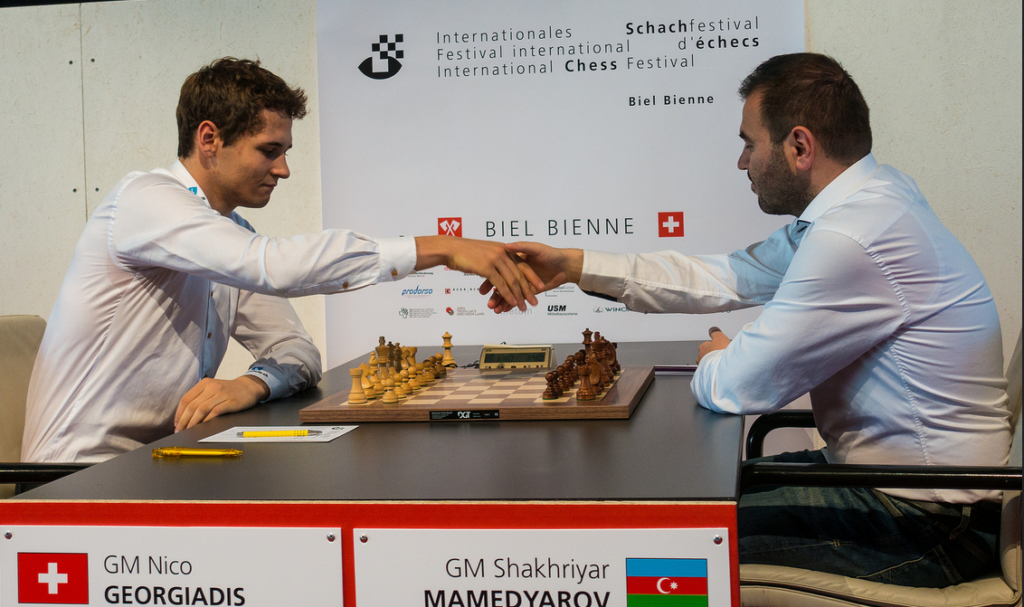 –Chess is a surprisingly popular game among bettors–particularly in Europe.
–Hou Yifan won this tournament in 2017 but isn't in the field this year
–Maxime Vachier-Lagrave won this event four straight years from 2013 to 2016.
Chess action resumes in Switzerland after a rest day on Saturday. Currently, Shakhriyar Mamedyarov holds a 1/2 point advantage over Magnus Carlsen atop the leaderboard.
BIEL INTERNATIONAL CHESS FESTIVAL STANDINGS AFTER ROUND 6
1) Shakhriyar Mamedyarov 4.5/6
2) Magnus Carlsen 4/6
3) Peter Svidler 3/6
4) David Navara 3/6
5) Maxime Vachier-Lagrave 3/6
6) Nico Georgiadis 0.5/6
The Grandmasters Tournament began on July 22 and will run through August 1. Below are the updated odds to win the Biel Chess Festival Grandmasters Tournament and all three seventh round matchups:
2018 BIEL INTERNATIONAL CHESS FESTIVAL BETTING ODDS (UPDATED 7/29/18)
TO WIN 2018 BIEL INTERNATIONAL CHESS FESTIVAL
Magnus Carlsen: -135
Shakhriyar Mamedyarov: +150
Peter Svidler: +950
Maxime Vachier-Lagrave: +950
David Navara: +1200
Nico Georgiadis: +10000
TO FINISH TOP TWO 2018 BIEL INTERNATIONAL CHESS FESTIVAL
Magnus Carlsen: -250
Shakhriyar Mamedyarov: -175
Peter Svidler: +500
Maxime Vachier-Lagrave: +500
David Navara: +750
Nico Georgiadis: +10000
2018 BIEL INTERNATIONAL CHESS FESTIVAL ROUND SEVEN BETTING ODDS
MAGNUS CARLSEN VS. MAXIME VACHIER-LAGRAVE
Magnus Carlsen: -500
Maxime Vachier-Lagrave: +375
Magnus Carlsen: +200
DRAW: -250
Maxime Vachier-Lagrave: +1250
Magnus Carlsen/DRAW: -7500
Magnus Carlsen/Maxime Vachier-Lagrave: +150
Maxime Vachier-Lagrave/DRAW: -350
NICO GEORGIADIS VS. PETER SVIDLER
Nico Georgiadis: +750
Peter Svidler: -900
Nico Georgiadis: +1000
DRAW: +200
Peter Svidler: -225
Nico Georgiadis/DRAW: +250
Nico Georgiadis/Peter Svidler: -300
Peter Svidler/DRAW: -5000
SHAKHRIYAR MAMEDYAROV VS. DAVID NAVARA
Shakhriyar Mamedyarov: -600
David Navara: +450
Shakhriyar Mamedyarov: +140
DRAW: -150
David Navara: +900
Shakhriyar Mamedyarov/DRAW: -4500
Shakhriyar Mamedyarov/David Navara: +100
David Navara/DRAW: -175