Favorites Seattle Host Ragged Sporting KC Side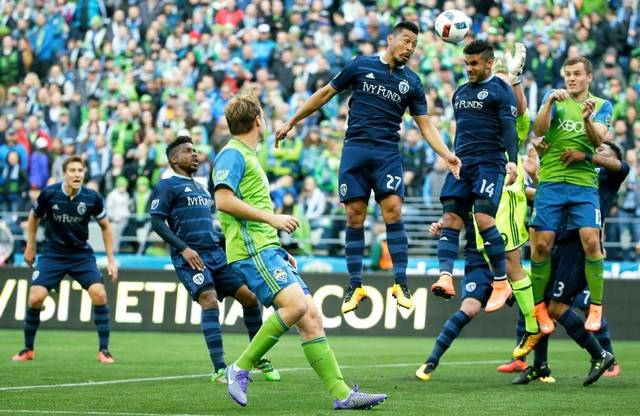 Who: Seattle Sounders v. Sporting KC
When: Saturday August 12th, 2017 4:00PM EST
Where: CenturyLink Field—Seattle, Washington
When Sporting KC head to CenturyLink Field this weekend to take on the Seattle Sounders, there will undoubtedly be a few things that are not helping them. For one, Seattle is one of the hottest teams in MLS at the present moment in time. Seattle has now won 4 of their last 5 MLS matches, at times embarrassing opponents. Putting this into perspective perfectly is their emphatic 3-0 and 4-0 scorelines against San Jose and Minnesota, respectively. In fact, you would have to go back to mid-June to find the last loss for the Sounders.
For Sporting KC, the story is not a bad one, but rather a tiring one. They will be entering Saturday's match on barely 2 day's rest. For the 2nd time in the tournament, the US Open Cup, Sporting KC was forced into 120 minutes of play and subsequently penalties. That, combined with travel, will make for one weary Sporting KC side.
With all of this being said. If you have to go back to mid-June to find Seattle's last loss, you have to go back even further to find Sporting KC's last loss. In all competitions, Sporting KC has not lost since the final week of May. This is truly a matchup of Giants, however the magnitude of the match is taken away by the fact that Sporting KC will be so exhausted.
As for what this means for the playoff picture, the answer is that it doesn't mean much for KC. They are a few points clear at the moment, and would not suffer greatly from a loss. Seattle, on the other hand, could be leapfrogged into the outside of the playoff window.
Match Overview and Analysis
Seattle Sounders (-140) will enter this match knowing one thing, they can score goals. In their last 3 matches, they have scored a total of 7 goals. If you take away their 0-0 draw, they have scored 7 goals in their past two wins. Though the teams they have beaten in recent weeks are nothing to write home about, Seattle has taken care of them impressively. Seattle are really coming on after the first half of the season, and it is almost difficult to believe that most people penned them as a team that would miss out on the playoffs.
Clint Dempsey and Will Bruin have 17 goals between them, and when you add in that Cristian Roldan has 5 of his own, there is a lot of firepower on the Sounders roster. The thing about the Sounders is that they like to attack with pace, and if they can get out to an early lead it would be tough for Sporting KC to come back from. With how tired KC is expected to be, you would anticipate that Seattle will come out firing right from the offing. I think that will be a successful method of attack and think that it will pay off early, if not often as well.
There is absolutely no doubt about it, Sporting KC (+400) are one of the best teams in MLS. Unfortunately, even they cannot outrun tired legs, and I really think that will be the story Saturday afternoon. When all is said and done, KC will have played 3 matches in 6 days. Even more ridiculous is that it is almost 3 and a half matches, as their US Open Cup match (a match won in PKs AET) with San Jose went 120 full minutes. The fact that they have kept winning through this gauntlet is impressive enough, but I fear their run very well might come to an end on Saturday in Seattle.
Betting Prediction
As far as the moneyline wager, you should take Seattle (-140) without a shadow of a doubt. I know I have said this a bunch of times already, but the simple fact of the matter is that Sporting KC will be tired. Their manager has committed to playing top players in the US Cup—a tournament usually reserved for, well, reserves—and I think that will come back to bite them in this one. Though the odds do not offer the best value in the world, I think a bet on Seattle to win
I think another interesting bet is the over/under listed by Bovada, which currently stands at 2.5 (EVEN/-125). I think the over (EVEN) is the smart choice in this one. If the game does go as planned and the Sounders win, I think they will score a few goals in the process. If not, Sporting KC are a potent goal-scoring team as well.
My bold prediction for this one is a double chance bet of Sporting KC/Draw (+115). I like the value for this one, and if you are one of the few who are holding out hope for KC, this might be the best wager for you to make.