Favored Red Bulls Host NYCFCin Third Regular Season Meeting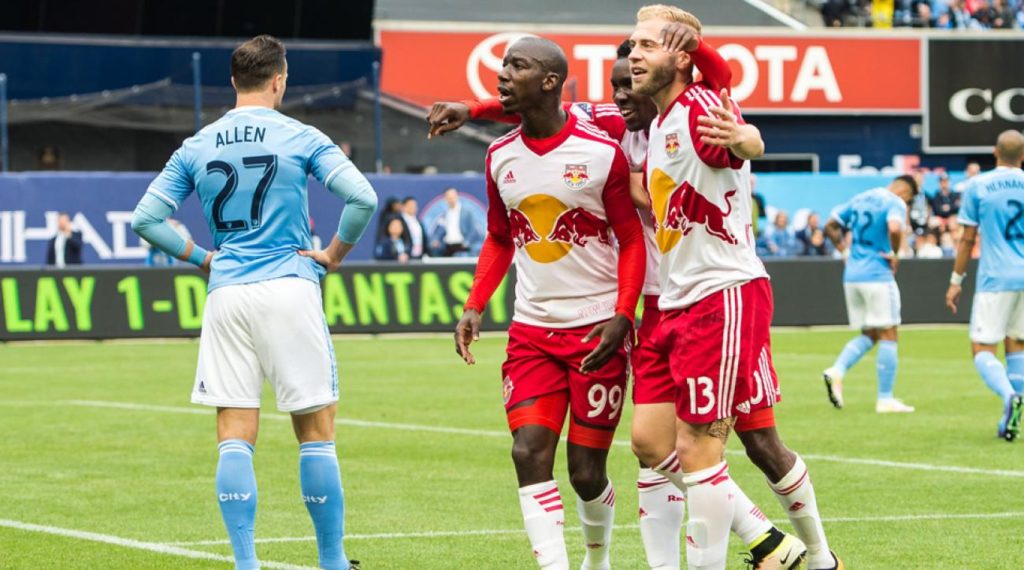 Who: New York Red Bulls v. New York City FC
When: Friday August 25th, 2017 7:00PM EST
Where: Red Bull Arena—Harrison, New Jersey
Though the Red Bulls and New York City FC may not be all too close to one another on the Eastern Conference table, the two teams are both in playoff positions and will equally want to improve their respective standings. What's more, this is a rivalry match, and one of the biggest and more noteworthy rivalries in all of MLS.
Judging by the last few matches of these two teams alone, it is clear to see which side is in better form, and that is NYCFC. Though they are slightly behind Toronto as far as points go, they have made sure there is no doubt that they are a playoff team. In some circles, New York City FC is one of the favorites to take home the MLS Cup title. For a team that did not even exist a few years ago, that is quite high praises.
In MLS regular play, these two sides have already met twice, and New York City FC has taken both victories, though not by very large margins. In their other match with each other—which was actually the first—these two sides met in the US Open Cup, and Red Bulls ended up winning. To make a long story short, these is nothing about this matchup that is, in any way, one-sided. Red Bulls are a fully capable side themselves, and have made it clear that they know how to score goals. After all, with the likes of Bradley Wright-Phillips at the helm of the attack, it would be far more shocking if Red Bulls were not able to score often. Their defense has been admittedly shaky at times, such as last week when they nearly lost to USL side FC Cincinnati. But on other occasions, their D can post a shutout, as it did in two consecutive matches towards the end of July.
Match Overview and Analysis
When New York Red Bulls (-115) take the pitch tomorrow night, they will do so as favorites. This might come as some surprise seeing as they just lost to Portland 2-0 last week, but it really shouldn't. That loss is a huge misnomer, due to the fact that Red Bulls started 7 regular starters in their midweek US Open Cup meeting with FC Cincinnati. Seeing as the Portland match was a mere 3 days later, Red Bulls were playing with a combination of backups and tired starters.
With nearly a week's worth of rest under their belt, New York will be back and ready to get things rolling again. While this is so, you really never know what Red Bulls side you are going to get on any given night. On one night, you might get the Red Bulls team that defeated New England, in New England 2 times in 8 days, but on another night you might get the Red Bulls team that loses to the Philadelphia Union 3-0.
When it comes to New York City FC (+295), they are pretty heavy underdogs. One of the reasons this is so is because a large majority of their goals come from only one player, David Villa, The La Liga veteran has hammered home 19 goals this season, which leads his team by an 11-goal margin. Being that they struggle to diversify where their goals come from, it is difficult to win when you are away from home. If you add this to the fact that they are not the best defensive side in the East, you can understand why they are not even close to being favored.
For me, I think it all starts at the back for New York City FC. If they can keep the ball out of the net through the early stages of the game and settle into things, I think they will be giving themselves a better chance of securing result with each passing minute.
Betting Prediction
If you are looking at a moneyline bet to make, I think you have to go with Red Bulls (-115). They are a team that really likes to score, and they are facing off against a side that has been giving up a lot of goals lately. While I do not think it will, by any means, come easy for them, I do think the Red Bulls will win.
If you are feeling like giving NYCFC a chance, I would still shy away from a moneyline wager. Instead, you should place a bet on NYCFC win/draw (-125) on Bovada. For those who do not know, a win/draw wager is two separate wagers in one. In terms of this bet, if New York City FC win or draw, you win. Another way of saying this is that NYCFC simply cannot lose the match. At -125 odds, I think this is a vastly superior wager than the moneyline.