DC Host New England in Bottom-Feeder Matchup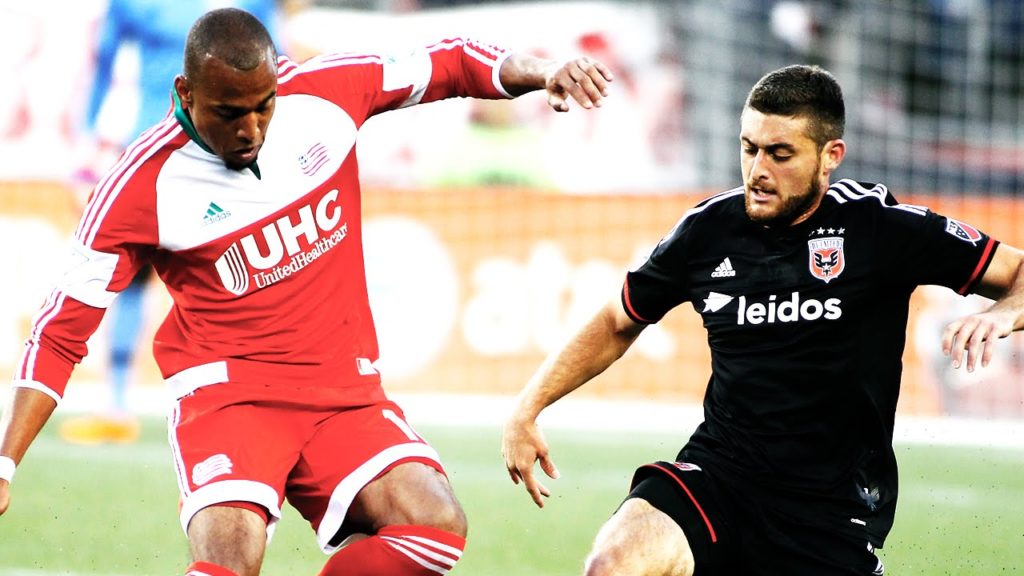 Who: DC United v. New England Revolution
When: Saturday August 26th, 2017 7:00PM EST
Where: RFK Stadium—Washington, DC
When you look at Saturday's matchup pitting the New England Revolution against hosts DC United, nothing spectacular sticks out about it. There are many reasons why this is so, but perhaps the biggest of them being that these are the two sides that make up the last two positions on the Eastern Conference table. With a combined goal-differential of -24, it is clear to see that these two sides both do not do a lot of scoring, and are seeing the opponent's ball in the back of their net often. These two sides have met somewhat recently, but it was in an US Open Cup match, so the sides will be a bit different this time around.
Of course, when you dig a bit deeper into the statistics, a different sort of story emerges. While their combined goal-differential is -24, 23 of those goals belong marked against DC United. Yes, you read that correctly. No matter which way you slice that stat, it is both incredibly interesting and very telling. Without looking any further, it is plain to see that DC United seldom finds the back of the net, and that New England, for all of their goals, seems to be giving up a goal and a half for every goal they score.
So many people may be wondering why on earth anyone would be talking about this matchup, but the thing about it is, it is a truly great matchup. DC United's goal-differential may lead you to believe differently, but they really aren't being scored on as much as you might originally think. Their problem is more the fact that they are unable to find the back of the net themselves. I do not see this changing for them at all in the near future, and that is also why I do not see Saturday going very much in their favor.
Match Overview and Analysis
When DC United (+150) take the pitch on Saturday, they will do so on the back of two incredibly impressive performances; two of their best performances of the year, perhaps. In each of their last 2 matches they managed to walk away 1-0 victors. DC has not managed to string 2 victories together since April, so their form right now is about as good as it has been all season long.
Even more impressive than the fact that they got two wins was one of the opponents they won against. While they victory against Colorado was not overly remarkable, their 1-0 victory against Atlanta last night was amazing. The match was hard-fought and DC ended up squeezing one past the keeper and the rest is history. Atlanta being one of the best teams in the East, this win will likely not be topped.
For New England (+170), things have not gone so well over their last 3 matches. During that span they have accrued a 1-2 record, with their only win being a 1-0 scoreline against Vancouver. Their most recent match was a 2-1 loss to NYCFC, which is truly not that bad considering NYCFC is in second in the East. All year long the same thing has plagued New England, and that has been their inability to keep goals out of their own net. If you look at their most recent 8 matches, they have given up 3 or more goals in 4 of them. That is not a very good stat, and is a truly abysmal stat if you want any chance of making a post-season appearance. Fortunately for New England, the playoffs have been out of the cards for a majority of the season, so I do not think anyone will be dwelling on this much.
To recap, we have one team that is decent at defending but cannot score, and one team that cannot defend but can score at will. If there was ever a perfect matchup, this is it.
Betting Prediction
I think DC United will be riding high from their midweek victory against Atlanta, so I think their moneyline (+150) is the best bet to make. New England is capable of scoring, but I think that if DC could keep Atlanta out of the net, they will have no issue taking care of the Revolution. Some tired legs may come into play, but the boost of playing in front of their home fans should augment that nicely.
The point spread is a pick'em, and I think that you should once again go for DC United (-135). For those who may be unfamiliar, a pick'em point spread exists in soccer and other sports where draws are possible. In the event that the match ends in a draw, you will be credited with a push and the amount which you wagered will be returned to you.
The over/under for this match is listed by Bovada as an even 3 goals (+105/-130), and I think you absolutely have to go with the under in this one. If DC wins, there is a strong likelihood that very few goals will be scored.