'Dancing with the Stars' Season 24 Episode 2 Betting Odds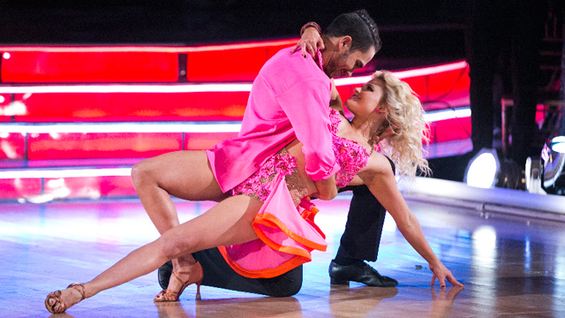 –This is the 24th season for ABC's reality show.
–Ratings were marginally better than last season.
–'Dancing With The Stars Episode 2 airs on Monday, March 27 at 8:00 PM Eastern.
Simone Biles and her Russian born partner Sasha Farber were on top of the field in the Season 24 Premiere of 'Dancing With The Stars'. They duo scored 32 points giving them the best score of the week and cashing tickets in that prop bet category as a -175 favorite. The strong performance of Rashad Jennings and Emma Slater was a mild surprise–they finished 1 point behind Biles/Sasha with 31 points. As Jennings was the third overall choice to win Season 24 it can't be seen as a massive upset. Second betting choice for both the season and Week 1, Heather Morris with partner Maksim 'Maks' Chmerkovskiy finished with a solid though not spectacular 28 points. A bigger surprise might have been former MLB catcher David Ross who put up a strong 28 with partner Lindsay Arnold. Ross had the second longest odds to win Season 24 before the first episode just ahead of Chris Kattan.
At the other end of the spectrum the hapless Kattan was partnered with the comely Witney Carson but the 23 year old native of American Fork, Utah couldn't help the lead footed comic. The pair finished well off the pace with 17 points for the *worst* score of week one. Kattan was a -250 chalk to achieve that dubious status. None of the other contestants finished with fewer than 20 points:
WEEK ONE DWTS SCORING CHARTS:
Simone Biles/Sasha Farber: 32
Rashad Jennings/Emma Slater: 31
Heather Morris/Maksim Chmerkovskiy: 28
Nancy Kerrigan/Artem Chigvinstev: 28
David Ross/Lindsay Arnold: 28
Normani Kordei/Valentin Chmerkovskiy: 27
Nick Vitali/Peta Murgatroyd: 24
Erika Jayne/Gleb Savchenko: 24
Bonner Bolton/Sharna Burgess: 22
Charo/Keoikantse Motsepe: 21
Mr. T/Kym Herjavec: 20
Chris Kattan/Witney Carson: 17
In other betting propositions there were no '10' scores awarded in Week 1 (-450) and no one was eliminated (-350) giving the favorite the victory in all four dancing categories. In the TV ratings props DWTS Episode 1 finished with a 2.1 rating and a 7 share in their key 18-49 demographic and 12.09 viewers. That sent the 'ratings' and 'share' props 'Over' the total with the total viewership not able to make it past the 12.5 total and finishing 'Under'.
Posted below you'll find a revised 'To Win Season 24' odds rundown along with the same prop bets we posted last week. The ratings/share/viewers prop is back as well though it's been adjusted downward to reflect the expected drop off from Episode 1 to Episode 2. 'Dancing With The Stars' Season 24 Episode 2 airs at 8:00 PM EDT on Monday, March 27.
DANCING WITH THE STARS SEASON 24 BETTING ODDS
TO WIN DANCING WITH THE STARS SEASON 24
Simone Biles: -275
Heather Morris: +700
Rashad Jennings: +900
Nancy Kerrigan: +1200
Bonner Bolton: +1500
Normani Kordei: +3000
Nick Viall: +4500
David Ross: +4500
Erika Jayne: +5000
Mr. T: +5000
Charo: +5000
Chris Kattan: +5000
DANCING WITH THE STARS WEEK 2 BETTING ODDS
TO BE ELIMINATED IN WEEK 2
Chris Kattan: -275
Charo: +500
Mr. T: +1000
Nick Viall: +2000
No One: +2500
Erika Jayne: +4000
Bonner Bolton: +4000
David Ross: +4500
Nancy Kerrigan: +4500
Normani Kordei: +4500
Rashad Jennings: +4500
Heather Morris: +4500
Simone Biles: +4500
JUDGES' HIGHEST SCORE
Simone Biles: -175
Heather Morris: +350
Normani Kordei: +450
Rashad Jennings: +750
Nancy Kerrigan: +4500
Bonner Bolton: +7500
David Ross: +7500
Charo: +7500
Nick Vitali: +7500
Mr. T: +7500
Erika Jayne: +7500
Chris Kattan: +7500
JUDGES' LOWEST SCORE
Chris Kattan: -250
Mr. T: +500
Charo: +500
Bonner Bolton: +1500
Erika Jayne: +3250
David Ross: +5500
Nick Viall: +5500
Heather Morris: +5500
Simone Biles: +5500
Normani Kordei: +5500
Rashad Jennings: +5500
Nancy Kerrigan: +5500
NUMBER OF '10' SCORES TO BE AWARDED
0: -750
1-4: +400
5-9: +900
10+: +1250
WEEK 2 KEY DEMO (18-49) RATINGS
Over 1.7: -130
Under 1.7: +110
WEEK 2 KEY DEMO (18-49) SHARE
Over 5.5: -130
Under 5.5: +110
WEEK 2 TOTAL VIEWERS
Over 10.5 million: -120
Under 10.5 million: +100