Bills 3-0 ATS but Travel to Atlanta as Decided Underdogs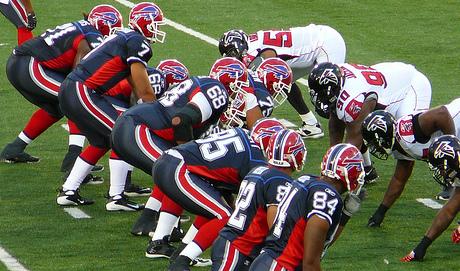 Who: Buffalo Bills v. Atlanta Falcons
When: Sunday September 30th, 2017 1:00PM EST
Where: Mercedes-Benz Stadium—Atlanta, Georgia
The Falcons will play only the second ever NFL game in Mercedes-Benz Stadium this Sunday, but when they do the roof on the stadium will be closed. Whether the roof is open or not will not really matter, as the home team Atlanta Falcons will need to be ready to put on a flawless performance if they want to maintain their flawless record. Up to this point, Atlanta really has looked like a team that just barely lost the Super Bowl last year, and is looking like a team that wants to get back there and earn a victory. Before their season started, the game with Buffalo was more than likely overlooked, but since the Bills have a 2-1 record through 3 games the Falcons are not going to take them lightly.
The Bills are not only boasting their best record since the 2011 season, they have put up some offensive and defensive numbers that harken back to the Bills' glory days of the early 1980s. Despite this early season success, however, Buffalo knows that there are no guarantees when playing in Atlanta, and that everything will need to be fought for. Being that Atlanta is never an easy place to play, Buffalo's young quarterback will be in for quite the experience.
By most accounts, this is looking like the marquis matchup of the early games on Sunday. On one side you have the perennial powerhouse that is looking to make it back the championship, while on the other sideline exists a team that has, for some time now, struggled mightily, and is just now finding some form. It will be interesting to see what wins—veteran savvy, or rookie perseverance.
Game Overview and Analysis
When the +8 (-112) Bills (+330) take the field on Sunday, they will do so knowing full well that they are being slated as heavy underdogs by BetOnline, Bovada, and just about every other bookmaker out there. While that may be so, the Bills have outperformed expectations in each and every week up to this point. This is telling just by looking at their final scores, but even more telling when you consider the fact that they are 2-1 overall, but 3-0 against the spread.
Tyrod Taylor is perhaps more impressive than any other singular player on the Bills. Taylor had a mostly mediocre year last season, so there were few people expecting him to come into this season and light things up like he has. Last week, for example, he went 20 of 26 passing for over 200 yards and 2 touchdowns through the air, resulting in a near flawless QBR. Even without LeSean McCoy playing anywhere near his best, the Bills' offense has been a force to be reckoned with. With that being said, the Bills' defense has also held its own. Through the first two weeks, the Buffalo defense had not allowed a single touchdown, and heading into this week it has still not allowed a TD through the air. Matt Ryan will have something to say about that, but the stat is impressive nonetheless.
The -8 (-108) Falcons (-400) will know that they are favored, but will also know that the Bills team they are playing was not the one they thought they would be. The Falcons do have a 3-0 record, but it is worth mentioning that in both Week 1 and 3 their opponents lost by a touchdown or less. With the Bills offense playing as well as it has been, the Falcons defensive unit will want to make sure to lock things down at home, lest they will be in for a very long afternoon.
All things considered, Atlanta being favored makes sense and is the only reasonable outcome for oddsmakers. Still, the Bills have defied the odds 2 of 3 times already this season and they are not going to be intimidated by the Falcons nor the atmosphere of Mercedes-Benz Stadium.
Betting Prediction
The Falcons (-400) moneyline is the obvious choice, but it is also a choice that will net you very little profits and looks horrible if you view it through a risk/reward lens. I am not going to advise against the bet, but it might be worth your while to simply stay away from it.
As for the point spread, it pains me to say that I think you have to go with the -8 (-108) Falcons. I absolutely love that the Bills have beaten the spread in 3 of 3 games thus far, but I really and truly do not think that it is going to happen this time around. Their defense needs to play a perfect game against Matt Ryan, and I do not see that happening.
Finally, we have the over/under, which is listed by BetOnline at 48.5 (-110/-110). Even though these two offenses have combined to average a total of about 45 points per, I think that this total will go over 48.5 points (-110).