Bill O'Reilly's Next Broadcasting Gig Betting Odds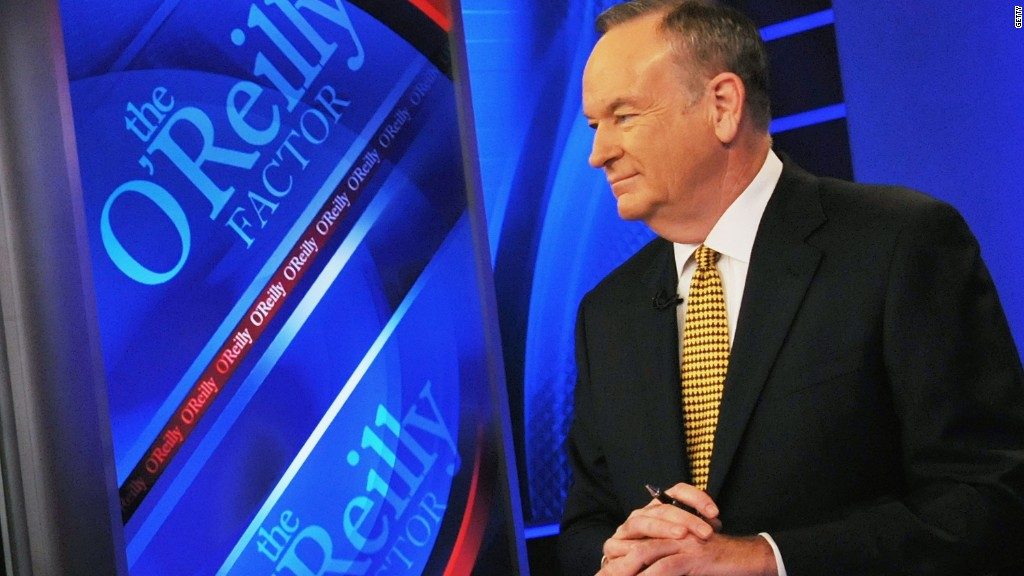 –Bill O'Reilly is out at Fox News due to pressure from advertisers.
–Corporations didn't want to be associated with O'Reilly due to sexual harassment allegations against him.
–Despite the controversy his ratings have remained strong and stable.
Like him or not, Bill O'Reilly has been a cable TV juggernaut for over two decades. He's done well over 5,000 episodes of "The O'Reilly Factor" and the show has consistently been among the top rated shows in cable news. In fact, at the time of his dismissal from Fox News his ratings were in a very strong upswing, pulling in over 4 million viewers a night. That's a 40% increase from two years ago. His show has not only brought eyeballs to Fox News but it has generated billions in advertising revenue. Between 2014 and 2016, "The O'Reilly Factor" generated $446 million from advertising revenue according to research firm Kantar Media.
Ironically, it was these same corporations that advertised on "The O'Reilly Factor" that proved to be Bill O'Reilly's undoing. On Wednesday, he was fired by Fox News in response to growing pressure from advertisers over a series of sexual harassment allegations. It's not that his employers weren't aware of the situation. In fact, O'Reilly and Fox News paid out $13 million to five women to settle these sexual harassment claims. Since Fox extended O'Reilly's contract (exact terms are not known though it reportedly would pay O'Reilly around $20 million per year) earlier this year one has to conclude that they didn't have an issue with his behavior for whatever reason. Tucker Carlson will take over in O'Reilly's time slot.
WHY FOX ACTED NOW
There were daily protests at Fox News headquarters but that isn't what prompted his firing. It was a confluence of factors–the most significant being the 50 advertisers the show had lost during the sexual harassment controversy. That's the most obvious justification but there might be more to it than that alone. After all, there's plenty of advertisers that either agree with O'Reilly ideologically or else didn't care about the controversy. Fox could have decided that new sexual harassment allegations were 'the last straw'. Another possible explanation–O'Reilly was losing the support of Rupert Murdoch's sons James and Lachlan. Until recently, he reportedly still had the confidence of the Murdoch patriarch though his sons have a growing influence within the Fox empire and have become trusted advisers to their father.
The decision to part company with O'Reilly may have been due to the 'bigger picture'. Fox is in the process of taking over UK pay TV provider SkyTV in a deal worth around $14 billion. The deal hinges in part on a review by British TV regulators. Culture Secretary Karen Bradley has referred the SkyTV sale to the independent communications regulator Ofcom who are to determine if the sale gives Fox too much control of the UK media. They're also to determine if the Murdoch family are "fit and proper" owners in light of the 2011 phone hacking scandal that kept Fox from buying out SkyTV at that time. The European Union (EU) has already approved the merger after an anti-trust review so this is likely the final potential regulatory roadblock:

Rupert Murdoch's £11.7bn takeover bid for Sky is to be investigated by the media regulator to see if it gives him too much control of news output in the UK and whether the Murdoch family are "fit and proper" owners following the phone-hacking scandal.

The culture secretary, Karen Bradley, has referred 21st Century Fox's bid to buy the 61% of Sky it does not already own to Ofcom to investigate potential public interest issues on two grounds.

Ofcom, which will now have up to 40 working days, to 16 May, to report back to Bradley on the public interest concerns, will kick off its own concurrent review of whether Fox is "fit and proper" to take control of Sky's broadcasting licence.
New York Magazine recently speculated that were Fox to jettison O'Reilly it 'might appease critics and help close the Sky deal'. O'Reilly's advertising revenues are 'chump change' by comparison of the money at stake in the SkyTV buyout or to quote an article in The Atlantic: "You know what's worth more than $446 million? $14 billion."
O'REILLY REMAINS DEFIANT
O'Reilly has been recalcitrant throughout the scandal and remained defiant and pugnacious in the wake of his firing. He made a statement that while he was proud of what he'd done in twenty years at Fox "it is tremendously disheartening that we part ways due to completely unfounded claims. But that is the unfortunate reality that many of us in the public eye must live with today."
This leaves O'Reilly in a strange situation. He can walk into a studio at a new network tomorrow and deliver massive ratings but will anyone be willing to 'take the heat' that will come as part of the deal? He's clearly in a financial position where he won't be forced to do anything. He has a charitable foundation that brings in tens of millions a year. On top of that, he could bring in millions more from speaking engagements and writing books. He could still make a ton of money while essentially 'retiring' from broadcasting.
Retirement is unlikely, however, since O'Reilly has a huge audience that will follow him where ever he goes. Even if he's persona non grata with the TV industry he's got a number of options. He can return to talk radio which is still a viable medium despite the many changes in this industry. He did a talk radio show up until 2009 and is a very capable radio broadcaster. More importantly, he brought in big numbers there with an audience in excess of 3 million listeners per day. Talk radio is a different world and even the most controversial conservative broadcasters have found advertisers.
COULD O'REILLY JOIN THE 'DIGITAL REVOLUTION'?
O'Reilly could also follow in the footsteps of Glenn Beck, who was forced off of TV by a similar angry mob. Beck started an online streaming video network called TheBlaze and has found significant success. Beck quickly attracted 300,000 subscribers and within a year industry analysts speculated that his network was doing $40 million in annual revenue. Interestingly, Beck has made a return to cable TV through his new project–DishTV started carrying TheBlaze in 2012 and its now offered by over 90 US cable TV providers including 11 in top 25 markets. The technological advances since Beck started his project make doing something similar all the more viable and it's almost certain that O'Reilly would immediately attract a larger audience due to greater user familiarity with streaming video. There's another obvious scenario–he could go to work for TheBlaze which would likely be a 'win/win' for both. TheBlaze would have a huge media star with a massive following and O'Reilly could walk in to a new broadcasting platform without having to build his own infrastructure.
Don't expect that Bill O'Reilly will be 'on the sidelines' for long. Even those who disagree with him politically give him credit for being a tireless and driven worker. Most significantly–he's still got a huge audience. He just needs a new medium with which to reach them. Marlene Morris Towns, an adjunct marketing professor at Georgetown University, summed it up nicely:
"This [scandal] has definitely hurt his brand in the broad sense, but he will undoubtedly bounce back. He will find a home because his super-loyal fan base will still support him."
SPORTS BETTING EXPERTS has set odds on Bill O'Reilly's next broadcasting gig as well as other questions relative to his departure from Fox News. We don't expect that it will be long before he makes his plans known:
BILL O'REILLY/FOX NEWS PROPOSITION BETTING ODDS
NEXT BROADCASTING VENUE FOR BILL O'REILLY
Talk Radio (Satellite or Terrestrial): +350
TheBlaze TV: +450
Audio Podcasting: +650
Streaming Video Network/Online Video Streaming: +750
One America News Network: +950
NEWSMAX: +950
Sinclair Broadcasting: +1250
New Cable/Broadcast/Satellite TV Channel: +1250
Other established cable/broadcast TV network: +1750
Facebook Live: +2150
YouTube Live: +2150
CNN: +4500
MSNBC: +7500
'Saturday Night Live': +10000
'The View': +15000
No broadcast venue by 12/31/17: +1500
WILL BILL O'REILLY SEEK THE REPUBLICAN PARTY NOMINATION FOR PRESIDENT IN 2020?
Yes: +6000
No: -10000
WILL BILL O'REILLY BE ELECTED PRESIDENT OF THE UNITED STATES IN 2020?
Yes: +12500
No: -25000
WILL BILL O'REILLY SUE FOX NEWS OVER HIS TERMINATION?
Yes: +300
No: -450
TOTAL DOLLAR VALUE OF O'REILLY'S SEVERENCE PACKAGE FROM FOX NEWS?
Over $35.5 million: -250
Under $35.5 million: +210
WILL FOX NEWS ALLOW O'REILLY TO GIVE A 'FAREWELL STATEMENT' ON THE NETWORK?
Yes: +150
No: -170
WILL UK BROADCASTING REGULATOR OFCOM FIND THE MURDOCH FAMILY 'FIT AND PROPER' TO OWN SKY TV?
Yes: -210
No: +170
WILL UK BROADCASTING REGULATOR OFCOM RULE THAT FOX HAS TOO MUCH CONTROL OF UK MEDIA?
Yes: +210
No: -250
WILL THE FOX BUYOUT OF SKY-TV BE FINALIZED BY 12/31/17?
Yes: -135
No: +115