All Mexico All the Time in Second Group A Match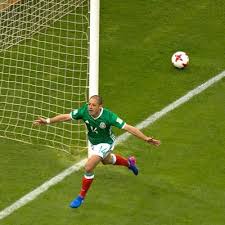 Mexico and New Zealand are grossly mismatched on paper, and that is a perfect representation of what you can expect to see on the field when the two meet for their second Group A match in the 2017 Confederations Cup. In their first match, Mexico battled with Portugal, and for long stretches of the game looked to be the far superior team. Though they were forced to equalize on 2 occasions merely to earn a single point, the CONCACAF representative looked to be competent in possession and were dangerous on the counterattack. To make a long story short, and to summarize Mexico's first match performance, they were able to hold the defending European champions to a draw.
Everyone knew, coming into this competition, that New Zealand were going to be completely outmatched in each and every match. Against Russia, a side that is probably the second-weakest in Group A, New Zealand looked to be completely outmatched in every facet of the game and in every third of the pitch. The few times they were able to get the ball across midfield resulted in 10 shots (3 on target) (ESPN STAT LINK), but no goals. The quality is lacking for the Kiwis up and down the team sheet, and I don't think their fortunes will change much in their second match.
A Defensive-Minded New Zealand Looks to Persevere
Unless they are absolutely crazy, conventional wisdom will tell you that New Zealand (+2500) will come out on Wednesday looking to defend and establish some foothold in the match. Mexico (-800), on the other hand, will look to attack straight from the offing and is looking like they will be able to score without much trouble. Once again, it all boils down to the quality of the players on the team sheets. Mexico has players like Chicharito, Oribe Peralta, and Carlos Vela who have both heaps of experience as well as tons of skill.
New Zealand exists in stark contrast to Mexico. Many of their players play in Australia and other countries where the domestic competition is a bit softer than what you will find in even Liga MX, where many of Mexico's players play.
I am struggling to find a bright spot for the Kiwis, but there really aren't many. There is a very off chance that they could eek a result out if they pile in defensively. If they can pack in all 11 players behind the ball, and avoid falling victim to a slicing run through the middle and ball over the top, there is a chance a 0-0 draw is in the cards. Like we have been saying all along, however, that is not the most likely result.
Betting Tips and Predictions
Because Mexico are such heavy favorites (-800) on the moneyline, you would think that is the logical wager to place. While that is true, the odds are really against you on this one. If you have boatloads of money to wager and are certain that Mexico are going to win, go for it, but I would shy away.
According to Bovada, the over/under for this match is listed at 3 (-105/-115). I think that Mexico is chomping at the bit to get their offense back into gear after securing a late draw on Sunday, and I think they are just the team to cut the New Zealand defense wide open. Being that this is an even number over/under I think that you are safe taking over 3 (-105). Even if the Mexicans secure a 3-0 victory, your absolute worst case scenario is a push.
A proposition bet that exists on Bovada is a half/time full time wager. For those who may not know, this is a single wager that is impacted by the results at half time and full time. A Mexico-Mexico wager (-190) says that Mexico will be winning the match at halftime and will also be winning the match when the game has concluded. Being that I expect Mexico to get off to a flying start and win easily, this is perhaps the best value bet that you will find for this match.
Another proposition—one that also focuses solely on Mexico—is with regard to Mexico scoring in both the first and the second half. This proposition on Bovada is currently listed at -150 and I, yet again, think it is an intelligent one to make. I would be absolutely surprised if Mexico were not able to record goals in both halves.
The last obscure wager we think might offer you some value is a prop entitled "Match Results and Both Teams to Score." Mexico to win and both teams to score pays at +250. This is great value, but only so long as you think New Zealand will be able to score their first goal of the tournament. If you think New Zealand will be held to no goals, Mexico to win and them being the only team to score pays at -190. I think the latter of the two props is the best bet to make.