ALCS Game 1: Well-Rested, Favored Astros Welcome Yankees to Houston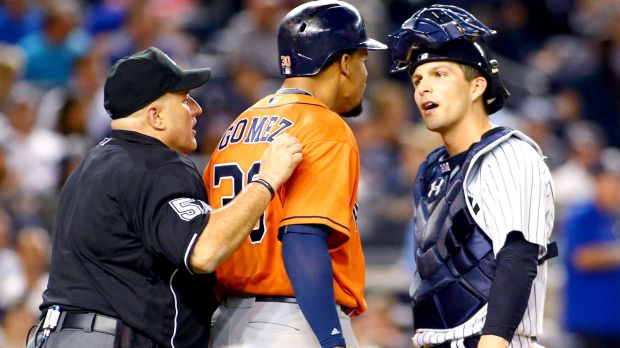 Who: New York Yankees v. Houston Astros
When: Friday October 13th, 2017 8:08PM EST
Where: Minute Maid Park—Houston, Texas
Houston has been waiting for a few days now, but they finally know that it will be the New York Yankees who they face in the decisive ALCS. The Yankees made it to this point by taking the longest possible route. First, they were forced into a one-game playoff with Minnesota; a game that got off to an awful start for New York. With just one out having been recorded in the top of the 1st inning, the Minnesota Twins were already winning by 3 runs. The Yankees offense battened down the hatches and the bullpen managed to close things out, but the game was a definite scare.
After that, things got even scarier as their series with the Indians saw Cleveland get off to a 2-0 series lead through two games. After that, the Yankees rattled off 3 consecutive wins, culminating with a 5-2 Game 5 victory on Wednesday night. Though they have played as many games as they possibly could have up to this point, the Yankees will look to turn things around and get it going against Houston.
Houston took care of the Red Sox in their ALDS by winning 2, losing 1, then finally closing the series out. An obvious advantage for Houston will be the fact that they are well-rested heading into this game. Not only have they been off for a few days and have played 2 less playoff games than their opponents.
Being that this is the first of a 7-game series, BetOnline is offering moneyline odds regarding which of these two teams will advance to the World Series. The Astros (-175) are slight favorites in this one, however the Yankees (+155) are not so heavy underdogs. This is an extremely tough series to call simply because both of these teams were not predicted to make the playoffs in the first place. I am going to recommend that you take the Yankees (+155) in this series. I think New York is on an absolute roll and do have the pitching to outlast Houston. I think Houston will run out of steam before it is all said and done, and I think that will be the difference.
Game Overview and Analysis
Starting on the mound for the hosting Astros (-162) will be Dallas Keuchel (14-5 2.90 ERA), who has impressed everyone this season. His regular season form continued in his only playoff start so far, where he pitched 5 and 2/3 innings against the Red Sox. In that start, Keuchel gave up just 3 hits and 1 run before he was replaced. To put it simply, the Red Sox could not connect with the ball. He struck out 7 Red Sox players and generally looked great. I think he will be a force to be reckoned with in this game and series opener. Keuchel has only had 3 days' worth of rest, so that will be something to pay attention to as well.
The Houston Astros' offense has also been playing very well in recent weeks. They scored 8, 8, and 5 runs in their 3 wins against the Red Sox, and those are the types of scores that can get you past opponents in the post-season. All in all, Houston relies on a perfect combination of good pitching and solid offense. If both are clicking, Houston is a strong side. If one is lacking, however, they are vulnerable.
The Yankees (+152) will send Masahiro Tanaka (13-12 4.74 ERA) to the mound, and though his regular season record is not overly impressive, his only playoff start was incredible. Against the Indians, Tanaka helped his team earn a victory by pitching 7 complete scoreless innings in which he struck out 7 and allowed only 3 hits in total. If he can replicate that performance in this series opener, I think he is going to experience a lot of success and will put his team in a great position to get the series started off with a victory.
The Yankees offense was lacking in their first few games in Cleveland, but by series' end really came on. Not only did they display the grit needed to perform in high-stress situations, they showed that they can be clutch as well, as seen in their adding 2 security runs in the top of the 9th inning in Game 5 with Cleveland. For a team so young, the Yankees sure are playing like seasoned veterans.
Betting Prediction
As far as a moneyline wager is concerned, I think you should take a chance on the Yankees (+152). I know that the Astros have more rest, but the Yankees are young and will not be so adversely impacted by a quick turnaround. With Tanaka on the mound, I like the Yankees' chances of getting a victory.
The point spread is a tough one to pick, but I think the over/under is worth paying attention to. Right now, BetOnline lists the over/under at 8.5 runs (+110/-130). I, like many other people, think that the under (-130) is the bet to make simply because these two starting pitchers have been lights out recently. I think that will be a major theme in Game 1.