2018 Sparkassen Chess Meeting Round 4 Betting Odds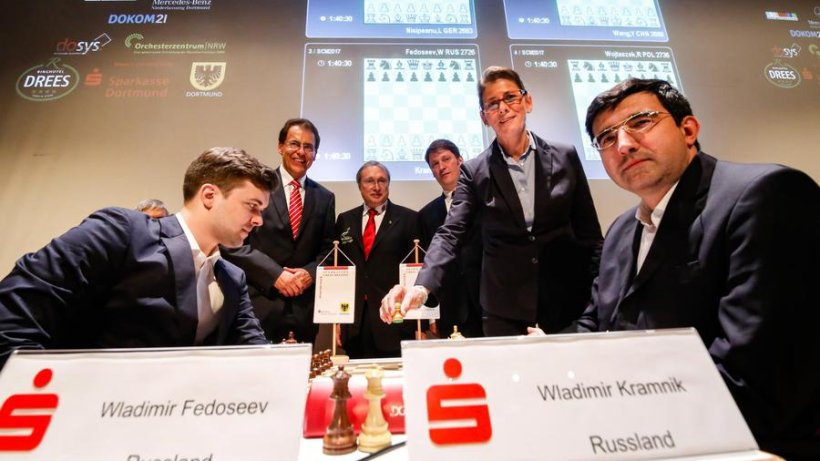 –Chess is a surprisingly popular game among bettors–particularly in Europe.
Radoslaw Wojtaszek of Poland is the defending champion of the Sparkassen Chess Meeting
–The Sparkassen Chess Meeting will play Round 4 on July 18 in Dortmund, Germany.
A couple of weeks ago we posted the odds to win the 2018 Sparkassen Chess Meeting. The event is now underway with three rounds in the books. That's a good time to revise the 'To Win' odds and we've also got all four matchups set for Wednesday's Round 4. Action starts at 3:15 PM local time in Dortmund, Germany (15:15 Central European Summer Time for those of you who are sticklers for detail). That's 9:15 AM Eastern, 8:15 AM Central, 7:15 AM Mountain and 6:15 AM Pacific here in North America. Those of you in the rest of the world can get the correct time conversion at this site. Actually, just go ahead and bookmark this site–it's one of the most useful sites I've come across during my sports betting career:
We'll be back on a daily basis for the rest of the tournament to bring you updated odds and matchups. If you want to read about what's happened so far you can go here:
46TH DORTMUND SPARKASSEN CHESS-MEETING 2018 (CHESSBASE.COM)
The Sparkassen Chess Meeting–sometimes referred to as the Dortmund Sparkassen Chess Meeting–has been held every Summer since 1973 in Dortmund, Germany. It was held sporadically prior to that with record of tournaments in 1928, 1951 and 1961. The tournament is essentially an 'invitational' event though one entry slot is awarded to the winner of Russia's Aeroflot Open tournament. Vladislav Kovalev is the 2018 representative from that event. There's an interesting historical sidebar to this tournament's history–in 2002 it served as the Candidates Tournament for the 2004 Classical World Chess Championship. Péter Lékó won, defeating Veselin Topalov in the finals.
Here are the updated odds to win the 2018 Sparkassen Chess Meeting in Dortmund, Germany along with all four Round 4 matchups. Thursday will be a rest day with Round 5 set for Friday, July 20:
2018 SPARKASSEN CHESS MEETING DORTMUND BETTING ODDS
TO WIN 2018 SPARKASSEN CHESS MEETING DORTMUND (UPDATED 7/18/18)
Jan-Krzysztof Duda: +150
Vladimir Kramnik: +350
Ian Nepomniachtchi: +350
Vladislav Kovalev: +750
Anish Giri: +750
Radoslaw Wojtaszek: +1150
Georg Meier: +1150
Liviu-Dieter Nisipeanu: +5000
TO FINISH TOP TWO 2018 SPARKASSEN CHESS MEETING DORTMUND (UPDATED 7/18/18)
Jan-Krzysztof Duda: -175
Vladimir Kramnik: +125
Ian Nepomniachtchi: +125
Vladislav Kovalev: +350
Anish Giri: +350
Radoslaw Wojtaszek: +550
Georg Meier: +550
Liviu-Dieter Nisipeanu: +3500
2018 SPARKASSEN CHESS MEETING DORTMUND ROUND FOUR BETTING ODDS
GEORG MEIER VS.VLADISLAV KOVALEV
Georg Meier: +750
Vladislav Kovalev: -900
Georg Meier: +900
DRAW: +110
Vladislav Kovalev: +-125
Georg Meier/DRAW: -3500
Georg Meier/Vladislav Kovalev: +110
Vladislav Kovalev/DRAW: -250
ANISH GIRI VS. LIVIU-DIETER NISIPEANU
Anish Giri: -750
Liviu-Dieter Nisipeanu: +600
Anish Giri: +125
DRAW: -150
Liviu-Dieter Nisipeanu: +950
Anish Giri/DRAW: -2500
Anish Giri/Liviu-Dieter Nisipeanu: +150
Liviu-Dieter Nisipeanu/DRAW: -175
IAN NEPOMNIACHTCHI VS. RADOSLAW WOJTASZEK
Ian Nepomniachtchi: -750
Radoslaw Wojtaszek: +600
Ian Nepomniachtchi: +125
DRAW: -150
Radoslaw Wojtaszek: +950
Ian Nepomniachtchi/DRAW: -2500
Ian Nepomniachtchi/Radoslaw Wojtaszek: +150
Radoslaw Wojtaszek/DRAW: -175
JAN-KRZYSZTOF DUDA VS. VLADIMIR KRAMNIK
Jan-Krzysztof Duda: -210
Vladimir Kramnik: +180
Jan-Krzysztof Duda: +300
DRAW: -250
Vladimir Kramnik: +600
Jan-Krzysztof Duda/DRAW: -1200
Jan-Krzysztof Duda/Vladimir Kramnik: +200
Vladimir Kramnik/DRAW: -500