10 Times Steph Curry has been a Troll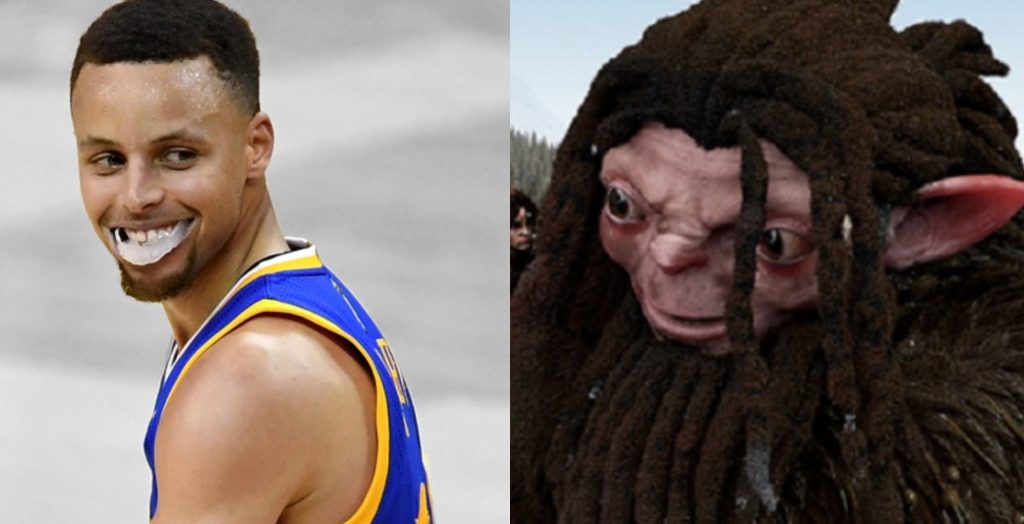 Steph Curry has a golden boy image that allows him to get away with anything.
Case in point, he's been involved in multiple trolling incidents and always emerged unscathed.
Of course, nobody's perfect. And Curry has proven this on more than one occasion by mocking opposing players and fans.
Let's take a look at 10 of Curry's biggest trolling incidents below. And keep in mind that some this trolling involves joking with friends.
1. Mocking LeBron James' Workout
After being eliminated by Curry's Warriors in the NBA Finals, LeBron James instagrammed a video of him getting pumped during his summer workout routine.
Curry took the opportunity to mock this clip during Harrison's Barnes' July 2017 wedding.
Although not a spot-on re-creation, Curry is holding a fake smartphone while filming himself doing a workout. And the internet went crazy because James' disgruntled teammate Kyrie Irving was looking on and laughing.
Steph Curry mocks LeBron's workout, and Kyrie is laughing about it lololol

(via ryanonlyryan/IG) pic.twitter.com/Tpyc4U9C5H

— go90 Zone (@go90Zone) July 30, 2017
https://www.instagram.com/p/BVXfmnthljC/
2. Taking a Dump on the Cavaliers Court
The Cleveland Cavaliers appeared to have Game 3 of the 2017 NBA Finals under control. But the Warriors mounted a furious comeback to steal the win and go up 3-0.
After Kevin Durant's game-sealing three-pointer, Curry appeared to take a fake dump on the Quicken Loans Arena floor.
The 2-time league MVP denied pulling a Randy Moss, but the internet wasn't convinced.
3. The Cavs' Locker Room Still "Smells like Champagne"
The Golden State Warriors won their first-ever NBA championship on the road in Cleveland in 2015. So when the two sides rematched in 2016, Curry reminded the media who won.
"Obviously, walking in the locker room, it'll be good memories," Curry said. "Hopefully, it still smells a little bit like champagne."
But it would be the Cavs popping champagne in Oakland that year as they became the first team to overcome a 3-1 Finals deficit.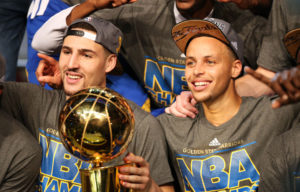 4. Trolling Former Coach Luke Walton after a Blowout Victory
When Luke Walton took the L.A. Lakers job after serving as the Warriors' top assistant, he didn't expect to compete with his former team.
But he probably also didn't expect to be mocked after an embarrassing 43-point loss to the Warriors at Oracle Arena.
At least in this case, it appears that Walton was in on the joke and took it in stride.
5. Trolling Richard Jefferson over 2017 Finals Loss
James isn't the only Cavaliers player that Curry likes to troll. He also took aim at long-time vet Richard Jefferson following a 4-1 Finals victory over Cleveland.
He was joined in the trolling by his teammate Andre Igoudala.
This is another case where Curry is friends with the trollee. But he can't keep himself from taunting the Cleveland reserve.
6. Making Fun of Former Teammate David Lee
Curry and former Warriors teammate David Lee were both members of the 2015 championship squad.
Lee would be traded to the Boston Celtics after that season. And he got a mixed response from his former point guard that included nice sentiments and some trolling.
In honor of my boy @Dlee042 taking the next step in his career, this is how we started our relationship! Love you bro http://t.co/25UqWFtSJj

— Stephen Curry (@StephenCurry30) July 7, 2015
7. Wearing a Cupcake Shirt to Mock the Thunder
Many Oklahoma City Thunder fans are still salty about the way that Kevin Durant left them for Golden State.
And they chanted "cupcake" during a 2017 contest that Golden State won 130-114.
Afterward, Curry and Draymond Green showed their support by wearing cupcake t-shirts.
Curry wearing the cupcake shirt. This is hilarious. pic.twitter.com/FFrxKX6e8G

— Courtney Cronin (@CourtneyRCronin) February 12, 2017
Draymond Green wearing the cupcake shirt during his press conference that OKC fans wore during game. #trollsohard pic.twitter.com/AgtE3M97qv

— Rosalyn Gold-Onwude (@ROSGO21) February 12, 2017
8. Making Fun of Tiger Woods' Glutes
Famed golfer Tiger Woods once pulled out of the 2015 Farmer's Insurance Open, while delivering a quirky reason that involved his glutes.
"[My] glutes are shutting off," Woods explained. "Then they don't activate and then it goes into my lower back. … So I tried to activate my glutes as best I could, but they just never stayed activated."
For some reason, Curry took this opportunity to troll Woods before he took the court for a 2015 contest against the Philadelphia 76ers.
He was asked about the joke and said that he's a big Woods fan. So there doesn't appear to be ill will between the two sides.
— Stephen Curry (@StephenCurry30) February 9, 2015
9. Referencing Madison Baumgarner's Dirt Bike Injury
In 2017, San Francisco Giants pitcher Madison Baumgarner sustained a serious dirt bike injury that left him out for weeks.
Curry used this as a chance to make a joke about how he wouldn't be riding a dirt bike during his off-days in Utah.
Reporter: What will you do on your off days in Utah?
Steph Curry: I won't be riding a dirt bike #Warriors pic.twitter.com/Gf0i2U8qxq

— Sam Hustis (@SamHustis) May 1, 2017
10. Curry Trolling Curry after Carolina Panthers Lose Super Bowl
Growing up in North Carolina, Curry became a big Carolina Panthers fan. So he wasn't too happy when they lost the 2016 Super Bowl to the Denver Broncos.
But he was also able to have fun with the loss, trolling himself by putting himself into a Crying Jordan meme.
A Look into my soul right now…but it's all good we will be back! pic.twitter.com/fKbDjGx0on

— Stephen Curry (@StephenCurry30) February 8, 2016