10 Reasons why Eli Manning Doesn't Get Respect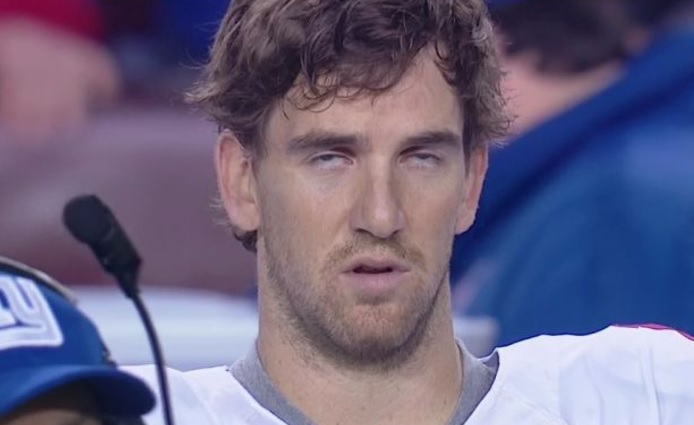 New York Giants quarterback Eli Manning doesn't get any respect.
And according to teammate David "Snacks" Harrison, this doesn't make Manning the Rodney Dangerfield of football, but rather the LeBron James.
Harrison recently spoke to Good Morning Football about Eli being left off the Top 100 Players of 2017 list.
"Eli, when you look at Eli, it's kind of like when you look at LeBron," said Harrison. "I'm not saying they're the same, but look at Eli's numbers. If any other quarterback would have those numbers it would be an amazing year.
"But it being Eli, no one is respecting it much like we do LeBron. LeBron could average 30 [points], 15 rebounds and 12 assists and it's like 'he didn't do enough.'"
So what is it that makes Manning less eye-catching than his NFL peers? Here are 10 reasons why he doesn't get any respect.
1. His Brother is Peyton Manning
When Eli Manning was drafted No. 1 overall in 2004, his brother Peyton was already lighting up the league with 4,557 passing yards and 29 touchdowns.
Peyton had a 6-year head-start on his brother and never looked back during his career.
The siblings have relatively similar stats (compared to years played), and both have 2 Super Bowl rings. But big brother has always been the more-dynamic passer and headline-grabber.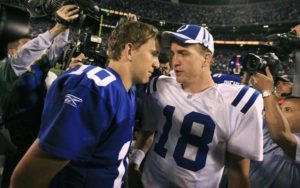 2. The Media doesn't Pump Up Eli
Continuing on our first point, the media has never embraced Eli quite like they did Peyton.
Perhaps the best example of this is when Pro Football Focus claimed that Eli wasn't even a top-20 quarterback going into 2015.
"While Manning has had an impressive career, highlighted by two Super Bowl victories, he has also proven to be erratic in his performance. According to our rating system, he isn't even a top-20 NFL QB right now."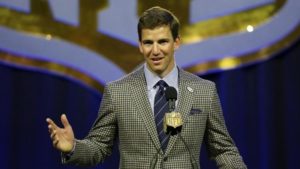 3. New York Missed the Playoffs for 4 Straight Seasons
In 2016, the Giants broke a streak of four-straight seasons without a playoff birth. But this 11-5 record hasn't been enough to make the media forget about four duds from 2012-2015:
2012 – 9-7 (2nd, NFC East)
2013 – 7-9 (3rd, NFC East)
2014 – 6-10 (3rd, NFC East)
2015 – 6-10 (3rd, NFC East)
These results might be acceptable for the LA Rams. But they don't fly for the Giants.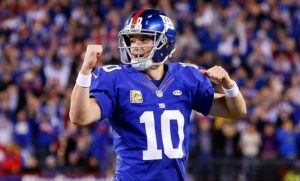 4. It's been 6 Years since Eli's Last Super Bowl
In 2011/12, New York pulled off one of football's greatest upsets when they beat an 18-0 New England Patriots team in Super Bowl XLVI.
Fast-forward to the 2017/18 season, and all they've managed is one playoff berth – last year's 38-13 blowout loss to Green Bay.
Many still point to Manning's 2 Super Bowl rings as a testament to his greatness. But they seem like ages ago.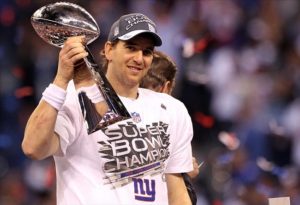 5. Manning Has Never Put Up Monster Touchdown Numbers
Since the turn of the decade, quarterbacks have been in an arms race to break records. Case in point, brother Peyton threw for an NFL-record 55 touchdowns in the 2013 season.
While Eli has had some very good statistical seasons, he's never thrown for 40 touchdowns in a year.
His best effort was 2015, when he tossed 35 TDs. This is really good, but it's not up there with Aaron Rodgers, Drew Brees, and Tom Brady.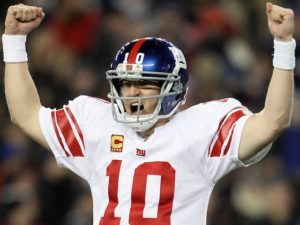 6. Eli Had a Terrible Season in 2013
This may be nitpicking going back four seasons. But Manning lost respect in the 2013 NFL Season, when he played absolutely horrible.
Granted, he didn't have a loaded receiving corp. But for a future Hall-of-Famer, throwing 18 touchdowns compared to 27 interceptions, with a 57.5% complete rate, is ridiculous.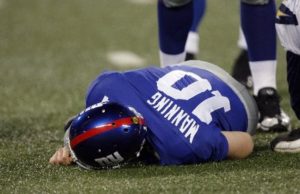 7. Manning can Play Down to the Level of His Competition
Following an October 2016 game, where New York lost 23-16 to an undermanned Green Bay Packers team, ESPN's Jordan Raanan ripped Eli a new one:
"He was throwing quickly, inaccurately and missed several potential big plays in the first half. He overthrew star wide receiver Odell Beckham Jr., was a little off-target to tight end Will Tye deep down field. Manning threw behind Beckham and Sterling Shepard on several others, and even threw some into the ground or off target when there were opportunities to make plays.
"It was ugly. Manning had a chronic case of happy feet, then the Giants blamed it again on Cover 2, a basic defense that has been around for years."
Given Eli's tendency to play like a rookie occasionally, this is another reason why he doesn't get enough respect.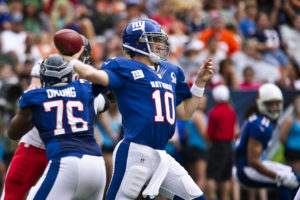 8. Manning Hasn't Always Had a Great Supporting Cast
As mentioned earlier, Eli Manning's receiving corp hasn't always been elite.
Odell Beckham Jr. has helped greatly in this department. But other years have been leaner.
Going back to the 2013 season, where Eli threw 27 interceptions, his top targets were an aging/injury-prone Victor Cruz (998 yards) and Hakeem Nicks (896 yards).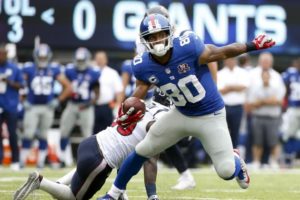 9. Eli is Under a Lot of Scrutiny in New York
Perhaps if Manning played in Indianapolis, Jacksonville, or Kansas City, he wouldn't constantly be under a microscope.
But playing in a metropolitan area with 20 million people means that Manning's mistakes and poor seasons are magnified.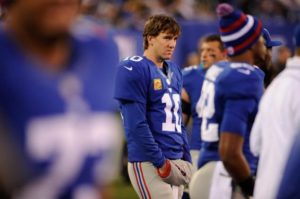 10. His Personality doesn't Command Media Attention
Somehow, Peyton's country-boy charm was a magnet for the media. But Eli just doesn't command the same attention, even though he's from the same family.