WWE Men's Royal Rumble 2018 Pro Wrestling Betting Odds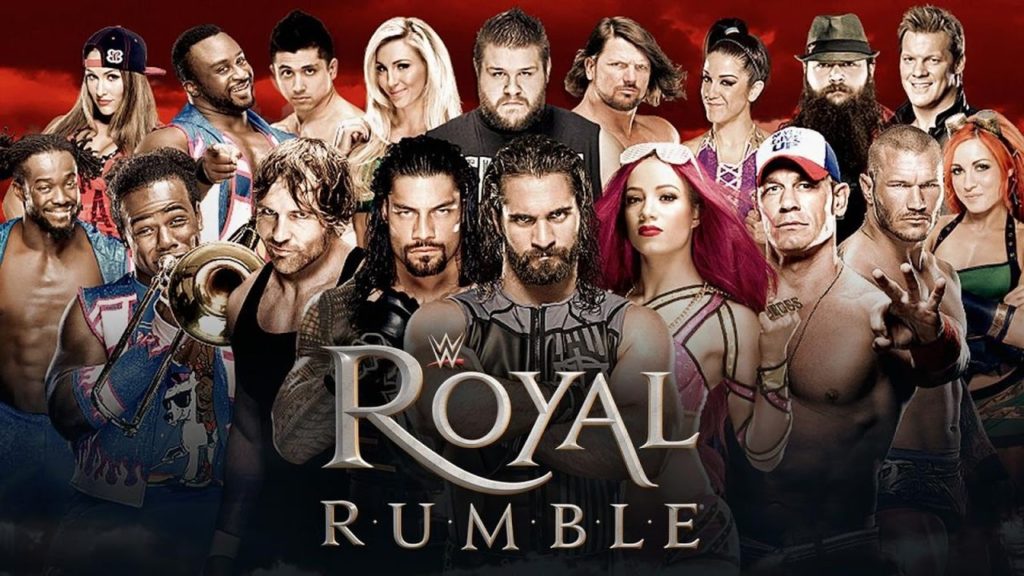 –The first WWE 'Royal Rumble' PPV was in 1988
–The 'Royal Rumble' is a big set up show for Wrestlemania
–The 'Royal Rumble' match is a 30 wrestler timed entry battle royal
Wrestlemania is the WWE's marquee event of the year but the storylines that make it so compelling are often set in motion at the Royal Rumble scheduled for January 28, 2018 at the Wells Fargo Center in Philadelphia, Pennsylvania. The 31 year old PPV event is headlined by a 30 man, timed interval battle royal with the winner receiving a WWE World Heavyweight Championship shot at Wrestlemania. For the first time in 2018 there will also be a Women's Royal Rumble with identical rules including 30 participants. The WWE creative team has managed to make the shopworn battle royal–historically one of the most useless types of wrestling match–into the focal point of one of the biggest PPV events of the year.
Setting odds for pro wrestling is a challenge because–spoiler alert–the matches and storylines are 'worked' meaning that their outcome has been pre-determined. In a typical sporting event we handicap by analyzing the strengths and weaknesses of each team and look for line value. Games are chaotic affairs with countless variables that can determine the outcome. In pro wrestling the outcome is predetermined to advance a storyline. Ideally, this will engage the interest of fans who will buy tickets and PPVs. The storylines may be set weeks or even months in advance but they're subject to last minute change due to injury and other factors. 'Back in the day' this was the responsibility of a 'booker'–usually a wrestler or former wrestler. The WWE's storylines are the product of a creative committee over which several people have significant influence and 'veto power'–the biggest of these being Vince McMahon, Stephanie McMahon and her husband Paul Michael Levesque (better known to the world as 'Triple H'). There are also 15 to 20 other members who also serve at the behest of the McMahon family. In terms of formal power, Stephanie McMahon and Paul 'Triple H' Levesque have the most but their dad still asserts his influence from time to time.
In order to set odds or handicap professional wrestling you need to focus on the storylines and determine how this event and the matches on the card fit into the 'big picture'. And even if you're right one of the 'head honchos' can change everything at the last minute. Knowing who is injured, who is on the 'outs' with the McMahon family or who has other issues also helps. Another important element is the contractual status of the individual wrestlers.
Here's the Sports Betting Experts betting odds on the Men's 'Royal Rumble' including 'to win' odds and an assortment of prop bets. We'll have the odds on the Women's Royal Rumble and the rest of the matchs on the PPV card in subsequent posts:
WWE ROYAL RUMBLE 2018 PRO WRESTLING BETTING ODDS
TO WIN WWE MEN'S ROYAL RUMBLE 2018
John Cena: +350
Shinsuke Nakamura: +350
Roman Reigns: +650
Seth Rollins: +650
Kevin Owens: +750
Finn Balor: +750
AJ Styles: +1000
Braun Strowman: +1000
Randy Orton: +1500
Matt Hardy: +1500
Sami Zayn: +1500
Brock Lesnar: +1500
Jinder Mahal: +2500
Dolph Ziggler: +2500
Kane: +2500
The Undertaker: +4500
Rusev: +4500
Baron Corbin: +4500
Bray Wyatt: +4500
Jason Jordan: +5000
The Miz: +5000
Bobby Roode: +5000
Cesaro: +5000
Chris Jericho: +5000
Jeff Hardy: +5000
Kassius Ohno: +5000
Mojo Rawley: +5000
Sheamus: +5000
Any Other Wrestler: +10000
TO FINISH TOP 4 WWE MEN'S ROYAL RUMBLE 2018
John Cena: -500
Shinsuke Nakamura: -500
Roman Reigns: -250
Seth Rollins: -250
Kevin Owens: -150
Finn Balor: -150
AJ Styles: +100
Braun Strowman: +100
Randy Orton: +150
Matt Hardy: +150
Sami Zayn: +150
Brock Lesnar: +150
Jinder Mahal: +250
Dolph Ziggler: +250
Kane: +250
The Undertaker: +450
Rusev: +450
Baron Corbin: +450
Bray Wyatt: +450
Jason Jordan: +500
The Miz: +500
Bobby Roode: +500
Cesaro: +500
Chris Jericho: +500
Jeff Hardy: +500
Kassius Ohno: +500
Mojo Rawley: +500
Sheamus: +500
Any Other Wrestler: +1000
TO BE AN OFFICIAL COMPETITOR IN THE 2018 MEN'S ROYAL RUMBLE
Kane: -900
Dolph Ziggler: -900
Mojo Rawley: -750
Jason Jordan: -750
Chris Jericho: -500
Triple H: -500
Undertaker: -500
Enzo Amore: -450
Sheamus: -450
Matt Hardy: -300
Pete Dunne -300
Ricochet: -300
Kilian Dain: -200
Mark Henry: -200
Roderick Strong: +100
Tyler Bate: +150
Bubba Ray Dudley: +300
Mick Foley: +450
Austin Aries: +450
Shawn Michaels: +750
Booker T: +750
Kenny Omega: +1500
Tetsuya Naito: +1500
Hiroshi Tanahashi: +2500
Kazuchika Okada: +2500
CM Punk: +2500
Minoru Suzuki: +2500
MOST ELIMINATIONS BY ONE WRESTLER WILL BE?
Over 6.5: +130
Under 6.5: -150
THE ENTRY NUMBER OF THE MEN'S ROYAL RUMBLE WINNER WILL BE?
1-20: +125
21-25: +175
26-30: -150
THE ENTRY NUMBER OF THE MEN'S ROYAL RUMBLE WINNER WILL BE?
Odd: +110
Even: -130
TIME OF MEN'S ROYAL RUMBLE WILL BE?
57:30 or Over: -150
Under 57:30: +130
WILL THE MEN'S ROYAL RUMBLE WINNER BE FEATURED IN A WWE CHAMPIONSHIP MATCH AT WRESTLEMANIA?
Yes: -750
No: +500
WILL THE MEN'S ROYAL RUMBLE WINNER BE FEATURED IN A WWE UNIVERSAL CHAMPIONSHIP MATCH AT WRESTLEMANIA?
Yes: +350
No: -500
THE WRESTLING OBSERVER/DAVE MELTZER'S STAR RATING FOR 2018 MEN'S ROYAL RUMBLE?
3 Stars or higher: -210
Under 3 Stars: +180
THE HIGHEST WRESTLING OBSERVER/DAVE MELTZER STAR RATING ON THE 2018 WWE ROYAL RUMBLE CARD WILL BE?
Any other match on the card: -250
Men or Women's Royal Rumble: +210
WHICH WILL BE HIGHER?
Combined star rating of Men and Women's Royal Rumble -1 star: +110
AJ Styles vs. Kevin Owens vs. Sami Zayn +1 star: -130