Underdog Phillies Host Mets in Series Opener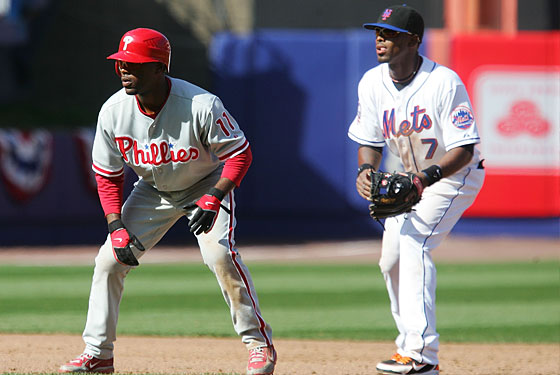 Who: New York Mets v. Philadelphia Phillies
When: Thursday August 10th, 2017 7:05PM EST
Where: Citizens Bank Park—Philadelphia, Pennsylvania
If you are looking for a matchup that pits two of the worst teams in baseball against one another, look no further than the Mets and Phillies series in Philadelphia. The last time these two teams met it was back in April, and at that point in time there was all sorts of optimism surrounding Citi Field. While the Phillies knew then what they know now (that they are not going to make the playoffs), they might honestly be considered the better of these two teams.
When it comes to the Mets, they cannot buy a win in recent weeks. They are currently on a streak that has seen them lose 10 of their last 13, and their record seems to be growing worse by the day. As you could have probably guessed, the biggest culprit behind the Mets' poor play of late is the fact that they cannot get runs on the board. During this woeful run of games, the Mets have been held to 2 or fewer runs on 5 occasions. In fact, of their 10 recent losses, only 1 game saw them score more than 4 runs, and in that game they were able to get 5 on the board. No matter who you are, it is always going to be difficult to win if you cannot get runners across the plate, it really is that simple.
With regard to the Phillies, the story has been more or less the same since the first pitch of the year was thrown. No one was ever expecting this to be an upbeat season for the Phillies, but perhaps no one was anticipating that it would be this bad either. Regardless of that, the Phillies come out every night hoping to retain what little bit of pride they have left. With a series with the Mets on hand, there have been few better opportunities to get out there and win.
Game Overview and Analysis
For the visiting Mets (-150), it will be Jacob deGrom (12-5 3.36 ERA) who will be taking the mound. If one thing sticks out about this pitcher, it is his record and accompanying ERA. On a team like the Mets, who are more than 16 games off the division leaders, it is difficult for any pitcher to attain positive stats, let alone sustain them across the course of the season. Surprisingly, that is exactly what Jacob deGrom has done all year long. Though his last two outings were both earned losses, the previous 8 accounted for 8 consecutive wins. All things considered, the Mets are throwing their best pitcher into the mix to kick the series off.
With all of that being said, it doesn't really matter how the Mets' pitching staff does if the bats are quiet. If New York want any chance of overtaking the Phillies in this game, they will need to score more than a run or two. This has been a problem for more than 2 weeks now, and there really isn't much there to suggest that it is going to be rectified anytime soon.
For the Phillies (+130), it will be the right-hander Vincent Velazquez (2-6 4.82 ERA) who will be making the start. Velazquez has not been overly poor, but he has left a lot to be desired from his performances all season long. His 10 game log shows a 1-4 record, however almost none of these performances stick out as overly poor. Like the Mets, the Phillies have long struggled with getting runs across the plate. Unlike how it is with deGrom, the lack of run production has resulted in a poor record for Velazquez. Luckily for him, the Mets are going to be limping into this game and series, so if there was ever an opportunity for him to grab a win, it is tonight in Philadelphia.
Betting Prediction
As much as I would like to advise a bet on deGrom and the Mets, the simple fact of the matter is that he has lost 2 consecutive, and the Mets have been on a woeful streak. Velazquez is not the better of the two pitchers, but I have to say that the Phillies have the better of the two offenses, and I think that will make the difference. As such, I think you should place a wager on the Phillies moneyline (+130) as it is listed by Bovada.
As far as the over/under is concerned, it is currently listed at an even 8 runs (-115/-105). In this game, I like the over (-115), but I do not love it. I think there is no harm in going for this because I think the Phillies bats will get going, but with how the Mets have not been scoring, 8 runs seems like a lot.
Finally, the Phillies are +1.5 (-130) underdogs on the point spread, and if nothing else I think this is a good bet. I firmly believe the Phillies will win, and if that happens this spread will be covered with ease.