Top 10 Enemies Created by LaVar Ball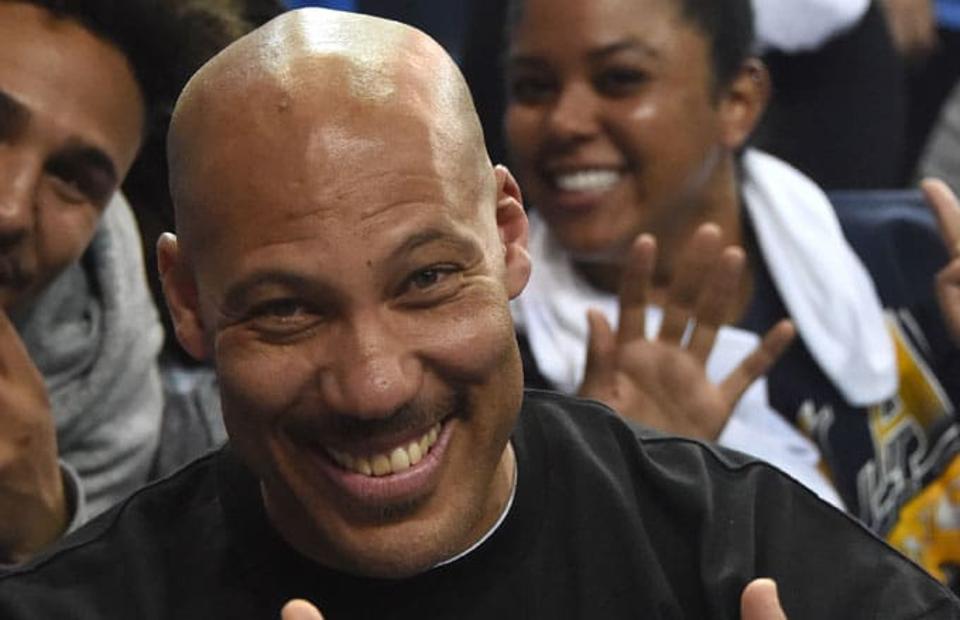 Both the high school and college basketball seasons are over with, meaning super-stage dad LaVar Ball's sons are finished playing for the season. This also means that he should be exiting the public's view for a while – only he's not.
Ball has created more headlines by saying that his son Lonzo Ball's team, UCLA, lost because their white players' "foot speed is too slow."
Saying controversial things like this isn't uncommon for Ball, who's made a name for himself with outlandish statements. But it's also created him plenty of enemies, whom we'll discuss below.
1. LeBron James
There's no easier way to make an enemy than to go after somebody else's kids. This is exactly what LaVar did when he told ESPN the following:
"You got LeBron—it's going to be hard for his kids because they are going to look at them like, 'You got to be just like your dad. And after a while, that pressure starts sitting on you like, 'Why do I got to be just like him? What can't I just be me?' And then they are going to be like, 'Aw, you're soft. You're not that good.' Because the expectation is very, very high."
James had the following to say in defense of his two sons, LeBron James Jr. and Bryce Maximum James:
"Keep my kids' name out of your mouth. Keep my family out of your mouth. This is dad to day, it's a problem now."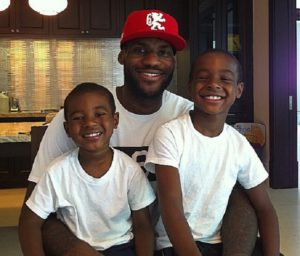 2. Charles Barkley
Charles Barkley took it upon himself to pick apart LaVar Ball. The TNT analyst not only challenged LaVar to a game of one-on-one, but he also made fun of him for averaging 2 points per game at Washington State.
LaVar is definitely up for the verbal battle, telling ESPN, "He better stay behind at TNT and eat those donuts."
Ball has repeatedly said that he won't play Barkley because the can't move well due to his slight limp.
Charles Barkley clowns LaVar Ball ' I don't talk about anyone who averaged two more points than a dead man' pic.twitter.com/Lv7LRi7zTf

— gifdsports (@gifdsports) March 17, 2017
3. Every White Basketball Player
As mentioned in the introduction, LaVar Ball blamed his son Lonzo and UCLA's Sweet Sixteen loss on slow white players. He's referring to Bryce Alford, T.J. Leaf, and Thomas Welsh, all of whom played a big role in the team's success.
"You can't win no championship with three white guys because the foot speed is too slow," Ball told CBS Sports Radio.
This not only drew the headlines that Ball loves, but it's also sparked an age-old debate about slow white guys in basketball.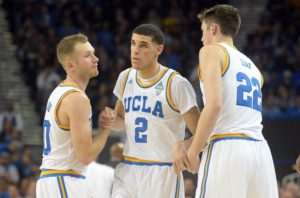 4. Chino Hills High (CA) Coach Stephan Gilling
Having trained Stephan Gilling when he was a youth playing basketball, LaVar Ball thought he could control the Chino Hills team that his sons LaMelo and LiAngelo play and played for.
After all, he hand-picked Gilling for the job when former coach Steve Baik left for Fairfax High.
This turned out not to be the case in a game that Chino Hills was losing. Ball kept yelling at his kids to keep trapping, despite the team losing by 12. Gilling yelled at his team to play man-to-man, and they listened, coming back to win the contest.
Afterward, there was a heated debate in the locker room over how Ball needed to get out and let Gilling talk with his team. Ever since then, Ball has been bashing Gilling in interviews. This has only intensified recently since Chino Hills – a nationally ranked team – lost in the California playoffs.
It's reunion time. New Chino Hills coach Stephan Gilling, former Chino Hills coach Steve Baik and LaVar Ball. pic.twitter.com/l4moucOfhl

— eric sondheimer (@latsondheimer) June 29, 2016
5. Michael Jordan
MJ would be higher up on this list, but the fact is that he's never publicly commented on Ball's claim that he could beat Jordan one-on-one. Frankly, with as high-profile as Jordan is, we're not even sure he knows Ball exists.
Okay, he probably does, and Jordan almost assuredly is annoyed at Ball's boast. However, it's not like he needs to respond, given that everybody knows MJ would crush daddy Ball in one-on-one.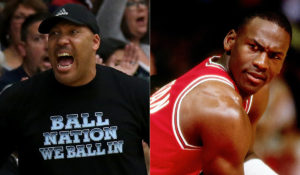 6. Steph Curry
The same logic that applies for Jordan applies for Steph Curry. He hasn't acknowledged that LaVar exists, but we assume that he didn't take kindly to hearing that Lonzo Ball is supposedly better than him. We imagine that Curry will have a special game or two in store for Lonzo when he soon enters the league.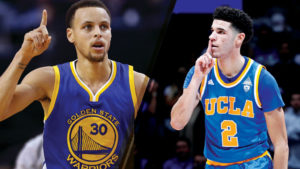 7. Chino Hills High School
On Fox Sports' Undisputed, Ball said that his remaining high school son, LaMelo, will play his last two years at another school. This is little surprise given that when Ball called for a new coach to replace Gilling next season, the school sided with their coach. That said, it looks like they're choosing integrity and Gilling over more time in the national spotlight.
8. John Wall
For the record, nothing has been said between Washington Wizards point guard John Wall and Ball. However, Wall let it be known that NBA players will come at Lonzo extra hard due to what his father has been saying.
9. Steve Kerr
Speaking with ESPN Radio, Golden State Warriors coach Steve Kerr takes issue with everything that Ball has said, and he doesn't think its helping LaVar's kids.
"The fact that everybody keeps talking about him, he seems to be accomplishing whatever he's trying to accomplish, because the things he says are so outlandish," said Kerr. "But he keeps getting headlines, and I guess that's what he wants.
Kerr added, "I don't think it's helping his kids. I think it'd be better for them if they can just play and have fun and not have to hear that every day, but whatever. It's all part of him."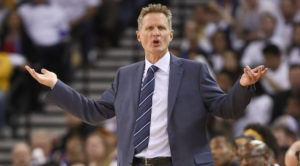 10. Russell Westrbook
Here's another instance where we can assume that Oklahoma City Thunder guard Russell Westbrook doesn't like Ball because of his outlandish comments. Despite Westbrook being only the second player to notch a triple-double average in league history, Ball thinks that Lonzo is better:
"To me Zo is the best player in the world," LaVar says. Yes, even better than all-stars LeBron James and Russell Westbrook. "I don't know if he can beat them one on one," Ball says, conceding the NBA stars are stronger than his son, the Pac-12 player of the year and an expected top pick in the upcoming NBA draft. "But I know he can beat them 5 on 5."