Mexico Look to Extend Group C Lead Against Underdogs Jamaica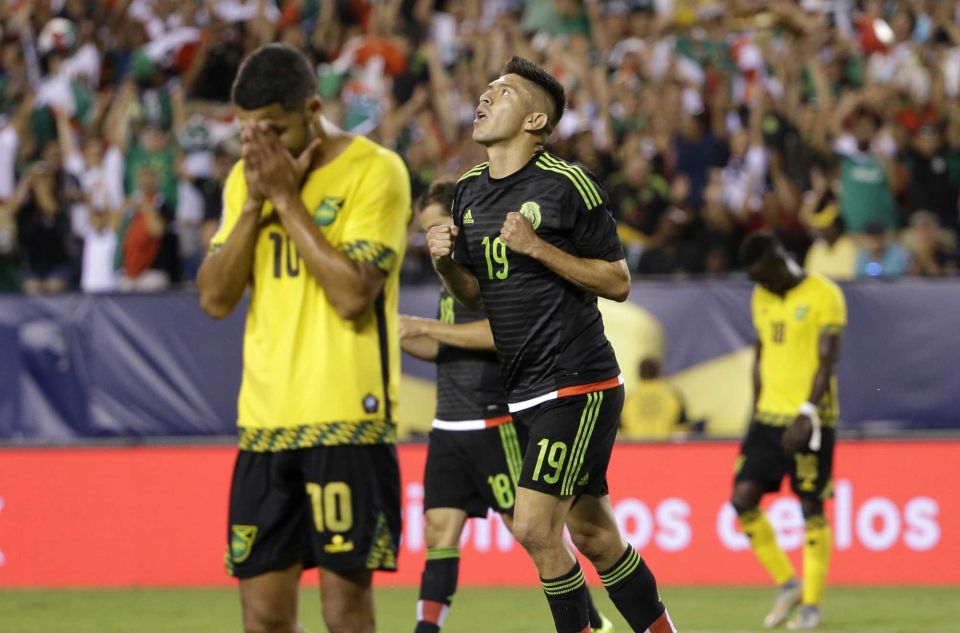 Who: Mexico v. Jamaica
When: Thursday July 12th, 2017 10:30PM EST
Where: Sports Authority Park—Denver, Colorado
Mexico and Jamaica, who are both favored to make it out of Group C, put forth solid efforts in their opening group matches last week. Jamaica, who played the small island nation of Curacao, utilized a dominant performance by goalkeeper and Philadelphia Union standout, Andre Blake, to secure a 2-0 victory. Mexico opened up the scoring against El Salvador early and ended up cruising to a 3-1 victory despite an equalizer that shook the Mexican fan base.
Both of these sides are acutely aware of the fact that, even with a loss, they are still more than likely going to get out of Group C alive. While this may be true, there is no indication that either side is going to rest players or, in any way, take this second match lightly.
The styles of play employed by these two teams could, quite honestly, not be any more different. The Mexicans like to control the pace of play with a multitude of passes and possession, while Jamaica employ a more rough and rugged style of football. Both teams are full of speed in all areas of the pitch, too, so this is sure to be an exciting end to end match. Mexico may have a roster with more stars, but seeing as many of the highest-ranking players on the team are being given a break thanks to their participation in the Confederations Cup in Russia, this match and all 3 points are very much up for grabs.
Match Overview and Analysis
Mexico (-285) are going to enter this match and tournament as heavy, heavy favorites. In their match with El Salvador last week, El Tri got the match off to a flying start and were up 1-0 before 10 minutes had gone. Things were looking to be in Mexico's hands, but within 2 minutes of the opening goal being scored El Salvador hit back with an unexpected goal of their own. It did not take long for Mexico to bounce back, however, as Elia Hernandez scored their second goal of the match a little more than 15 minutes prior to the halftime interval. Another goal was added in the 55th minute and Mexico ended up easily securing 3 points.
What we can expect to see against Jamaica is a pacey attack. Whether it is attacking down the flanks after controlling possession or breaking on a counterattack, the Mexicans have speed and skill on their side. Making the situation even more precarious for the Jamaicans is the fact that Mexico love to bait defenders into making out of control tackles. Jamaica (+800) is notorious for having overzealous defenders, so I would not be surprised to see a few cards handed out in this match.
As for Jamaica, their first match of the group was against Curacao. Despite Curacao banging 6 shots on target, the Caribbean side were able to win by a margin of 2-0. As you could have probably surmised, the key to Jamaica's first victory was Andre Blake. Blake performed well in the first match, but will need to replicate that performance in order to give his side any hope of securing even a single point from their second Group C endeavor. Jamaica, with their size and speed, have a chance at securing a result, but it will take some competent defending in order to get the job done.
Betting Prediction
The Mexican (-285) side that we see at this year's Gold Cup is a lot like the young, experimental German side we saw at the Confederations Cup. Though conventional wisdom would tell you that a youthful team might have trouble on such a large stage, but such has not looked to be the case so far. As such, I think the most logical wager is a moneyline bet on Mexico (-285). The odds offered by sites like MyBookie and Bovada do not offer a lot of value, but I think that El Tri will easily secure another 3 points as well as their spot in the next round.
The over/under for this match is currently listed at an even 2.5 goals (-145/+105). I understand that both sides have talented goalkeepers, but I would still be very surprised to see this match stay under 3 goals. As such, I think the most logical bet to place is on the over. Even in a worst case scenario you will more than likely push. I simply cannot envision this match remaining 0-0 for too long.
If you are unlike me and are giving Jamaica more of a chance, a wager you might want to take a look at is the +1.5 spread for Jamaica (-125). Though I do not think the Jamaicans will be too much of a threat to score, all they need to do is keep Mexico from scoring twice. With Blake in net, I think this is something that can happen.