Lady Gaga Super Bowl Halftime Show Post Press Conference Updated Odds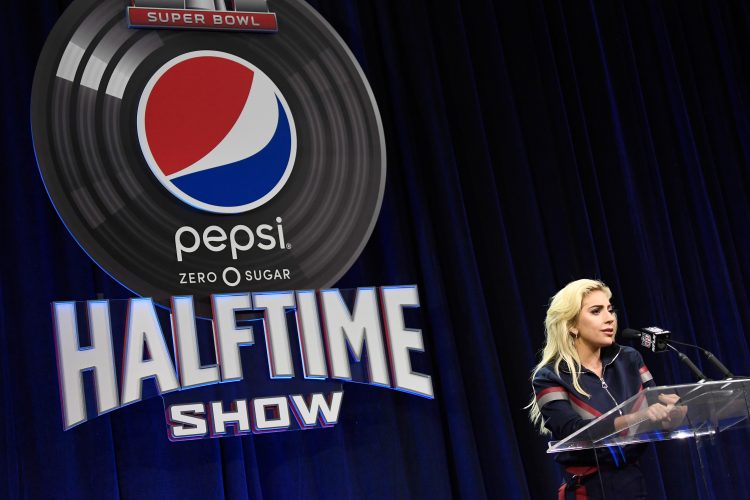 –The Super Bowl is a media frenzy and that's evident when the halftime performer gets her own press conference.
–Bookmakers took many of the halftime show props off the board due to Lady Gaga's press conference on Thursday.
–Here's our odds revisions based on Lady Gaga's media appearance.
The Super Bowl is always a 'media frenzy' so it shouldn't come as a surprise that in addition to the media day for both teams the halftime performer gets a press conference. On Thursday, Super Bowl LI halftime performer Lady Gaga held a press conference in which she came off as cool, quick witted and professional–and didn't really answer any major questions that would prevent people from tuning in to see what happens.
One clear impact of the Lady Gaga press conference could be seen in the bookmaking marketplace. Most of the books that were taking action on her halftime show took those props 'off the board' and/or revised their numbers. That's just smart bookmaking and there were several things that justified revision based on what she said (and didn't say). For that reason, I figured that I should do the same things with the SPORTS BETTING EXPERTS odds on the Lady Gaga halftime performance. Below, we've got the full list of Lady Gaga bets followed by my comments on what I've revised and why.
DON'T EXPECT A PROTEST
There have been some people and media outlets suggesting that Lady Gaga might (and in some cases suggesting that she *should*) turn her Super Bowl halftime show into an anti-Trump protest. I've thought all along that was highly unlikely and now after watching her press conference I'm even more confident that no protest will be forthcoming from Ms. Gaga.
The primary reason? There's no financial upside for her to do so. She clearly has her own political beliefs but she's also smart enough to understand the significance of context. It's one thing to join in a protest and make your political and ideological stance publically known. It's another thing entirely to hijack one of the biggest audiences a performer will ever have to make a 'political statement' that will have dubious impact. There's a very clear distinction between 'raising awareness' and being a 'divisive element'. Based on the demographics of the country and the Super Bowl audience, any type of 'protest' would just reinforce opinions that people already have. She'd be either 'preaching to the choir' with the left leaning segment of the audience and reinforcing what the right leaning segment already expects a celebrity to do. Not much benefit to anyone in that scenario, least of all to Lady Gaga herself.
And lest we forget, this would raise the ire of one of the most powerful and notoriously litigious entities on the planet–the National Football League. They would react very poorly to anything that approximates orchestrated controversy on the part of Lady Gaga. It wasn't that long ago that the NFL sued rapper MIA for over $16 million for giving an 'extended middle finger salute' during a cameo performance in Madonna's Super Bowl halftime show. The two sides settled out of court but the message was clear. If an entertainer agrees to show up to put on a show for the NFL they better go by the book. If they're willing to put the screws to what was essentially a backup singer for a fairly innocuous gesture what do you think they'd do to their headline star if *they* did something that derailed the entire Super Bowl halftime show. Being on the wrong end of litigation isn't a lot of fun and particularly if there's a chance you could end up on the wrong end of a nine figure judgement. Lady Gaga is smart enough to know this and smart enough to know that she's got a lot more at stake.
Lady Gaga isn't going to do anything that could seriously hurt her professionally and financially. You don't reach the point where you pocket $1.9 million per concert by being stupid and lacking business savvy. I've seen Lady Gaga perform several times and she's always impressed me. I can't say that I'm exactly her demographic (my musical tastes tend more toward Iron Maiden and Megadeth) but I've had people give me tickets to her shows in Las Vegas and I like a good spectacle. And that's exactly what she's capable of delivering. She's got every trait you'd expect from a superstar–talent, intelligence, an almost instinctive sense of savvy self promotion and a rare ability to connect with her audience in a 20,000 seat venue like the MGM Grand Garden Arena. What impressed me the most is her professionalism–her understanding that people show up and drop a lot of money to watch her perform and that she has a responsibility to make it worth their while. No doubt that she's got plenty of personal pet issues and political beliefs but the way to create positive impact in that regard is to *use* your platform, not burn it down in front of a hundred million plus TV viewers.
UPDATED POST PRESS CONFERENCE SUPER BOWL LI HALFTIME SHOW PROPS
Color of Lady Gaga's hair during halftime show?
Blonde/Yellow: -450
Brown: +950
Green: +2150
Pink: +2450
White: +2600
Blue: +2750
Purple: +3500
Orange: +4750
Any other color: +6500
It sounds like Lady Gaga is going to put on an entertaining, family friendly show that will keep controversy to a minimum and help her make a lot of money going forward. For that reason, there's no reason to expect that she'll go with anything out of the ordinary with her hair color. As a result, I've increased the price on the favorite and adjusted the rest of the list accordingly.
First song performed by Lady Gaga during the halftime show?
Bad Romance -175
Born This Way +750
The Edge of Glory +1750
Just Dance +1800
Applause +2500
Poker Face +3000
Paparazzi +4500
Any Other Song +1750
Many of the offshore books have taken this off the board though I've seen nothing to suggest that this has had any confirmation. That being said, there's a lot to suggest that she'll open her set with 'Bad Romance'. She was performing this song in some 'behind the scenes' rehersal footage released by halftime show sponsor Pepsi. It's one of her biggest hits–according to Billboard the third biggest seller of her career. I also researched her historical setlists and in 2016 'Bad Romance' was one of her most performed songs *and* she used it frequently as a show opener. The 'past performance data' of halftime shows suggests that what makes a good show opener for an artist on the road can also make for a good opener for the Super Bowl set.
Will Lady Gaga use a headset or handheld microphone?
Headset: -350
Handheld: +175
Lady Gaga's show will have plenty of dancing and athleticism. For that reason, it seems all but certain that she'll go with the headset microphone.
Will Lady Gaga cover any of these artists who died during the past year?
David Bowie: +750
Prince: +950
Leonard Cohen: +1250
George Michael: +1500
No cover or other artist: -350
Even if Lady Gaga was influenced by any of these performers she realistically has time for only four or five songs in a 15 minute or so set. It's doubtful that any of these will make the cut since she's got hits she's expected to perform and tracks off her latest album release, ('Joanne' released in October 2016) she wants to get in front of the big audience.
Will Lady Gaga have any surprise 'guest performers'? OFF THE BOARD
It was revealed during her press conference that Tony Bennett will make an appearance during the Lady Gaga Super Bowl show. It might be part of a videotaped 'countdown' segment but that's enough to get this bet taken off the board. In the past 'surprise performers' have been brought in only when there's the perception that the main artist needs to 'punch up' their show. If anything, Lady Gaga is capable of putting on a highly entertaining show on her own.
Will Lady Gaga suffer a 'wardrobe malfunction' a la Janet Jackson?
Yes: +950
No: -1500
Lady Gaga addressed the 'wardrobe malfunction' possibility during her press conference with a quick witted response that was as much truth as humor:
"Everything is going to be nice and tight. I wouldn't worry about that."
That's why there are so few *real* 'wardrobe malfunctions'. Women in general and performers in particular have this thing pretty well figured out. For that reason, we've bumped up the price on the 'No'.
What will Lady Gaga wear during halftime show?
Hat/Head Covering: -150
Glasses/Sunglasses: +210
Wings: +750
Tail: +1750
Pro Hillary Clinton/Anti Donald Trump T Shirt+7500
Performs nude: +25000
Will Lady Gaga wear a pink hat during the performance?
Yes: +450
No: -600
Number of wardrobe changes by Lady Gaga?
Over 1.5: -450
Under 1.5: +325
Number of wardrobe changes by Lady Gaga?
Over 2: -200
Under 2: +175
Will Lady Gaga wear an outfit that exposes her midriff during halftime show?
Yes: -150
No: +120
Will Lady Gaga wear an outfit that exposes her cleavage during halftime show?
Yes: -150
No: +120
The wardrobe change props are still up in the air. Gaga answered a question at her presser with another quick witted retort that got a laugh but revealed nothing. Asked how many wardrobe changes she could cram into her performance she replied:
"I don't like to use the word cram when it comes to fashion"
That means all of these are still in play. Obviously she's not performing nude so we bumped up the price on that even more and based on her other commentary it's doubtful that she'll be wearing a politically charged t-shirt. She's emphasized repeatedly that her performance is going to be 'athletic' which suggests that there won't be a lot of gratuitous props in her costumes. The 'athletic' nature of her show doesn't mean she can't show some cleavage or midriff and possibly makes it more likely.