Honduras Look to Overturn Canada's Group Lead in Final Match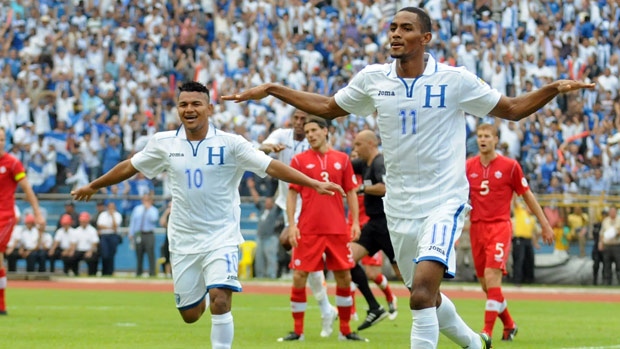 Who: Canada v. Honduras
When: Friday July 14th, 2017 10:00PM EST
Where: Toyota Stadium—Frisco, Texas
For most people, it is unclear what is more surprising; Canada being on top of Group A after 2 matches, or Honduras being at the bottom. Either way, Group A has thus far not panned out the way most people thought it might have. Heading into this match, the Canadians are fully aware that a draw will secure them a berth in the quarterfinals. Conversely, the Hondurans will need to not only defeat Canada if they want any chance of advancing, they will have to undo Canada's group-leading goal differential as well. All things considered, Honduras are really up against it in this one.
A talking point that is being discussed just about everywhere you look, however, is whether or not Honduras will end up being awarded 3 points despite having drawn 0-0 with French Guiana in their second match. The reason for this is due to the fact that the French Guianese fielded an ineligible player, Florent Malouda, in this match. Though CONCACAF has yet to make any sort of official decision regarding the matter, the feeling is that they will in the coming days. If they do decide to award Honduras with 3 points via a 3-0 forefeit victory, the landscape of this group will be changed dramatically. Until then, however, Honduras are acutely aware of just what needs to be done in order to advance.
Match Analysis and Overview
For Canada (+210), the big question mark heading into this match is whether 16-year old standout, Alphonso Davies, will be able to participate or not. After scoring an early goal against Costa Rica (his second of the competition), the youngster was carted off the field with an apparent ankle injury. His status for Friday's match is still unknown. While it may seem insane that Canada's chances of advancing are in the hands of a 16-year old, that is a reality at the present moment in time. With that being said, Canada has looked a competent, all-around side up to this point. Their 1-1 draw with Costa Rica came on the back of a solid defensive performance, and was as unlikely as you might expect. Now, Canada will be hoping to advance out of the group stages for the first time in 8 years.
Honduras (+135) may be favored to win this match, but they have a lot more to do than earn 3 points alone. They currently sit in 3rd place in the group and are in need of a win and goals if they want any chance of moving on. Are they capable of getting a win and scoring goals? Surely. Unfortunately, they have done anything but that up to this point in the competition. In fact, Honduras has yet to get on the scoresheet in this tournament.
Honduras may be seemingly unable to get on the scoresheet, but it is not for a lack of chances. Through their first 2 matches, the Hondurans have gotten plenty of looks in front of the net. What they need to do differently in their 3rd and final group match is bury the chances they get. If they can do that, it is no unfathomable to see them move on.
Betting Prediction
As far as who you should take in this one, I am looking at the Honduran moneyline (+135) as the most obvious choice. Not only do the +135 odds offer you a lot of value, I truly think that Honduras are the more talented side. The Hondurans have plenty of players who play for La Liga and MLS clubs, so the talent is there. If they can finish the chances that are presented to them I do not see them securing a victory to be too much of an issue.
Bovada currently has the over/under listed at an even 2 goals (-125/-105). Being that Honduras are in need of at least 2 goals themselves, I think the most logical bet for this one is the over (-125). The -125 odds are great, and the fact that you have the potential for a push should make this bet a bit easier to take. This line is being driven down by the fact that Honduras has yet to score in this competition, but I feel as though that will change on Friday night.
A safe wager that you might want to consider is an alternate point spread offered by Bovada. This spread sees Honduras listed as +.5 goal underdogs (-235). Though the odds on this wager are not the best, I think this is an extremely safe bet in the context of this match. Honduras are likely to be on the front foot form the moment this match kicks off, and if that is the case I do not see many scenarios in which Canada can overturn their momentum.