Grand Chess Tour Rapid & Blitz Tournament Leuven Belgium 2018 Betting Odds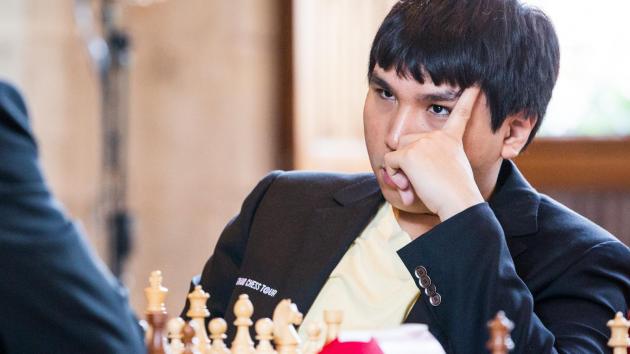 –Chess is a surprisingly popular game among bettors–particularly in Europe.
–Wesley So is the defending Rapid champion, Magnus Carlsen won the 2017 Blitz tournament
–The tournament runs June 12 through June 16 in Leuven, Belgium.
The 2018 Leuven Rapid & Blitz Chess Tournament is the first event on the 2018 Grand Chess Tour. What, you might ask, is the Grand Chess Tour anyway? I'll let them explain in this blurb from their website:
We plan and execute the best chess events in the world. From superior organization and amenities to a full-blown spectator experience, we show professional chess as it's meant to be enjoyed. Watch your favorites battle it out over the coming months. Paris, Leuven, Saint Louis and London… Chess has arrived.

The 2017 Grand Chess Tour brings 23 of the world's strongest chess professionals together through a cycle of five international tournaments, each representing the new gold standard for professional chess. Every pivotal move will be broadcast live alongside world-class grandmaster commentary, watching the world's best players compete for lucrative tournament prize funds and race for the additional Tour prize.
There's an interesting overlap between professional chess players and professional poker players and it sure looks like the Grand Chess Tour is inspired by the World Poker Tour. We've previously discussed the impressive demographics of chess but the game has yet to rival poker in terms of lucrative purses though the GCT is a step in the right direction. The five event Grand Chess Tour schedule offers a total prize pool of $1.05 million US. The first three tournaments–this one, the Paris GCT later this month and the St. Louis Rapid & Blitz event in August–each have $150,000 US in prizes while the final two events on the 2018 circuit–the Sinquefield Cup and the London Chess Classic–offer a prize pool of $300,000 US each. Each event earns points for top finishers and the overall Grand Chess Tour Championship will go to the player with the most points. The overall season prize pool is another $150,000.
One thing that is known about this event–there will be a new champion in 2018. In 2017, World Champion Magnus Carlsen won in dominating fashion but is not returning this year to defend his crown. On the plus side, the field welcomes an impressive group of new challengers including Fabiano Caruana, Hikaru Nakamura, Alexander Grischuk and Shakriyar Mamedyarov. The organizer of the event is an organization called 'Your Next Move':
Your Next Move, a non-profit organization and the organizer of this event, promotes chess as an educational tool for children and youngsters in Belgium. By playing chess, children and youngsters learn to analyze and assess difficult situations, to act fast and to act under pressure. Chess enables them to learn to think in a creative and strategic way. Those same qualities will prove to be indispensable in life which increasingly becomes more complex, more global, where evolutions become revolutions and communication channels multiply all the time.
We'll update throughout the tournament with updated 'to win' odds and individual round matchups. The Rapid competition begins June 12th and runs through the 14th, the Blitz competition will be contested on the 15th and 16th. Here are the odds for the 2018 Grand Chess Tour Rapid & Blitz Tournament:
2018 GRAND CHESS TOUR RAPID & BLITZ TOURNAMENT LEUVEN BELGIUM BETTING ODDS
TO WIN 2018 GRAND CHESS TOUR RAPID TOURNAMENT LEUVEN BELGIUM
Hikaru Nakamura: +300
Sergey Karjakin: +500
Viswanathan Anand: +750
Maximie Vachier-Lagrave: +750
Fabiano Caruana: +900
Levon Aronian: +900
Anish Giri: +900
Shakhriyar Mamedyarov: +900
Alexander Grishchuk: +900
Wesley So: +900
TO WIN 2018 GRAND CHESS TOUR BLITZ TOURNAMENT LEUVEN BELGIUM
Hikaru Nakamura: +300
Sergey Karjakin: +500
Alexander Grishchuk: +500
Maximie Vachier-Lagrave: +750
Fabiano Caruana: +750
Wesley So: +750
Viswanathan Anand: +900
Levon Aronian: +900
Anish Giri: +1500
Shakhriyar Mamedyarov: +1500
TO FINISH TOP TWO 2018 GRAND CHESS TOUR RAPID TOURNAMENT LEUVEN BELGIUM
Hikaru Nakamura: +150
Sergey Karjakin: +250
Viswanathan Anand: +350
Maximie Vachier-Lagrave: +350
Fabiano Caruana: +450
Levon Aronian: +450
Anish Giri: +450
Shakhriyar Mamedyarov: +450
Alexander Grishchuk: +450
Wesley So: +450
TO FINISH TOP TWO 2018 GRAND CHESS TOUR BLITZ TOURNAMENT LEUVEN BELGIUM
Hikaru Nakamura: +100
Sergey Karjakin: +200
Alexander Grishchuk: +200
Maximie Vachier-Lagrave: +250
Fabiano Caruana: +250
Wesley So: +250
Viswanathan Anand: +350
Levon Aronian: +350
Anish Giri: +600
Shakhriyar Mamedyarov: +600