Adrian Peterson and Saints Travel to Take On Favored Vikings in Week 1 MNF Matchup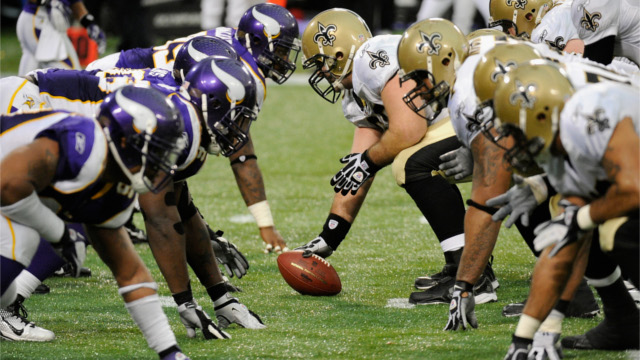 Who: New Orleans Saints v. Minnesota Vikings
When: Monday September 11th, 2017 7:10PM EST
Where: US Bank Stadium—Minneapolis, Minnesota
Without a doubt, the biggest storyline heading into this NFL season's first Monday Night Football will be Adrian Peterson's return to Minnesota, where he spent a majority of his career. Still, Peterson is not expected to receive the lion's share of the carries, so while he may dominate the headlines, he will likely not get many chances to dominate on the field.
As far as both of these teams are concerned, neither of them made the post-season last year, and the reasons why this was so are very different. The Saints, as they usually do, got off to an extremely slow start at the beginning of last season. Through their first 4 games last year, they went 1-3, losing 2 of those 3 games by 3 or fewer points. Though they ended up getting into their stride by the time the season neared its end, the fact of the matter is that their slow start doomed them. This year, the Saints will be looking to get off to a better start, though that might be difficult considering they are dealing with the suspension of one of their best wideouts.
Minnesota, on the other hand, got last season off to a 5-0 start and looked to be the biggest surprise of the 2016/17 season. Unfortunately, they followed up those 5 consecutive wins by losing their next 4. From then on out, they only managed to win a total of 3 games. For the Vikings, last season's end-result was more or less expected, but was viewed as disappointing considering they started the year off so hot. This time around, they will hope to get off to a great start and hope that they are able to sustain that success.
Game Overview and Analysis
When the +3 (-106) Saints (+143) take the turf field in Minneapolis on Monday, they will do so as slight underdogs. While this may be a bit confusing, it begins to make sense once you consider that Willie Snead—one of the Saints' top WR targets—is out due to a suspension. As such, there is a feeling that Drew Brees' pass-first offense will need to more heavily rely on the run. This sounds bad, but I honestly think it may work out for the best for the Saints thanks to the multitude of talent in their backfield. Of course, Adrian Peterson will steal the spotlight, but the fact of the matter is that he will more than likely not be given the ball all that much. Instead, the Saints will rely on Mark Ingram to assume the bulk of the ball-carrying responsibilities.
Drew Brees will obviously be the leader of the Saints' offense, and he will have targets such as Ted Ginn Jr., Coby Fleener, and Michael Thomas. Though not the most potent wide receivers in the league, they are sure to do damage against a Vikings pass defense that is not very special.
For the -3 (-114) Vikings (-163), they will be entering this game looking to rely on some unproven players. For one, Sam Bradford will assume the quarterback position. If you have followed the NFL at all, you are fully aware of the type of inconsistency that surrounds Bradford's play. With that being said, I expect the Vikings to commit to a more balanced attack, mixing runs with passes nicely. Dalvin Cook will stake his claim in the backfield and look to immediately make a name for himself in the league. Though only a rookie, Cook thoroughly impressed through the pre-season. I think the Vikings will use the fact that NFL teams know very little about Cook to their advantage, and I would not be surprised to see him get his fair share of touches. Still, for me, whether the Vikings experience success tonight will have much less to do with their offense, and much more to do with how their defense withstands the test that is Drew Brees. They are not going to shut Brees down, but if they can keep him and his favorite targets in check, the Vikings will give themselves a great chance of emerging victorious.
Betting Prediction
As far as a moneyline bet is concerned, I like the odds given to the Saints (+143). I think Drew Brees is going to come out firing, and I think he is going to experience success. What's more, the +143 odds make this bet that much more irresistible.
As far as the point spread is concerned, a bet on the Saints is also worth your time. They are currently +3 underdogs (-106) and the near even-money odds really make this a bet that is worth your time.
The wager I am really keying in on is the over/under as offered by BetOnline, which currently sits at an even 48 points (-105/-115). Being that the Saints' offense lights up the field with their passing, and is usually successful, I think the over (-105) is the best bet to make.