10 Reasons why Lakers Shouldn't Draft Lonzo Ball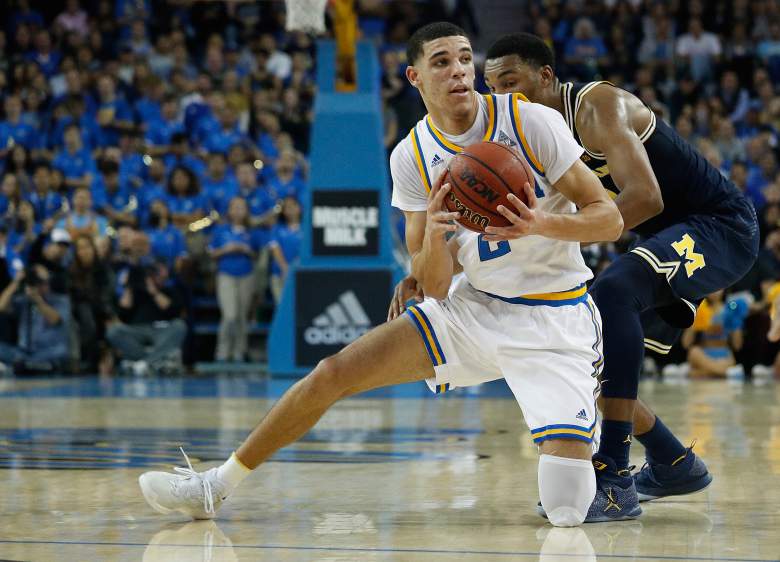 The 2017 NBA Draft is just a few days away. And one of the biggest storylines heading in is whether the LA Lakers will draft Lonzo Ball.
The UCLA point guard's father, Lonzo Ball, has openly campaigned for his son to be a Laker.
Obviously your dad asking for you to be on an NBA team isn't a good reason for them to draft you.
And we have 10 reasons why the Lakers should steer clear of Ball with the No. 2 overall pick.
1. LaVar Ball is a Distraction
We've frequently discussed the antics of LaVar Ball over the past year. As you can see here and here, he's a venerable quote machine who's never afraid to make enemies.
Of course, these antics can hurt the team, like when LaVar put a target on UCLA's back by guaranteeing a national championship.
Obviously this doesn't help matters, and it could be a problem for the Lakers if they draft Lonzo.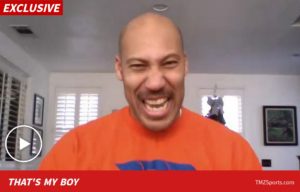 2. Lonzo was Out of Shape During His Lakers Workout
DraftExpress has long had Lonzo Ball going to LA at No. 2. And we don't blame them since he's a 6'6″ point guard, has incredible passing ability, and can score when needed.
But one bright red flag is that Lonzo was out of shape for his Lakers workout.
If he's out of shape when working out for a team that he wants drafted by, then how will Ball fare throughout an entire season?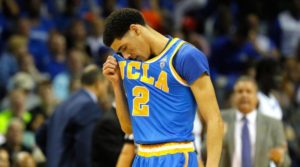 3. Lonzo didn't Blow Lakers Away with His Workout
Aside from not being in shape, Lonzo reportedly didn't impress the Lakers during his workout.
Of course, Ball isn't considered a workout warrior who will shine in one-on-one drills. Even still, he didn't do anything to sway the Lakers one way or the other.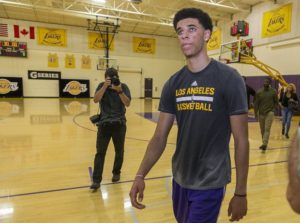 4. The Balls Have Considered Talking to Other Teams
The Ball family was so dead-set on the Lakers that they didn't even bother talking to other lottery teams.
But maybe they know that being picked by LA isn't such a sure thing now, so they're willing to meet with other lottery teams.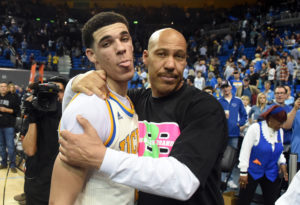 5. De'Aaron Fox Crushed Lonzo Ball in their Matchup
During a highly contested Elite Eight matchup, Kentucky freshman guard De'Aaron Fox dominated Lonzo en route to a Wildcats' 86-75 victory.
The stats tell everything, as Fox scored a freshman-tournament-record 39 points on just 20 shots. He also held Ball to 10 points on 4-of-10 shooting.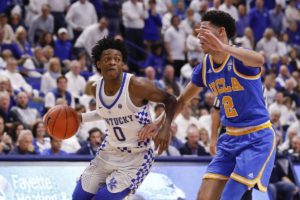 6. Fox is a Legitimate Prospect at the No. 2 Pick
Adding to the point above, De'Aaron Fox is a legitimate candidate to go as the second overall selection.
At 6'3″, he's not as tall as Lonzo. But Fox did put up solid numbers at 16.7 PPG, 4.6 APG, and 47.8% shooting. The one area where Fox needs major work, though, is his three-point shooting (24.6%).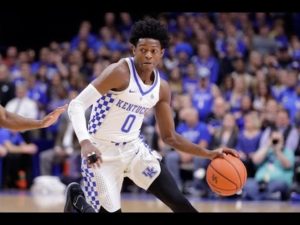 7. Josh Jackson is a Solid Choice at No. 2
If LA is looking to fill a need, they could draft Kansas wing Josh Jackson with the No. 2 overall pick.
Jackson had a strong season with the Jayhawks, tallying 16.3 PPG, 7.4 RPG, 1.7 SPG, and 51.3% shooting.
Scouts have questioned Jackson's jump shot. But he was a solid three-point shooter (37.8%) in college.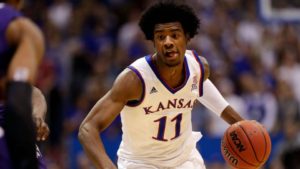 8. Ball Doesn't Fit Well with D'Angelo Russell
Unless Los Angeles decides to trade D'Angel Russell, we'll see a lot of him paired with the (likely) point guard that LA drafts.
At first glance, it seems like Russell and Ball would be a dream pairing because they'd create a tall backcourt with two ball handlers.
But going deeper, both are a step too slow defensively, which would allow a lot of easy drives.
If LA were to go with Fox here instead, they'd at least have one quick guard defensively.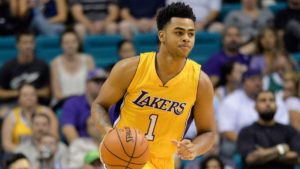 9. The Lakers Need to Improve Defensively
One knock against Lonzo is that he doesn't play incredible defense. This is a terrible fit for LA, which gave up 111.46 PPG last season – third-worst in the league.
Again, Fox comes to mind here because he's fast and has the talent to lock down opposing guards. More importantly, he helps the Lakers in an area where they need it most.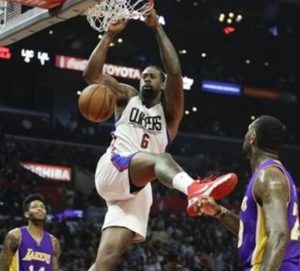 10. Lonzo Didn't Play an NBA Style at UCLA
Ball still has questions to answer regarding if his game will translate well to the pros.
It's obvious that based on his ball-handling skills, passing, and height, he's a legitimate NBA prospect. But he played an uptempo style with UCLA that won't translate well to the pros.
Specifically, we got to see little of what he can do in half-court sets, including pick-and-roll action. With pick and roll comprising a lot of NBA offense, Ball will have to be able to perform well in these sets.