United States Hosts Bitter Rivals Costa Rica in All-Important WCQ Match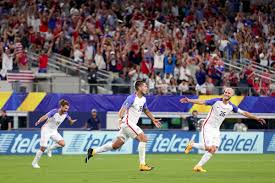 Who: United States v. Costa Rica
When: Friday September 1st, 2017 6:55PM EST
Where: Red Bull Arena—Harrison, New Jersey
The United States got their World Cup Qualifying endeavors off to, quite possibly, the worst possible start imaginable. Though they have since bounced back to some extent and are in a position that would see them in Russia next summer, their Friday night opponent will be one they really want to get a win against.
If you can remember to last November, it was this same Costa Rica team that hammered the US by a scoreline of 4-0 in Central America. The loss was so bad it culminated with then-manager Jurgen Klinsmann losing his job. Now with Bruce Arena at the helm, the United States' has a much better opportunity of making it through to the World Cup, but their position in the competition is far from guaranteed. Being able to play in front of their own supporters will be a boost, but the United States really needs to gain fluidity in all areas of the pitch. The last time the USMNT took the field, they outputted a solid performance, but not one that was without error. If the US can sure up some of those minor mistakes, Costa Rica will not be a problem.
For Costa Rica, they will enter this match knowing that they are sitting pretty with 4 matches remaining. On 11 points, Costa Rica are 3 points clear of the US, and 4 points clear of the World Cup Qualifying cut-off. My feeling is that Costa Rica are going to enter this match fully aware that a draw is more than enough to keep them on the right track. As such, I would not be surprised to see a defensive-minded team take the pitch come 7o'clock. Having said that, the Costa Ricans are competent in all areas of the pitch, so they do have a good chance of being able to catch the US sleeping.
By all accounts, this is one of the fiercest rivalries in all of CONCACAF. As such, this match is sure to be hard-fought from opening whistle to when the final whistle is blown. I think the US are the better squad, but Costa Rica are fully capable of earning 1, and possibly even 3, point(s).
Match Overview and Analysis
The United States (-135) will enter this match as clear favorites, but not by a very large margin. For me, the biggest question mark will lie within the back line, which is currently dealing with some injury problems. Graham Zusi, who is listed as a midfielder and typically plays within that role, is looking like the right-back on Friday night. As for the center of the defense, that will be held down by Geoff Cameron and probably Matt Besler. Tim Ream will also be available, but my belief is that Besler will get the start.
If the US can keep the ball out of the back of the net, they win; it's that simple. I do not see the Costa Rican defense capable of fending off a potent US attack for very long. The US are larger, faster, and more technically talented up front, so I expect the likes of Jozy and Bradley to run freely.
As for Costa Rica (+400), they will be entering this match as decided underdogs. As was previously mentioned, Los Ticos are drastically undersized compared to the US. Their attack is one to be recknoned with and may cause the US some problems if their organization fails them, but as I mentioned before, I think Costa Rica will be shooting for a draw straight from the opening kick, whether they are willing to admit that or not.
If the US get on the board first, I am confident that they will secure all 3 points. If, however, Costa Rica are able to do what they did last November and shock us with a somewhat early goal, the fact of the matter is that the match will be very much up for grabs.
Betting Prediction
Bovada currently listed the United States (-135) as heavy favorites on the moneyline. I think this is the best bet to take simply due to the fact that the US has more firepower. While their defense is lacking to a degree, even a shoddy defensive performance can be undone should they be able to net 2, 3, or even 4 goals. The first 20 minutes will be a huge determining factor, but I expect the US to come out guns blazing.
The over/under is listed at an even 2 goals (-130/+105). Seeing as these two sides' first matchup resulted in 4 goals being scored, I think you have to take the over (-130) in this one. Despite their deficiencies in defense, the Costa Rican attack can more than hold its own. Therefore, my assessment is that both teams can score goals, and that goals will be scored. All in all, an even 2-goal over/under is just asking for the over (-130) to be taken.