Titans Favored in Week 4 Trip to Houston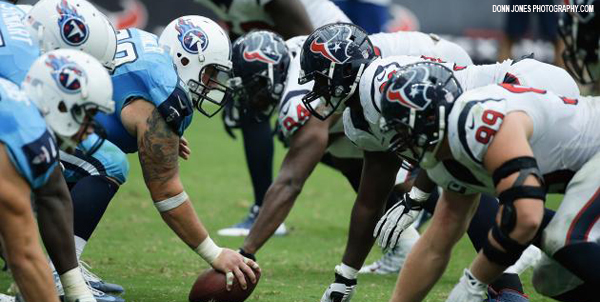 Who: Tennessee Titans v. Houston Texans
When: Sunday October 1st, 2017 1:00PM EST
Where: NRG Stadium—Houston, Texas
The Tennessee Titans are travelling to Houston this weekend to take on yet another divisional opponent, this time in the form of the Houston Texans. So far, Tennessee has done well through their first 3 games, losing only once, in their season opener against Oakland. As it stands, the Titans are not only the most powerful AFC South team, they are also the team most folks think will win that division. At this point it is difficult to argue against that, especially after looking at how they defeated the supposed second-best team in the division, the Jaguars.
The Texans have done well up to this point, despite their losing record. Last week was an especially inspiring performance as rookie Deshaun Watson walked into Foxborough and came within seconds of defeating the defending Super Bowl Champion New England Patriots; something that has never been done by a rookie. They do have a single victory, but having come against the Cincinnati Bengals it does not count for much in the eyes of most people.
By the time this game kicks off, neither team will be all too concerned with their nor their opponent's record. This is a division game, and whether you are 3-0 or 0-3 you are going to be vying for victory. The Titans have not had much success against the Texans in the past few years and there are plenty of Houston fans who are going to remember that. While, on paper, this may seem to be a lopsided matchup, it is really a lot closer than most people might be led to believe.
Game Overview and Analysis
The -1.5 (-112) Tennessee Titans (-125) are going to Houston as favorites, but only slightly so. The reason behind their being listed as favorites has everything to do with the fact that their offense has really gotten into a groove. In their last 2 games, the Titans have scored 37 and 33 points respectively, which is a large tally for any NFL team. Marcus Mariota has passed for just shy of 450 yards in those 2 games and threw 3 touchdowns across them. The Tennessee run offense took its time to get started in both the past 2 weeks, but Derrick Henry and DeMarco Murray had good games by the time the dust had settled. Corey Davis will likely be out again this week, but being that this did not hurt the Titans last week I do not see it hurting them this time around.
The Titans' big problem, especially against decent passing teams, is the fact that they cannot seem to defend the pass. Even against the Seahawks, whose pass offense was struggling coming into last week, the Tennessee secondary conceded more than 300 passing yards and a whopping 4 touchdowns. Deshaun Watson will present a threat, but if the defensive line can get in his face I think they will be able to handle their own.
The +1.5 (-108) Houston Texans (+105), as was mentioned above, did put in quite the performance last Sunday against New England. Despite a heartbreaking 36-33 loss, Watson threw for more than 300 yards and 2 touchdowns. DeAndre Hopkins was Watson's top target, and I expect that to continue this week against the Titans' secondary.
Houston will need to do more than just pass the ball, however. Though they do look to be able to overcome the Tennessee secondary, if their only offense is through the air they will grow increasingly easy to defend as the game wears on. The rushing offense has not done well up to this point and there is good reason to believe that the Titans are the best defensive line they have faced up to this point.
If the Titans' offense can come to play like they have the last 2 weeks, I really think they should be able to take care of the Texans. The real only hope the Texans have is in the play of their defense. If, somehow, JJ Watt can have an absolutely massive influence on the game, his team will have some semblance of a chance. Still, it is a long shot, in my opinion.
Betting Prediction
As for the moneyline offered by BetOnline, I think you have to go with the Titans (-125). They, as I said before, are getting into a groove over the past 2 weeks and look to be clicking on both sides of the ball. All told, I think Mariota's experience will prove to ultimately be the difference.
The point spread is only -1.5 points (-112) in favor of the Titans, and I absolutely love this bet. I think the Titans are leaps and bounds better than the Texans, and if they do emerge victorious I think it will be by at least 2 points, but probably more.
Finally, there is the issue of the over/under, which is listed at an even 44 points (-110/-110). I think that the over (-110) is the obvious choice in this one, mainly because of both team's offensive outputs in Week 3.