The Cleveland Cavaliers and New York Knicks Tipoff the 2016-2017 NBA Betting Season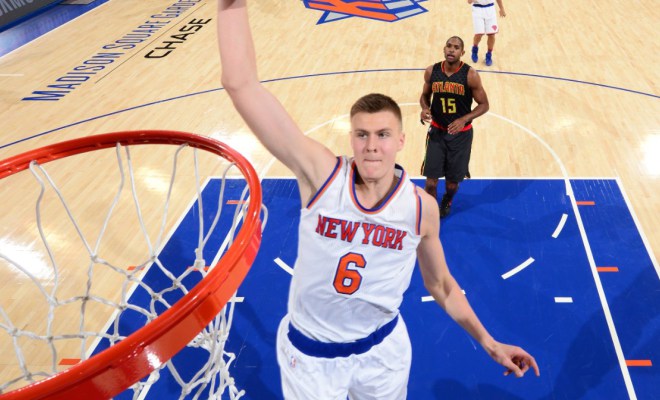 The NBA season gets underway on October 25th when the defending champion Cleveland Cavaliers face off against the New York Knicks at Madison Square Garden, in the first game of a double-header. Lebron James, Kyrie Irving, Kevin Love and Co. will be presented with their championship rings in a pre-game ceremony, then jump right into the defense of their title. The home New York fans may be curious to see the new jewellery on display, but what they will really be looking forward to is watching their retooled Knicks take the court for the first time.
The Knicks' front office, led by President of Basketball Operations Phil Jackson, was in an aggressive 'win now' mode this offseason. The signing of two ex-Chicago Bulls mainstays – one-time franchise point guard Derrick Rose and rugged big man Joakim Noah – together with ex-Memphis defensive specialist Courtney Lee, has raised expectations in the Empire State, spurring the hopes of fans and players alike that this team will easily eclipse last year's 32-win total.
This incoming trio joins nine-time All-Star Carmello Anthony and versatile 21-year-old power forward Kristaps Porzingis to give the Knicks what some pundits like former Knicks coach Jeff Van Gundy believe is a legitimate shot at 50 wins and a playoff run.
Color Las Vegas less optimistic, as The Westgate Superbook projects the team will miss the playoffs with a 38.5 over/under win total. Undaunted, fans and bettors searching for value have placed more bets on the Knicks at SuperBook to win the NBA championship than the now Steph Curry AND Kevin Durant-led Golden State Warriors!
The Cavaliers, fresh off an historic 4-3 NBA finals series victory after falling into a 3-1 deficit, return all of the integral pieces of their championship-winning roster. Their only two offseason losses – center Timofey Mozgov and guard Mathew Dellavedova – were mostly offset by the addition of Mike Dunleavy.
And basketball isn't just an addition and subtraction game, it's an emotional one. For Lebron especially, no longer straining under the weight of a city starved for a title must be something like Atlas finally getting to set the world down and relax; on the heels of an incredible title run, the Cavs will face far less pressure and criticism from fans, media, and of course, themselves. Bookmakers sure seem to think so, as Superbook projects a 56.5 over/under win total, the highest in the Eastern Conference.
With several new major pieces in their lineups, the Knicks are likely to experience some early season growing pains as they work to integrate them. History shows the early season chemistry of teams with several major acquisitions can be rough. The 2010 Miami Heat squad stumbled out of the blocks to a 9-8 start as Lebron James, Dwayne Wade and Chris Bosch got in synch before going on a 12-game winning streak and finishing with 58 wins.
These Knicks, not nearly as gifted as that Heat team, get a tough break having to start against a team with championship-level talent and chemistry, not to mention the best player in the world in James.
As of this writing, there is no line, spread, or total for this matchup. But based on this season's projected win totals, the spreads in Cleveland's road games last season against teams with around 39 wins, and the fact that Cleveland was 4-0 SU versus New York last season, the Cavs figure to be installed as solid favorites.
In its last 10 games at New York going back to the 2007 regular season, Cleveland is 8-2 SU and 5-5 ATS. In its last 10 home and away games versus New York, Cleveland is 9-1 SU and 4-6 ATS. In their four regular season meetings last year, they were 1-3 ATS and 4-0 SU versus New York, including 0-2 ATS on the road. That last statistic may be the sign of value bettors will look for, especially those who believe the Knicks will be markedly improved over last year's squad.
With more than a month to go before tipoff, (cross your fingers) injuries, suspensions, and other unforeseen events could alter the betting outlook of this game. But fans, casual bettors, sharps, and the players themselves hope these teams have the opportunity to square off at full strength, which would definitely make for an entertaining NBA night in the Big Apple.