'Survivor: Ghost Island' Season Finale Betting Odds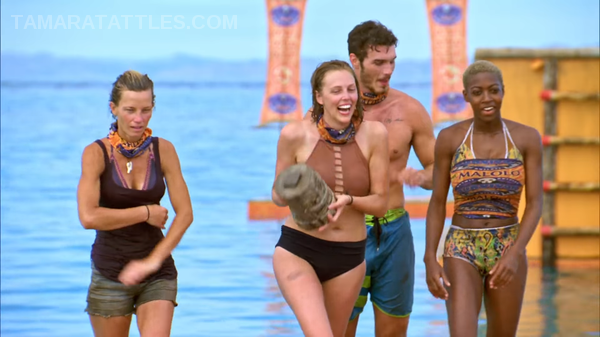 –This is the 36th season for CBS's reality show.
–'Survivor' was one of the early pioneers of the reality TV genre.
–'Survivor: Ghost Island' Season Finale airs May 23 at 8:00 PM Eastern.
It's been a crazy week what with the Vegas Golden Knights making the Stanley Cup Finals so the 'Survivor: Ghost Island' finale kind of snuck up on me. Kellyn Bechtold was eliminated last time out. In my 'Survivor' Week 13 betting odds she was a middle of the pack choice both to win (+650) and to be eliminated (+600).
As is typically the case with reality shows we've got a slightly different format than we've used all season long. Below you'll find odds markets on the top six finish spots plus odds on the finale TV ratings for both the first and second hour (the 'reunion show').
Here are the odds for the 'Survivor: Ghost Island' Finale:
'SURVIVOR: GHOST ISLAND' SEASON 36 BETTING ODDS
TO WIN 'SURVIVOR: GHOST ISLAND'
Wendell Holland: +150
Laurel Johnson: +200
Domenick Abbate: +200
Angela Perkins: +1500
Donathan Hurley: +1500
Sebastian Noel: +1500
TO FINISH SECOND 'SURVIVOR: GHOST ISLAND'
Laurel Johnson: +150
Domenick Abbate: +200
Wendell Holland: +200
Angela Perkins: +1500
Donathan Hurley: +1500
Sebastian Noel: +1500
TO FINISH THIRD 'SURVIVOR: GHOST ISLAND'
Domenick Abbate: +200
Laurel Johnson: +250
Wendell Holland: +250
Sebastian Noel: +500
Angela Perkins: +1000
Donathan Hurley: +1000
TO FINISH FOURTH 'SURVIVOR: GHOST ISLAND'
Donathan Hurley: +150
Angela Perkins: +225
Sebastian Noel: +225
Domenick Abbate: +750
Laurel Johnson: +1500
Wendell Holland: +1500
TO FINISH FIFTH 'SURVIVOR: GHOST ISLAND'
Angela Perkins: +125
Donathan Hurley: +200
Sebastian Noel: +250
Domenick Abbate: +750
Laurel Johnson: +1500
Wendell Holland: +1500
TO FINISH SIXTH 'SURVIVOR: GHOST ISLAND'
Sebastian Noel: +150
Angela Perkins: +250
Donathan Hurley: +250
Domenick Abbate: +500
Laurel Johnson: +1500
Wendell Holland: +1500
'SURVIVOR: GHOST ISLAND' SEASON FINALE BETTING ODDS
FINALE HOUR 1 KEY DEMO (18-49) RATINGS
Over 1.55: -150
Under 1.55: +130
FINALE HOUR 1 KEY DEMO (18-49) SHARE
Over 5.5: -250
Under 5.5: +210
FINALE HOUR 1 TOTAL VIEWERS
Over 7.7 million: -180
Under 7.7 million: +150
FINALE HOUR 1 NIELSEN RANKING (5/21/18 through 5/27/18)
Over 11.5: -170
Under 11.5: +150
FINALE HOUR 2 KEY DEMO (18-49) RATINGS
Over 1.35: +110
Under 1.35: -130
FINALE HOUR 2 KEY DEMO (18-49) SHARE
Over 5.5: +150
Under 5.5: -170
FINALE HOUR 2 TOTAL VIEWERS
Over 6 million: -150
Under 6 million: +130
FINALE HOUR 2 KEY DEMO NIELSEN RANKING (5/21/18 through 5/27/18)
Over 17.5: -150
Under 17.5: +130
Data from TV By The Numbers will be used for grading all ratings props