Retail Store Odds–Next Big Department Store Chain To Go Under?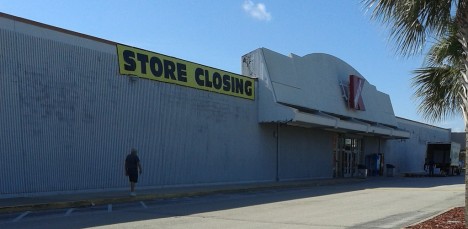 The world of retail is in the process of a seismic change that is impacting every segment of the industry. 'Brick and Mortar' retailing is dying and being replaced by better, more efficient–and often less expensive–business models like Amazon and Netflix. It's mind boggling what the consumer once endured just to spend their money. Take, for example, special ordering a book. You'd go into a bookstore, give them your money and the cashier would balefully inform you that 'we'll call you when it comes in'. Watching a movie at home–you'd go into Blockbusters and hope that you could get one of 10 physical copies of some recent release. It sounds downright silly now and most of the 'brick and mortar' retail world can't die soon enough.
So who's next? We'll focus on the big department stores in this article. In future articles, we'll hit some of the specialty retailers in doomed industries:
ODDS ON THE NEXT BIG DEPARTMENT STORE CHAIN TO GO UNDER
RULES: Bet is on the next department store chain to announce the closing of all branded retail stores in the United States or announce bankruptcy liquidation
K-MART -150 K-Mart and Sears share the same corporate ownership. I didn't know K-Mart stores still existed until I saw one driving through a horrible 'flyover country' town this Summer. Lousy product mix, bad store locations and nothing to offer that you can't get a million other places. Just announced the closing of 68 stores in April. Only 941 to go.
SEARS +150 Sears is in the same boat as K-Mart but they've got a few things working for them. They own the CRAFTSMAN tools and KENMORE appliances brand names which are still respected by consumers. The problem is that most are in decaying lower to mid level shopping malls (another dying industry). 793 stores remaining. Company says they're going to become a 'tech driven' retailer meaning they'll be the 'unarmed man' in a battle of wits with e-commerce behemoth Amazon.
JC PENNEY +300 JC Penny has some decent financial backing by Wall Street companies and the advantage of not being completely clueless. They lease departments in stores to names consumers actually like (Sephora, Seattle's Best Coffee) but ultimately are holding the same losing hand as Sears. The department store concept is dead and there's just no reason for customers to shop there when other stores do it better. 1000 stores remaining. The company has made some decent tactical moves in the past couple of years such as focusing on smaller markets with fewer retail options but just no long term future for this type of retailer.
MACYS +500 Macy's has 770 stores and is in the process of closing 40. Their problem is twofold: first, too many stores are in aging shopping malls. More significantly, their mid-level product mix is squarely aimed at the economic demographic that is shrinking the most due to current economic transformations. Weak online presence. They've still got enough revenue and financial resources to milk their dying business model for a while longer. My prediction–they'll ultimately close every store EXCEPT their famous flagship location in NYC.

DILLARD'S +750 Dillard's is actually growing, focusing on the same smaller markets as JC Penny. They've got the advantage of a more upscale product line–or at least what passes for 'upscale' in 'flyover country'. Decent store locations in most markets. Will likely survive for a few years–and definitely longer than the rest of the names on this list.