Penn State Massive Favorites Heading into Conference Opener with Iowa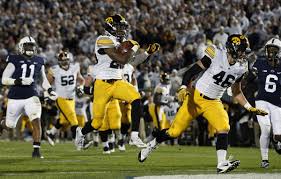 Who: (4) Penn State Nittany Lions v. Iowa Hawkeyes
When: Saturday September 23rd, 2017 7:30PM EST
Where: Kinnick Stadium—Iowa City, Iowa
Iowa and Penn State have both gone 3-0 through nonconference play, but it is clear to see that one team has far more hype surrounding them than the other. Penn State has looked like one of the best teams in the nation and is deservedly ranked in the top 4. To be fair, Penn State has been playing opponents that are undoubtedly weaker than them, but they have been taking care of them in impressive fashion. Last week, for example, the Nittany Lions shut out Georgia State and scored a whopping 56 points in the process. Before that they defeated Pitt, and in the season opener shut out Akron. Once again, these teams are not of the greatest caliber, but it goes without saying that they have swept these opponents aside with ease.
One thing that Iowa does have in common with Penn State is the fact they too have a strong offense. In 2 of their 3 games thus far the Hawkeyes have score 30+ points, including the 44 they put up on instate rival Iowa State. Perhaps making the Hawkeyes' already tough battle just a bit tougher is the fact that they are dealing with a few injuries, both of which affect their backfield.
Being that this is a Big 10 opening game, anything can happen; we have seen that many times in the past. Having said that, however, there are few games involving Top 10 teams that are more lopsided. While the Hawkeyes being at home does not hurt their cause, I really think it will end up having very little, if any, impact on Penn State's machine of an offense.
Game Overview and Analysis
Penn State (-460) are going to stroll into Iowa City as heavy favorites, and there is no wondering why. Just one look at some of the numbers their offense up will have not only Iowa shaking in their boots, but the whole of the Big Ten Conference. Saquon Barkley, after just 3 weeks, is already being named in the Heisman race, and while it is definitely too early for that talk, his numbers speak for themselves. He is second in the NCAA in all-purpose yards, of which he has slightly more than 218/game. Trace McSorley, Penn State's quarterback, threw 5 touchdowns last Saturday and only miss on 5 of his 23 pass attempts.
While the offense from State College is good enough to defeat most teams, their defense is nothing to scoff at either. Through 3 games, the Penn State defense has allowed just 1 touchdown. It must be repeated that Penn State's opponents have been particularly weak, but that is some consistent performance. If even one side of Penn State's team comes to play, I think they will live up to their title as massive favorite and open up conference play with a victory.
The Iowa Hawkeyes (+385) will not like the fact that they are being pegged as such heavy underdogs at home, but it is tough to argue against the oddsmakers in this one. If Iowa does want to have any shot of winning this game, they will need to play a flawless game on the offensive side of the ball. Let's face facts, there is no way the Iowa defense is going to stop the Penn State offense, but if they can go blow for blow throughout the duration of the game there is a chance. If I am being honest, however, there really is no chance for Iowa. They do not match up in any way with Penn State and are, quite honestly, overmatched on offense, defense, and special teams.
Penn State played the Hawkeyes in State College last year and defeated them soundly, by a score of 41-14. If last year's Penn State team was able to defeat Iowa by such a large margin, things are looking even uglier before this year's meeting kicks off. I think Iowa will receive some support from their raucous home crowd, but I think Penn State is simply too strong.
Betting Prediction
As far as a moneyline bet in this one is concerned, BetOnline lists Penn State (-460) as massive favorites, while Iowa (+385) are massive underdogs. To make a long story short, I think the moneyline should be shied away from. Of course, I think Penn State are going to win, but your potential payout will not be so large in most scenarios.
Rather than go for the moneyline, I think you should take Penn State's -12.5 (-110) point spread. Iowa will by no means roll over for Penn State, but I think Penn State's offense is far too much for Iowa to handle.
Finally, the over/under is listed at an even 52 points (-110/-110). I didn't think Penn State would hit their high over last week, and I was wrong, so I think you have to go with the over (-110) in this one.