Nothing Of Any Significance Happens At NBA Trade Deadline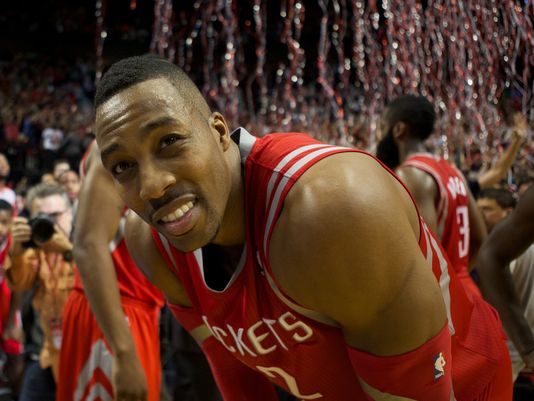 Trade deadlines–particularly in the NBA–are usually 'much ado about nothing'. Media pundits unfortunate enough to be saddled with the NBA beat spend weeks talking about all of the potential scenarios in which superstars might move from one team to another. And once the trade deadline arrives nothing of particular significance happens. That was clearly the case this year with only a few minor transactions, none involving the petulant Dwight Howard.
When we last checked in with the Houston Rockets' underachieving big man he was once again failing to take responsibility for his team's underachievement. It's never Dwight's fault when his team's struggle–the same story we saw in Orlando and Los Angeles. Anyway, the Rockets have underachieved this year after being tabbed as a 'contender' before the season started. Sadly, in today's NBA a team build around Howard and James Harden qualifies as a 'playoff level team'. Not really surprising in retrospect, but the Rockets are struggling to stay above .500. They're currently 27-28 and have a tenuous grasp on the last playoff spot in the West.
The Rockets were reportedly demanding a front line player for Howard but no one 'bit'. More likely, no one wants to get involved with an underachieving player that is notoriously difficult to deal with. The Rockets will likely be happy just to be done with him. He's scheduled to make $23.3 million next season but the punch line is that he's going to turn this down and 'opt out' of his deal. He's in for a rude awaking on the free agent market. Here's where the whole thing gets comical. Howard–averaging 14.6 points and 12 rebounds per game for a team going nowhere is scheduled to make $23.3 million next season.
The most significant trades to happen at the deadline were really no big deal. The Los Angeles Clippers stood pat on their group of underachieving superstars instead trading role player DeShawn Stephenson to Memphis for Jeff Green. The improving Utah Jazz made a move to give them more depth at point guard, sending a 2nd round draft pick for Atlanta in exchange for Shelvin Mack. A smart move, though not a particularly significant one.