NHL 2018 Stanley Cup Playoffs Western Conference First Round Series Betting Odds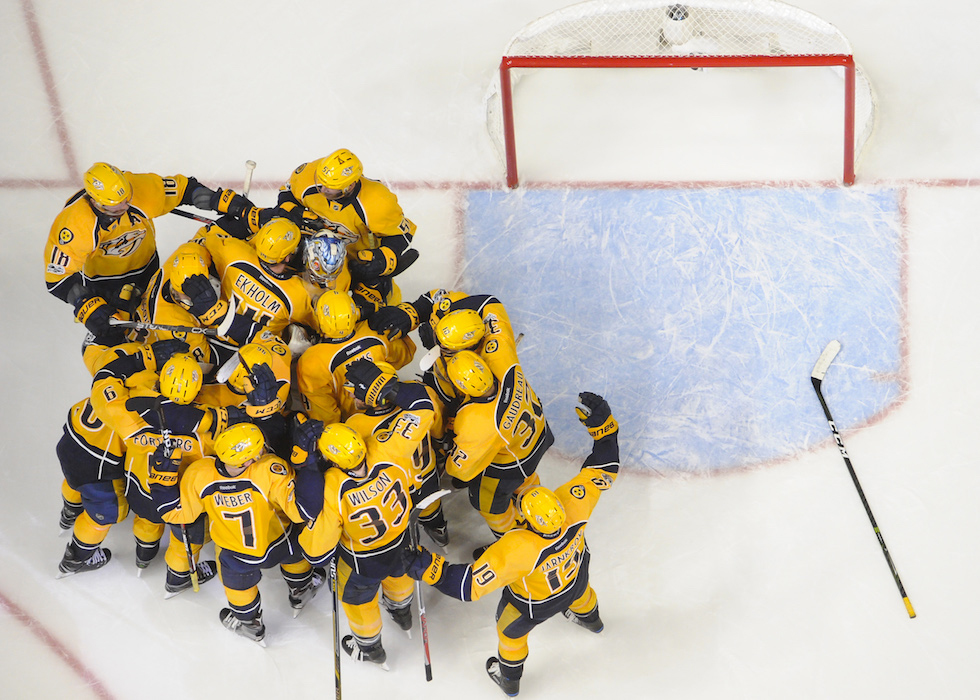 –The Stanley Cup Playoffs begin on Wednesday, April 11.
–The Stanley Cup playoffs bring the intensity from the opening round due to the highly competitive nature of the NHL.
–The Nashville Predators are the favorite to win the Stanley Cup.
The 2018 Stanley Cup Playoffs will get underway on Wednesday, April 11 with three games. The Winnipeg Jets will host the Minnesota Wild and the improbable Vegas Golden Knights will welcome the Los Angeles Kings to the T-Mobile Arena on the Las Vegas Strip. In the Eastern Conference, the Pittsburgh Penguins will host the Philadelphia Flyers as they begin their attempt to become the first team to win three straight Stanley Cup titles since the New York Islanders won a total of four consecutive championships in the early 1980s. The remaining series will get underway on Thursday night
We posted our odds to win the Stanley Cup and the Eastern and Western Conference titles earlier today. Below are the odds of the first round series in the Western Conference and we'll have the Eastern Conference series in a separate post. The first two series listed begin on Wednesday night, the remaining two series start on Thursday night:
NHL 2018 STANLEY CUP PLAYOFFS FIRST ROUND SERIES ODDS
WESTERN CONFERENCE FIRST ROUND SERIES
WINNIPEG JETS VS MINNESOTA WILD
TO WIN SERIES
Winnipeg Jets: -210
Minnesota Wild: +180
EXACT GAME NUMBER OUTCOME
Winnipeg Jets win series 4-0: +1000
Winnipeg Jets win series 4-1: +450
Winnipeg Jets win series 4-2: +450
Winnipeg Jets win series 4-3: +425
Minnesota Wild win series 4-0: +1500
Minnesota Wild win series 4-1: +900
Minnesota Wild win series 4-2: +450
Minnesota Wild win series 4-3: +600
VEGAS GOLDEN KNIGHTS VS LOS ANGELES KINGS
TO WIN SERIES
Vegas Golden Knights: -150
Los Angeles Kings: +130
EXACT GAME NUMBER OUTCOME
Vegas Golden Knights win series 4-0: +1250
Vegas Golden Knights win series 4-1: +500
Vegas Golden Knights win series 4-2: +450
Vegas Golden Knights win series 4-3: +425
Los Angeles Kings win series 4-0: +1250
Los Angeles Kings win series 4-1: +700
Los Angeles Kings win series 4-2: +400
Los Angeles Kings win series 4-3: +500
ANAHEIM DUCKS VS SAN JOSE SHARKS
TO WIN SERIES
Anaheim Ducks: -130
San Jose Sharks: +110
EXACT GAME NUMBER OUTCOME
Anaheim Ducks win series 4-0: +1150
Anaheim Ducks win series 4-1: +500
Anaheim Ducks win series 4-2: +525
Anaheim Ducks win series 4-3: +400
San Jose Sharks win series 4-0: +1250
San Jose Sharks win series 4-1: +700
San Jose Sharks win series 4-2: +400
San Jose Sharks win series 4-3: +500
NASHVILLE PREDATORS VS COLORADO AVALANCHE
TO WIN SERIES
Nashville Predators: -375
Colorado Avalanche: +325
EXACT GAME NUMBER OUTCOME
Nashville Predators win series 4-0: +450
Nashville Predators win series 4-1: +250
Nashville Predators win series 4-2: +350
Nashville Predators win series 4-3: +450
Colorado Avalanche win series 4-0: +4000
Colorado Avalanche win series 4-1: +1750
Colorado Avalanche win series 4-2: +900
Colorado Avalanche win series 4-3: +850