NCAA Basketball Elite Eight Best Bets For Sunday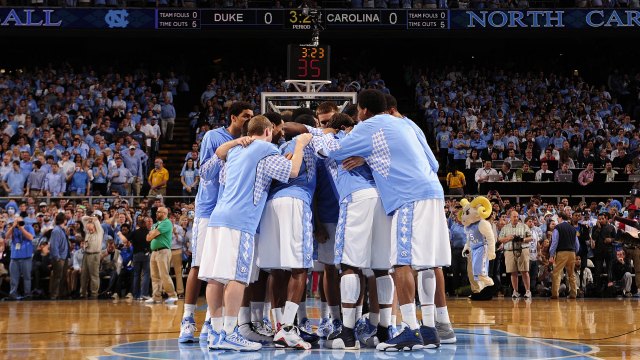 Two teams have already punched their ticket for the Final Four as #2 seeds Oklahoma and Villanova ousted #1 seeds Oregon and Kansas respectively on Saturday. The other half of the Final Four bracket will be determined on Sunday but based on the pointspread these two games could be mismatches:
NOTRE DAME VS. NORTH CAROLINA:

First on the board (rotation #711/712) but the late start game at 8:45 PM Eastern. I thought originally that both Sunday games would come about -5.5 or -6 but instead this game opened -10 and has been bet down to -9.5. Virginia opened -8.5 and they've been bet down to -8. This North Carolina team is scary good, scary deep and–most significantly–scary big. For some reason, however, the wanna be 'wise guys' can't get past the fact that the Tar Heels don't shoot the three particularly well. I'll go back to the analogy I used on Friday to illustrate how little this matters. Saying that this vintage North Carolina team doesn't shoot the ball well from behind the arc (31.5%) is like saying that Floyd Mayweather, Jr. doesn't have one punch KO power. It might be true but it just doesn't matter. Floyd Mayweather is still one of the greatest 'pound for pound' fighters in history because his defense is so good. North Carolina is still a handful because they're such a force inside. I get that everyone that follows college hoops has a boner for three point shooting these days but there's something to be said for teams that get three point plays the old fashioned way–by pounding the ball inside, owning the paint and drawing fouls.
North Carolina is 6-1 ATS in the Month of March and 7-3 ATS on a neutral court this year (they're undefeated in both categories straight up). Teams like this are frightening because the Tar Heels aren't flying under *anyone's* radar. Everyone knows they're beastly yet they keep going out and covering numbers. Notre Dame beat North Carolina on their home court this year but a more telling matchup was in the ACC tournament where North Carolina beat Notre Dame by 31 points. The excuse d'jour was that the Irish were playing on no rest (for what it's worth so was North Carolina) and that they'll do better here with a day of rest. It's not going to happen. The Tar Heels are the best team remaining in the tournament and the Irish just don't have the size and athleticism to slow the North Carolina freight train.
BET NORTH CAROLINA -9.5 OVER NOTRE DAME
SYRACUSE VS. VIRGINA:

I don't really understand how this uninspiring vintage of the Syracuse Orange got this far. The matchup zone is a formidable tactical weapon against teams not used to seeing it. Dayton and Middle Tennessee weren't familiar with it, nor did they have any of the weapons necessary to counter it. You need to be able to shoot the three and/or have a powerful presence in the low post. On paper, Gonzaga should have been able to deal with it but credit where credit is due Syracuse is still playing and Gonzaga isn't. Syracuse lost by 8 in Charlottesville earlier this year but that margin is somewhat deceiving–the Orange nailed a couple of late three pointers to turn a 14 point game into an 8 point game. For the game, Syracuse shot a higher percentage from three point range than they did from two point range. Don't see anything changing this time around. In theory, I don't like to lay points with teams like Virginia that rely on nasty man to man defense. Teams like that just have a hard time covering numbers. We'll take a shot on Syracuse to keep this one close until the end.
BET SYRACUSE +8 OVER VIRGINIA