NASCAR Daytona 500 Betting Odds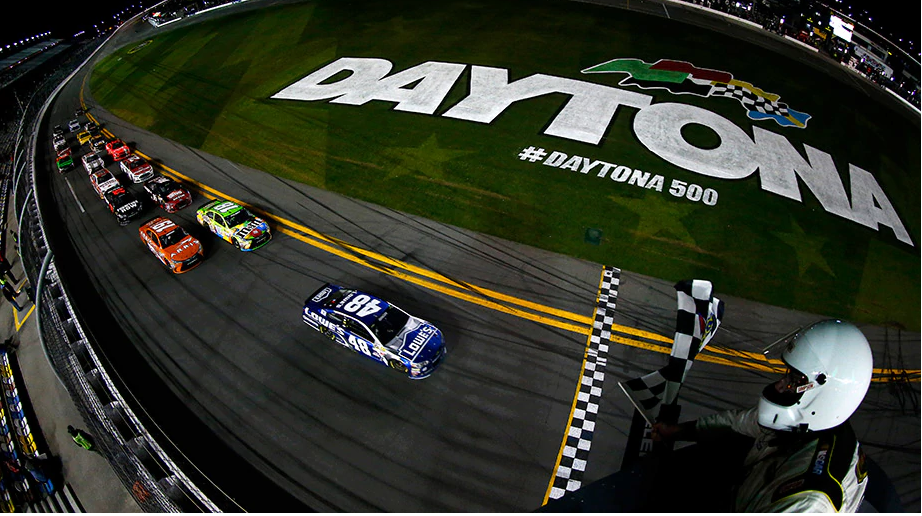 –The Daytona 500 is the first race of the grueling NASCAR season.
–Monster Energy Drinks is the new sponsor of the highest level of NASCAR racing.
–Some things never change–Jimmie Johnson is the defending series champion.
NASCAR moved beyond 'niche' status a long time ago but it's still a great betting sport. The United States most popular auto racing circuit has roots in 'moonshine running' in the Deep South but now has become a family friendly and highly homogenized revenue machine. There's still plenty of 'non believers' that consider NASCAR as entertainment for bloodthirsty degenerates and toothless hillbillies but the demographics strongly suggest that this isn't the case. NASCAR brings in over $3 billion a year in revenue and to put that number into an international perspective consider that the English Premier League–often described in the same breath as the NFL in terms of financial dominance–claims $4 billion in annual revenue. 75 million people consider themselves 'NASCAR fans' and the average race attendance is 99,853. One of the most interesting components of the NASCAR fanbase is its popularity among women–they make up 40% of the sport's fanbase and spend over $250 million a year on NASCAR licensed products.
The numbers still look impressive but there are some troubling signs about the longterm viability of NASCAR. TV ratings and attendance have declined precipitously over the past decade. There's countless theories about why this is the case–one of the craziest theories at the moment is that it is somehow Donald Trump's fault. The European media have taken this bizarre conceit even further saying that Trump now represents to the masses of 'deplorables' that support him what Dale Earnhardt Sr. once did. That doesn't exactly explain how the downturn began well before Trump decided to run for the White House.
NASCAR BECOMES A LEGITIMATE SPORT….FOR GOOD AND BAD
If it's not Trump (and it's not) why are the fans just not showing up anymore? If you ask a NASCAR fan here in South Carolina where I live they'll likely answer that the sport has grown too far away from its 'Southern roots'. That might sound ridiculously provincial but there's some truth to that–until the past couple of decades there was an inextricable link between NASCAR and the South. More significant is the byproduct of moving more firmly into the mainstream–the sport has lost a lot of what made it unique and in many ways it's become downright boring. Iconic characters like Junior Johnson and feuding families like the Allisons and the Pettys have been replaced by brutally talented but not particularly charismatic professionals like Jimmie Johnson and Greg Biffle. No disrespect to the stars of today but none of their mothers have ever become involved in an on-track brawl by swinging a purse full of wrenches as Elizabeth Petty (Lee Petty's wife and Richard Petty's mom) did from time to time. The fact that the name sponsor of NASCAR's top series is now Monster Energy Drink just underscores this move toward the mainstream. A more troubling sign can be found on the Monster Energy website where NASCAR is all but lost among the other sports they sponsor including Formula 1, motocross, surfing and snowboarding.
While the drivers could be the by-product of a higher degree of professionalism throughout sports a bigger problem for NASCAR's popularity is likely found on the tracks themselves. As the sport left smaller, more unique tracks in the South like Rockingham and North Wilkesboro they moved to brand new tracks in that featured a relatively uniform design in places like Chicago, Kansas and Las Vegas. These 1.5 mile ovals have become known derisively as 'cookie cutter tracks' and many fans–not just Confederate flag waving good ol' boys–don't like them. So far NASCAR's reaction to lower ratings and attendance have been dubious at best–despite the protestation of fans that the sport may have changed *too* much the 'powers that be' continue to persist in their effort to make it more like a 'stick and ball' sport. The latest move might be the most controversial–breaking the race into three separate segments not unlike the three periods of a hockey game.
DAYTONA 500 WILL BE THE START OF ANOTHER LONG NASCAR SEASON
The NASCAR season gets underway on February 26 with the 59th running of the Daytona 500. Daytona is one of two 'restrictor plate' tracks on the circuit (Talladega is the other) and is so designated due to the devices that are installed on the cars to keep them from going *too* fast. A quick explanation for NASCAR newcomers about what is meant by 'restrictor plate' racing. Basically, it's a concession to safety for both drivers and the fans and is used at the fastest NASCAR tracks—Daytona and Talladega. The restrictor plate itself limits air intake into the engine resulting in a decrease in horsepower and slower speeds. They were mandated for use at Talladega and Daytona after Bobby Allison blew a tire going 200 MPH at Talladega which resulted in his car spinning around, going airborne and bouncing tail first off of the catch fencing that separates the track from the spectators. There were no serious injuries, though a few trackside fans were struck by flying debris. For handicapping purposes, its a mixed bag. The restrictor plate leads to tight grouping of cars throughout the race which can produce surprise winners (eg: Trevor Bayne and Aric Almirola) and makes matchup wagering especially problematic.
On the other hand, like road racing there are some drivers and teams that excel at restrictor plate racing while others struggle. The late Dale Earnhardt, Sr. was one of the best on restrictor plate tracks (it was said that he could 'see the air') and his son Dale Jr. is one of the best among active drivers. It's a high stakes form of stock car racing and a look at driver's past performances on restrictor plate tracks reveals that most have extreme highs and lows in terms of their finishes. To the uninitiated, restrictor plate tracks have a reputation for being completely unpredictable but that's not really accurate. The 'unpredictable' can happen but the career long dominance of certain drivers on plate tracks makes a compelling argument to the contrary. My strategy for handicapping plate races has always been to not worry about the 'gray swan' scenarios and focus on getting the drivers with a history of strong performance on these tracks at the best value price I can find.
NASCAR DAYTONA 500 BETTING ODDS
Driver to win the Daytona 500:
Brad Keselowski: +675
Dale Earnhardt Jr: +750
Kevin Harvick: +1050
Joey Logano: +1150
Denny Hamlin: +1200
Kyle Busch: +1200
Chase Elliott: +1250
Jimmie Johnson: +1300
Matt Kenseth: +1450
Clint Bowyer: +1650
Martin Truex Jr. +1800
Kyle Larson: +2250
Kurt Busch: +2500
Daniel Suarez: +2750
Austin Dillon: +3300
Kasey Kahne: +3300
Jamie McMurray: +3500
Erik Jones: +4100
Ryan Blaney: +4500
Trevor Bayne: +5500
Ricky Stenhouse Jr: +5500
Paul Menard: +5500
Ryan Newman: +5500
Michael Waltrip: +8000
Casey Mears: +9000
Aric Almirola: +12500
A.J. Allmendinger: +12500
Ty Dillon: +12500
Danica Patrick: +12500
Elliott Sadler: +12500
David Gilliland: +15000
Brendan Gaughan: +15000
Chris Buescher: +18000
Reed Sorrenson: +19000
Matt DiBenedetto: +20000
Cole Whitt: +25000
Corey LaJoie: +25000
Joey Gase: +25000
Michael McDowell: +25000
Timmy Hill: +25000
David Ragan: +25000
Manufacturer to win Daytona 500:
Chevrolet: +120
Ford: +175
Toyota: +250
Car Number of Daytona 500 winner:
Over 20.5: +100
Under 20.5: -120
Daytona 500 Race Matchups:
Dale Earnhardt Jr.: -170
Kurt Busch: +140
Denny Hamlin: -110
Kevin Harvick: -110
Jimmie Johnson: -150
Matt Kenseth: +130
Joey Logano: -160
Martin Truex Jr. +140
Austin Dillon: +160
Chase Elliott: -190
Brad Keselowski: -250
Kasey Kahne: +210
Kyle Larson: -140
Eric Jones: +120
Dale Earnhardt Jr.: -190
Martin Truex Jr. +160
Joey Logano: -140
Kurt Busch: +120
Brad Keselowski: -170
Kyle Busch: +150
Denny Hamlin: -170
Kasey Kahne: +140
Daytona 500 TV Ratings Propositions
Viewership of the 2017 Daytona 500 as reported by Sports Media Watch
Over 12.5 million: +110
Under 12.5 million: -130
Ratings of the 2017 Daytona 500 as reported by Sports Media Watch
Over 7.5: +130
Under 7.5: -150