More 89th Annual Academy Awards Proposition Betting Odds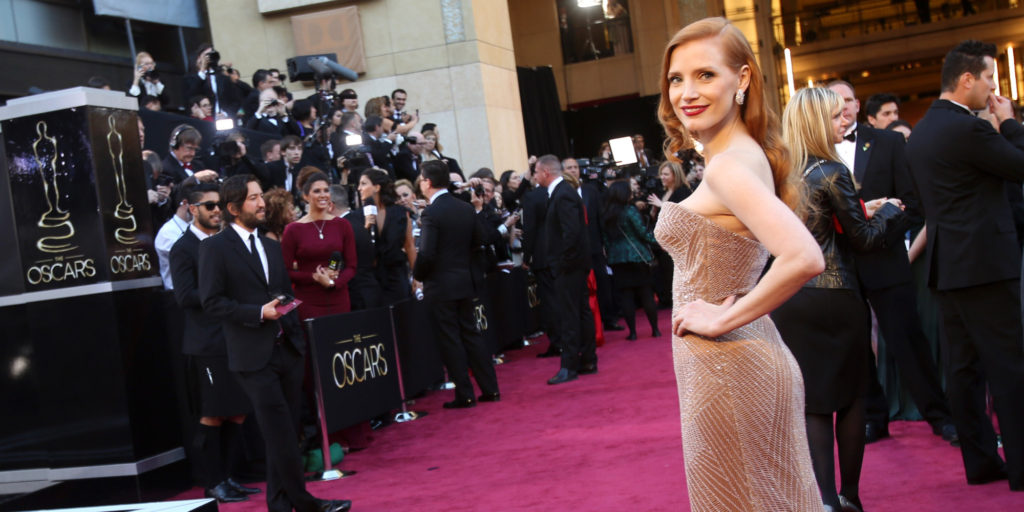 –The 89th Annual Academy Awards will be held on February 26, 2017.
– 'La La Land' is nominated for 14 Academy Awards equalling 'Titanic' and 'All About Eve' for most ever.
– The Oscars have a legacy of strange and unusual occurrences.
Here's another set of proposition betting odds for the 89th Academy Awards. They'll be held next Sunday, February 26 and the expectation is that 'La La Land' will clean up. In fact, we've got a full set of prop bets devoted exclusively to 'La La Land' forthcoming. We posted the first set of Academy Awards prop bet odds a few days ago and we've also got the full rundown of betting odds in every category.
GETTING A HANDLE ON THE RED CARPET
My original plan was to do a full set of 'red carpet' proposition bets. The arrival of the celebrities and more particularly what they're wearing gets a ton of attention from both the fashion specific and mainstream media. Designers vie to be the couture choice of the 'A Listers' and to get a potential Oscar winner to name drop their brand. A great dress can get a lot of positive attention for an up and coming starlet while a bad dress can make her into a laughing stock overnight. You can make a compelling case that there's as much interest in the red carpet fashions as there is for the actual Academy Awards. Several networks have their own 'fashion experts' giving live play by play coverage of the red carpet arrivals at every major awards show and the Oscars is their 'Super Bowl'.
Since the red carpet and the celebrity fashions get so much interest and are generally taken so seriously it seemed to me that it shouldn't be a problem to find good information that I could use to set some odds. Guess again–there's plenty of information out there but it's all essentially useless. It's not easy to find out who is going to be at the Academy Awards ceremony in the first place which means that I'd have to set odds on every actress in Hollywood. My thinking then changed to just doing the ones that I knew were going to show up–the nominees and confirmed presenters. That wasn't much better due to the haphazard fashion media coverage of Oscar red carpets past, present and future.
One major issue is that there's no definitive or 'go to' source of information or opinion. This would be necessary for me to set some 'best dressed' or 'worst dressed' prop odds. Instead, there's a million different media outlets of varying knowledge on the topic giving their picks for the 'best' and 'worst'. Many of these contradict with an actress appearing on the 'Best Dressed' on one website and the 'Worst Dressed' at another. Going in I thought that there *had* to be at least a few sources that were considered somewhat authoritative but that wasn't the case.
MR. BLACKWELL, WHERE ARE YOU?
Another problem was that most of the sources are at least nominally in the entertainment media business. That means that they're not going to be too judgemental of celebrities fashion choices lest it undermine a cozy relationship with them or 'their people'. What then happens is that everyone finds an actress who isn't on the 'A List' and everyone piles on. Last year, Heidi Klum was the recipient of the abuse. Sure, her dress was kind of nasty but it was more of a case that they could all pick on Heidi Klum without losing 'access' or otherwise suffering retribution.
What the world needs is another Mr. Blackwell. Mr. Blackwell was the self appointed arbiter of celebrity fashion for decades up until his death in 2008. He was a more focused and less charismatic version of Paul Lynne. E Online called him 'the original red carpet bitch' in an excellent profile article. The opening paragraphs give some idea as to his significance and influence:
At precisely 10 AM one January morning in 1964, Richard Selzer, ashimmer in jewels and satin, descended the curving staircase of his 28-room mansion in Los Angeles and became a star. "Ladies, gentlemen, and members of the media," he began, his words unfolding like a cashmere blanket. "Here are the worst-dressed women in Hollywood."

From that moment forward Selzer would rule as America's most powerful arbiter of celebrity fashion for more than 30 years. Armed with the couture-label name Mr. Blackwell and a drag queen's wit (Elizabeth Taylor "should give up looking for a designer and find an architect!"), he traumatized the A list but enthralled the press corps and millions of readers. "Mr. Blackwell reigned," says Hitchcock muse Tippi Hedren, 85, who met Selzer in 1963 and befriended him and his partner, Robert Spencer. The trio remained pals for more than 40 years, and while she never landed on his worst-dressed list, she witnessed the impact of his withering gaze on her peers. "To have your head pinched off because you didn't have the right gown on is pretty awful," she says.
Here's a free business model for anyone interested in fashion and looking for some wealth and fame. Reprise Mr. Blackwell's gimmick to leverage a website that would serve as the definitive reference source for celebrity runway fashion. It would kill and you'd probably have the rest of the fashion media using your site as a resource from the get go.
89TH ANNUAL ACADEMY AWARDS PROPOSITION BETTING ODDS

Number of times that host Jimmy Kimmel laughs at his own joke?
Over 9.5: -130
Under 9.5: +110
Number of references to the 2016 Presidential election by host, nominees, presenters and/or award winners?
Over 6.5: -120
Under 6.5: +100
Number of references to the Hollywood 'wage gap' by host, nominees, presenters and/or award winners?
Over 1.5: +100
Under 1.5: -120
Number of references or jokes to 'Russian hackers' by host, nominees, presenters and/or award winners?
Over 1.5: +100
Under 1.5: -120
Number of references or jokes about Harvey Weinstein by host, nominees, presenters and/or award winners?
Over 2.5: -130
Under 2.5: +110
Number of references to the length of the show by host, nominees, presenters and/or award winners?
Over 1.5: +130
Under 1.5: -150
Number of Jimmy Kimmel costume changes?
Over 1.5: -170
Under 1.5: +150
Number of references to Meryl Streep and her 'accomplishments' by host, nominees, presenters and/or award winners?
Over 3.5: -120
Under 3.5: +100
Number of times that the winners say 'Thanks' or 'Thank You' during the acceptance speech for Best Director, Best Actress and Best Actor combined?
Over 21.5: -115
Under 21.5: -115
Number of pre-recorded video montages other than 'In Memoriam'?
Over 1.5: -250
Under 1.5: +210
Will Donald Trump criticize host Jimmy Kimmel via Twitter during the Academy Awards ceremony on 2/26/17?
Yes: +300
No: -450
What will be the color of the first suit worn by host Jimmy Kimmel?
Black: -450
White: +350
Silver: +750
Blue: +1500
Red: +3500
Any Other Color: +750
Jimmy Kimmel's facial hair during the Academy Awards?
Full beard: -150
Stubble: +250
Clean Shaven: +500
Goatee: +1250
The Academy Award TV broadcast will end:
Before 12 midnight Eastern: +130
After 12 midnight Eastern: -150
Will there be a reference to how 'bad' 2016 was by a host, nominee, presenter or winner?
Yes: -300
No: +250
Will any Academy Award winner complain about the weight of the Oscar statue during their acceptance speech?
Yes: -120
No: +100
Will any Academy Award winner claim that they 'didn't have a speech prepared' during their acceptance speech?
Yes: -150
No: +130
Will any Academy Award winner kiss the Oscar statue?
Yes: -120
No: +100
Will any Academy Award winner not be in attendance to receive their award?
Yes: -130
No: +110
Will any award winner tell their kids to 'go to bed' during their acceptance speech?
Yes: +210
No: -250
Will any award winner speak in a foreign language during their acceptance speech?
Yes: -150
No: +120
Will Leonardo DiCaprio make reference to winning his first Oscar during his presentation?
Yes: -250
No: +210
Will Viola Davis mention Denzel Washington during her acceptance speech?
Yes: -300
No/Does Not Win: +250
Will Casey Affleck mention his brother Ben during his acceptance speech?
Yes: -350
No/Does Not Win: +300
Will any member of the audience be shown eating on camera during the Academy Awards broadcast?
Yes: -120
No: +100
Will any Academy Award winner complain about the limited time for acceptance speeches during *their* acceptance speech?
Yes: -150
No: +120
Will any Academy Award winner say that they 'share this award with my fellow nominees' during their acceptance speech?
Yes: -150
No: +120
Will Denzel Washington receive a standing ovation from the audience at any point during the 2017 Academy Awards ceremony?
Yes: -300
No: +250
Will Meryl Streep receive a standing ovation from the audience at any point during the 2017 Academy Awards ceremony?
Yes: -600
No: +450
Will Viola Davis receive a standing ovation from the audience at any point during the 2017 Academy Awards ceremony?
Yes: -750
No: +600
Will Emma Stone receive a standing ovation from the audience at any point during the 2017 Academy Awards ceremony?
Yes: -350
No: +300
Will Mahershala Ali receive a standing ovation from the audience at any point during the 2017 Academy Awards ceremony?
Yes: -250
No: +210
Will Isabelle Huppert receive a standing ovation from the audience at any point during the 2017 Academy Awards ceremony?
Yes: -250
No: +210
Who will the 'Best Actress' winner thank first?
The Academy: +150
God: +550
Director: +750
Producer: +750
Spouse/Partner: +1250
Writer: +1250
Family: +1250
Co-Star: +2500
Agent: +2500
Any Other: +500
What color will the 'Best Actress' winner be wearing?
Gold/Yellow: +250
White/Cream: +450
Red: +500
Silver/Grey: +500
Black: +850
Blue/Navy: +900
Green: +1250
Pink: +1500
Other: +900
What color will the 'Best Supporting Actress' winner be wearing?
Silver/Grey: +250
Blue/Navy: +450
Red: +500
Gold/Yellow: +500
Green: +850
Black: +900
White/Cream: +1250
Pink: +1500
Other: +900
Best and Worst Dressed Props
Will Heidi Klum be one of E Online's 'Worst Dressed' at the 2017 Academy Awards?
Yes: +450
No: -600
Will Amy Poehler be one of E Online's 'Worst Dressed' at the 2017 Academy Awards?
Yes: +450
No: -600
Will Kate Winslet be one of E Online's 'Worst Dressed' at the 2017 Academy Awards?
Yes: +300
No: -450
Will Jennifer Jason Leigh be one of E Online's 'Worst Dressed' at the 2017 Academy Awards?
Yes: +300
No: -450
Will Reese Witherspoon be one of E Online's 'Worst Dressed' at the 2017 Academy Awards?
Yes: +300
No: -450
Will Keira Knightley be one of E Online's 'Worst Dressed' at the 2017 Academy Awards?
Yes: +300
No: -450
Will Whoopi Goldberg be one of E Online's 'Worst Dressed' at the 2017 Academy Awards?
Yes: +150
No: -180
Will Lady Gaga be one of E Online's 'Worst Dressed' at the 2017 Academy Awards?
Yes: +300
No: -450
Will Olivia Munn be one of E Online's 'Best Dressed' at the 2017 Academy Awards?
Yes: +150
No: -180
Will Rooney Mara be one of E Online's 'Best Dressed' at the 2017 Academy Awards?
Yes: +150
No: -180
Will Rachel McAdams be one of E Online's 'Best Dressed' at the 2017 Academy Awards?
Yes: +300
No: -450
Will Meryl Streep be one of E Online's 'Best Dressed' at the 2017 Academy Awards?
Yes: +210
No: -250
Will Jennifer Lawrence be one of E Online's 'Best Dressed' at the 2017 Academy Awards?
Yes: +210
No: -250
Will Lady Gaga be one of E Online's 'Best Dressed' at the 2017 Academy Awards?
Yes: +200
No: -225
Over/Under Winner Props
How many Oscars will 'Hidden Figures' win?
Over 1.5: +900
Under 1.5: -1750
How many Oscars will 'Hidden Figures' win?
Over 0.5: +500
Under 0.5: -750
How many Oscars will 'Manchester by the Sea' win?
Over 1: -130
Under 1: +110
How many Oscars will 'Fences' win?
Over 1.5: +150
Under 1.5: -170
How many Oscars will 'Jackie' win?
Over 0.5: +150
Under 0.5: -170
How many Oscars will 'A Man Called Ove' win?
Over 1.5: +450
Under 1.5: -600
How many Oscars will 'Hell or High Water' win?
Over 1.5: +450
Under 1.5: -600
How many Oscars will 'Florence Foster Jenkins' win?
Over 1.5: +600
Under 1.5: -750
How many Oscars will 'Moonlight' win?
Over 2: +120
Under 2: -140
How many Oscars will 'Lion' win?
Over 0.5: +250
Under 0.5: -300
How many Oscars will 'Hacksaw Ridge' win?
Over 1.5: +250
Under 1.5: -300
How many Academy Awards will 'Rogue One: A Star Wars Story' win?
Over 0.5: +200
Under 0.5: -250
How many Academy Awards will 'Rogue One: A Star Wars Story' win?
Over 1.5: +500
Under 1.5: -750
How many Academy Awards will 'Fantastic Beasts and Where to Find Them' win?
Over 0.5: +750
Under 0.5: -1500
Head to Head Matchups
Which film will win more Oscars?
Moonlight: -190
Draw: +225
Manchester by the Sea: +450
Which film will win more Oscars?
La La Land: -150
Moonlight: +130
Which film will win more Oscars?
Moonlight: -170
Fences: +150
Which film will win more Oscars?
Hacksaw Ridges: -130
Manchester by the Sea: +110