MLB Baseball Betting for May 14, 2016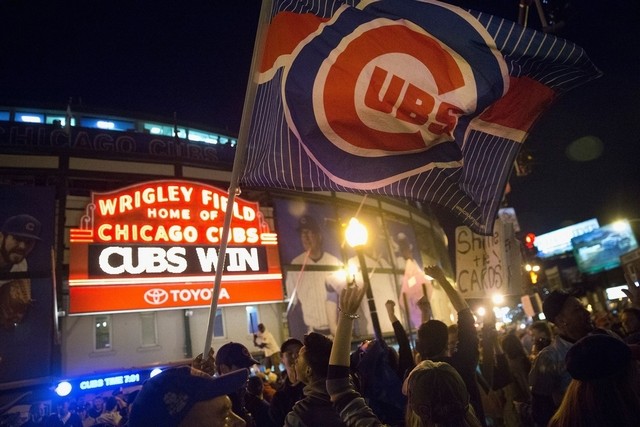 The Stanley Cup playoffs are taking Saturday off and will resume on Sunday with the start of the Western Conference Finals between the St. Louis Blues and San Jose Sharks. In the meantime, we'll take a look at Saturday's baseball card:
MAJOR LEAGUE BASEBALL BEST BETS FOR SATURDAY:
We'll start with a daytime game in the National League featuring the best team in baseball aka the Chicago Cubs:
PITTSBURGH PIRATES AT CHICAGO CUBS:
It wasn't that long ago that betting against the Chicago Cubs was the easiest money in sports betting. Especially at home–even with the Cubbies recent success this year and last a blind bet against them at Wrigley Field in every game since 1997 would have fattened your bankroll by 161.8 units. Overall since 1997, they lost bettors -254 units. Those days look to be over. The Cubs are a freight train. Even the clueless mainstream media has figured out that they've got a legit chance to win the World Series this year. They're now 26-8 on the season which is their best start since 1907. I doubt if many of you remember that season.
Basically, the Cubs have been doing everything right. They've got the #3 runs total in baseball and the #1 team ERA. If a baseball team scores a lot of runs and prevents their opponents from scoring runs they're going to win a lot of games. They've pretty much obliterated their NL Central challengers this year–following Friday's win over Pittsburgh they're 14-2 +11.7 units against divisional rivals. They're also a very impressive 15-2 +10.8 units against opponents with winning records. They're 13-6 +1.8 units at home–that's a good example of how valuations can quickly make even the best team 'unbettable' or a 'go against'. The Cubs are winning nearly 70% of their home games and they've made less than two units of profit. Of course that's how the Cubs came to lose so much money over the past twenty years–they're a huge 'public' team winning or losing. And since they've been mostly losing over the past two decades and yet the public kept betting them they kept burning money for their 'financial backers'.
The Cubs are getting to the point of being unbettable due to their prices. We'll take a shot on them here even though it's tough to eat so much chalk. For one thing, Chicago has destroyed left handed pitching. They beat up on Francisco Lirano last night and today they'll take their swings at Jeff Locke. Locke is a good enough pitcher but he's not received any help from his teammates this year. That's why the Pirates are 1-5 when he's on the hill. His overall ERA is 4.68 though he's pitched better in his recent outings. Not that it'll matter much–Chicago averages 5.7 runs per game against lefthanders and they're 7-2 +3.8 units against southpaws this season. At some point, this Chicago team will cool off and that's when we'll be ready to play against them. For now, we don't want to get in front of this speeding semi truck of a team.
BET CHICAGO CUBS -225 OVER PITTSBURGH PIRATES
CINCINNATI REDS AT PHILADELPHIA PHILLIES:
Don't look now, but the Philadelphia Phillies are six games over .500 after a 3-2 win over the Reds on Friday night. And with Cincinnati in the midst of another mediocre (or worse) season we don't see any reason to go against them again here. Reds will start Tim Adleman, a capable right hander who has a 2.45 ERA in two starts–both Reds' wins. We're more interested in Philadelphia's Aaron Nola who is a good value due to his ugly home ERA. Nola has an 8.25 ERA at home but he started the season very poorly. The Phillies have won four of his subsequent five starts and he's been lights out in his last three–all Philadelphia wins. Nola has a L3 ERA of 1.35, a 0.650 WHIP and 19 K's against just three walks. That's getting it done. Phillies now 9-5 at home and the Reds have been pitiful on the road–with last night's loss Cincy drops to 2-11 -8.4 units away from home. The public still hasn't caught up to the improvements in Philadelphia and that gives us a decent price against one of the worst road teams in baseball.
BET PHILADELPHIA PHILLIES -145 OVER CINCINNATI REDS
TORONTO BLUE JAYS AT TEXAS RANGERS:
At first glance, it's hard to see why Toronto is favored here. The Jays pitching has been decent (#6 team ERA in baseball) but their offense has been putrid. They were expected to contend for the AL East title once again this year but they've been basically 'treading water' to this point in the season. The good news is that none of the other AL East teams have done much and they're just 4.5 games out. But they need to start doing better than 19-18 barely above .500 baseball.
The Rangers, meanwhile, are just 2 games back of AL East leading Seattle. So why do we like the Jays here? For one thing, we like Marco Estrada who has pitched well of late despite getting little help from his teammates. Estrada has a L3 ERA of 2.29, a 0.763 WHIP and 16 K's in 19 2/3 innings of work. Somehow the Jays lost two of his last three starts. But Toronto has dominated Texas over the past few years winning 15 of the last 22 head to head including 7 of 9 in Texas. Estrada personally has owned the Rangers–a 1.48 ERA, a 0.781 WHIP and 3 Toronto wins in four starts. Also four 'Unders' in four starts and with Toronto not hitting the ball (another 'Under' in Friday's series opening win) we'll look for this one to stay 'Under' the total. Toronto one of the biggest 'Under' teams in baseball with 24 UN in 34 games.
BET TORONTO BLUE JAYS -125 OVER TEXAS RANGERS
BET TORONTO/TEXAS UNDER 9.5