Lamar Jackson is the Heisman Trophy Frontrunner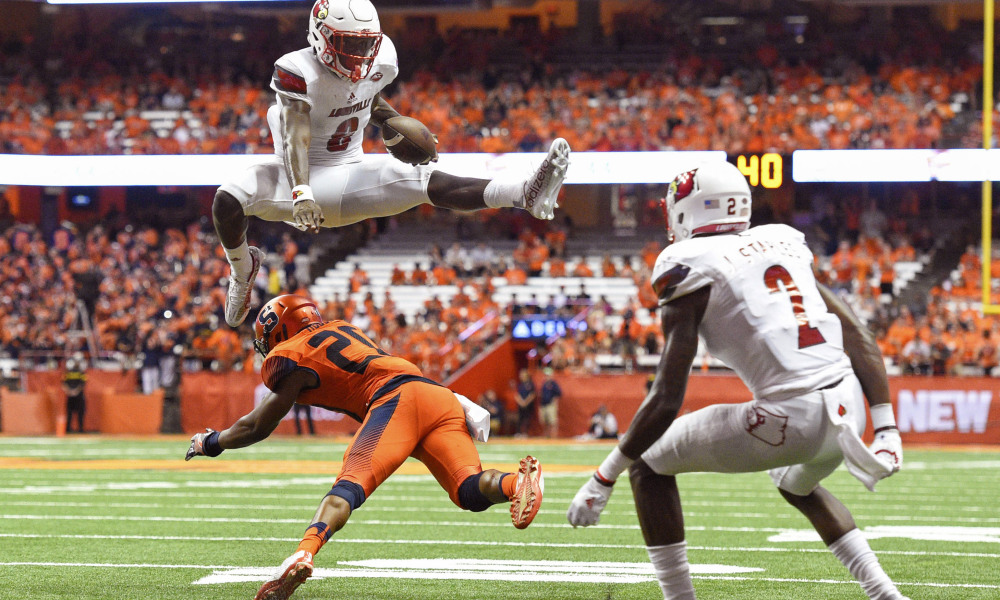 University of Louisville sophomore quarterback Lamar Jackson burst onto the scene in 2016 and made his presence known from the opening game. The Cardinals beat overmatched Charlotte 70-14 and in the process Jackson passed for 6 touchdowns and ran for 2 more. He threw for 286 yards on 17 for 23 passing. Making these numbers all the more phenomenal? He didn't play in the second half!
To be sure, Louisville has begun to play more challenging competition including last year's National Championship runner up and ACC Atlantic rival Clemson who gave them their only loss of the season to date. There's still a lot of football to be played, however, and since even top ranked teams can be beat on 'any given Sunday' (ask Ohio State how that works) the 'stars could align' that would allow Jackson and his Louisville teammates to play for the National Championship.
A more likely scenario is that Jackson will win the Heisman Trophy. He's currently a -350 to be named college football's top player and while injuries and streaks of poor play can always happen he's definitely the frontrunner at this point. He's likely so far ahead of the field already that all he needs to do to win the Heisman is to stay healthy. What are the odds that Jackson *won't* win the Heisman Trophy? You can bet 'No' and take the position that he won't win the Heisman for +275. As far as the individual players providing the most competition the closest is Clemson quarterback DeShaun Watson at +800. The other top candidates are Jabrill Peppers (+1000), Jake Browning (+1000) and J.T. Barrett (+1600).
Obviously, this is a 'career year' for Jackson and making it even more scary is the fact that he's just a sophomore! He could possibly return for two more years of college football or take the more likely route and declare for the NFL Draft before his eligibility is up. The SportsBettingExperts oddsmakers have come up with odds for the question 'Will Lamar Jackson return for his junior season at Louisville?' and many other team and individual proposition bets:
LAMAR JACKSON COLLEGE FOOTBALL SPECIALS

INDIVIDUAL PROPOSITION BETS


Will Lamar Jackson win the Heisman Trophy?

Yes: -350
No: +275

To Win Heisman Trophy

Lamar Jackson: -350
DeShaun Watson: +800
Jabrill Peppers: +1000
Jake Browning: +1000
J.T. Barrett: +1600
Other: +3500

Will Lamar Jackson return for his junior season at Louisville in 2017?

Yes: -130
No: +110

Who will finish the college football regular season with more touchdown passes?

DeShaun Watson: -120
Lamar Jackson: +100

Who will finish the college football regular season with more touchdown passes?

Jake Browning: -275
Lamar Jackson: +150

Who will finish the college football regular season with more rushing touchdowns?

Lamar Jackson: -130
Donnel Pumphrey: +110

Who will finish the college football regular season with more rushing touchdowns?

Lamar Jackson: +175
Jamaal Williams (BYU) + Brian Hill(WYO): -200

Which number will be higher at the end of the college football regular season?

Lamar Jackson rushing touchdowns: -120
Jeremy McNichols(Boise State) rushing + receiving + return touchdowns: +100

Which number will be higher at the end of each player's regular season?

Lamar Jackson + DeShaun Watson touchdown passes: -110
Connor McDavid goals scored +10: -110

Which number will be higher at the end of each player's regular season?

Lamar Jackson + DeShaun Watson touchdown passes +20: -110
Connor McDavid assists: -110

Which number will be higher at the end of each player's regular season?

Lamar Jackson + DeShaun Watson + Jake Browning (WASH) + Davis Webb (CAL) touchdown passes: -110
Connor McDavid goals + assists: -110

Which number will be higher at the end of each player's regular season?

Lamar Jackson: -130
Tom Brady + 9 touchdown passes: +110
TEAM PROPOSITION BETS


Will Louisville win the National Championship?

Yes: +1100
No: -2100

More wins at the end of college football regular season?

Louisville + Clemson: -110
Ohio State + Alabama: -110

More wins at the end of college football regular season?

Louisville + Clemson: -110
Ohio State + Alabama: -110

More wins at the end of college football regular season?

Big Ten East: +110
ACC Atlantic: -130

More wins at the end of each team's regular season?

Louisville Cardinals (college football): +100
Philadelphia 76ers (NBA basketball): -120

More wins at the end of each team's regular season?

Louisville Cardinals + Clemson Tigers (college football): +120
New England Patriots + Denver Broncos (NFL Football): -150

RULES: 'regular season' excludes bowl games, National, league and other playoff/title games and exhibition games. All bets are action regardless of injuries, suspensions postponements or cancelations