Hainan Danzhou GrandMaster Chess Tournament 2018 Round 7 Betting Odds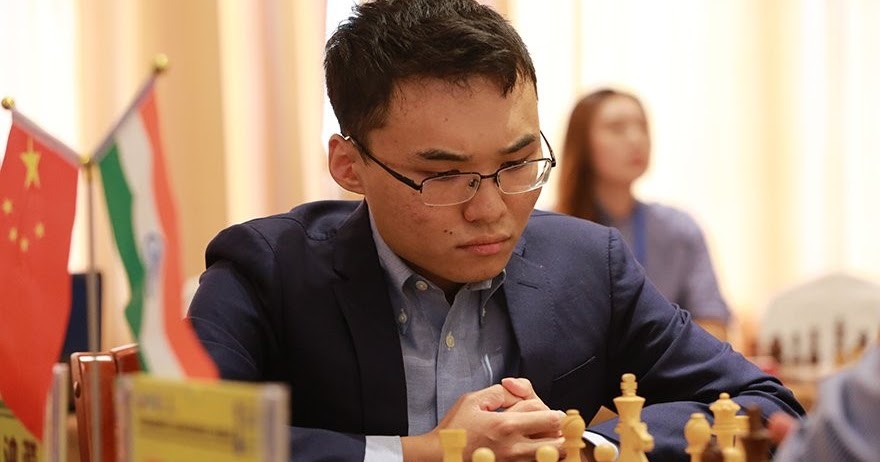 –Chess is a surprisingly popular game among bettors–particularly in Europe and Asia.
–This is the 9th Hainan Danzhou GrandMaster Chess Tournament
–19 year old Wei Yi is the defending champion.
A dramatic turn of events in Round 6 of the 9th Hainan Danzhou GrandMaster Chess Tournament has produced a new leader. Over the past few days we've noted how Yu Yangyi has been 'making a move' up the standings and that has resulted in him claiming the tournament lead from former leader Bu Xiangzhi. Yu Yangyi vaulted to the top by virtue of a Round 6 win over Vladimir Fedoseev combined with Bu Xiangzhi losing to Jan-Krzysztof Duda. Duda has moved into a second place tie with his Round 6 victory. Last year's champion Wei Yi continues to 'tread water' and is in a four way tie for 5th place.
Here are the current standings after six rounds:
HAINAN DANZHOU GRANDMASTER CHESS TOURNAMENT 2018 STANDINGS AFTER ROUND 6
1) Yu Yangyi: 4
2) Bu Xiangzhi: 3.5
2) Jan-Krzysztof Duda: 3.5
4) Quang Liem Le: 2
5) Samuel Shankland: 2.5
5) Vladimir Fedoseev: 2.5
5) Wei Yi: 2.5
5) Gujrathi Vidit Santosh: 2.5
HAINAN DANZHOU GRANDMASTER CHESS TOURNAMENT 2018 ROUND 6 RESULTS
Jan-Krzysztof Duda WIN over Bu Xiangzhi
Quang Liem Le WIN over Samuel Shankland
Wei Yi Vidit DRAW Gujrathi Vidit Santosh
Yu Yangyi WIN over Vladimir Fedoseev
The 9th Hainan Danzhou GrandMaster Chess Tournament began on July 26 and concludes on August 4. The tournament will be held at the China Chess Association's Training Base in Danzhou, a western city in China's Hainan province. The prize pool is $60,000 (USD) with the winner claiming 140,000 CNY or approximately $20,869 USD. The tournament is the centerpiece of a variety of activities intended to promote chess in the Hainan provence including the national youth tournament and a chess themed summer camp.
The tournament will have a strong international flavor with only three Chinese nationals among the eight competitors. Yu Yangyi, Wei Yi and Bu Xiangzhi will represent the host country with Russia's Vladimir Fedoseev, Vietnam's Quang Liem Le, Poland's Jan-Krzysztof Duda , India's Gujrathi Vidit Santosh and Samuel Shankland of the United States comprising the rest of the field.
Here's the updated odds to win and to finish top two in the 9th Hainan Danzhou GrandMaster Chess Tournament along with the odds on every Round 7 matchup. Round 8 is the final round of this event and will take place on Saturday, August 4:
2018 HAINAN DANZHOU GRANDMASTER CHESS TOURNAMENT BETTING ODDS
TO WIN 2018 HAINAN DANZHOU GRANDMASTER CHESS TOURNAMENT (UPDATED 8/2/18)
Yu Yangyi: -350
Jan-Krzysztof Duda: +300
Bu Xiangzhi: +750
Quang Liem Le: xxx
Samuel Shankland: xxx
Vladimir Fedoseev: xxx
Wei Yi: xxx
Gujrathi Vidit Santosh: xxx
TO FINISH TOP TWO 2018 HAINAN DANZHOU GRANDMASTER CHESS TOURNAMENT (UPDATED UPDATED 8/2/18)
Yu Yangyi: -750
Jan-Krzysztof Duda: -250
Bu Xiangzhi: +150
Quang Liem Le: +750
Samuel Shankland: xxx
Vladimir Fedoseev: xxx
Wei Yi: xxx
Gujrathi Vidit Santosh: xxx
2018 HAINAN DANZHOU GRANDMASTER CHESS TOURNAMENT ROUND 7 BETTING ODDS
GUJRATHI VIDIT SANTOSH VS. QUANG LIEM LE
Gujrathi Vidit Santosh: -150
Quang Liem Le: +130
Gujrathi Vidit Santosh: +350
DRAW: -250
Quang Liem Le: +450
Gujrathi Vidit Santosh/DRAW: -450
Gujrathi Vidit Santosh/Quang Liem Le: +150
Quang Liem Le/DRAW: -170
JAN-KRZYSZTOF DUDA VS. WEI YI
Jan-Krzysztof Duda: -350
Wei Yi: +300
Jan-Krzysztof Duda: +200
DRAW: -200
Wei Yi: +750
Jan-Krzysztof Duda/DRAW: -2500
Jan-Krzysztof Duda/Wei Yi: +150
Wei Yi/DRAW: -200
VLADIMIR FEDOSEEV VS. BU XIANGZHI
Vladimir Fedoseev: -170
Bu Xiangzhi: +150
Vladimir Fedoseev: +300
DRAW: -250
Bu Xiangzhi: +500
Vladimir Fedoseev/DRAW: -750
Vladimir Fedoseev/Bu Xiangzhi: +100
Bu Xiangzhi/DRAW: -350
SAMUEL SHANKLAND VS. YU YANGYI
Samuel Shankland: -150
Yu Yangyi: +130
Samuel Shankland: +350
DRAW: -250
Yu Yangyi: +450
Samuel Shankland/DRAW: -750
Samuel Shankland/Yu Yangyi: +150
Yu Yangyi/DRAW: -750