Friday NCAA Basketball Betting Picks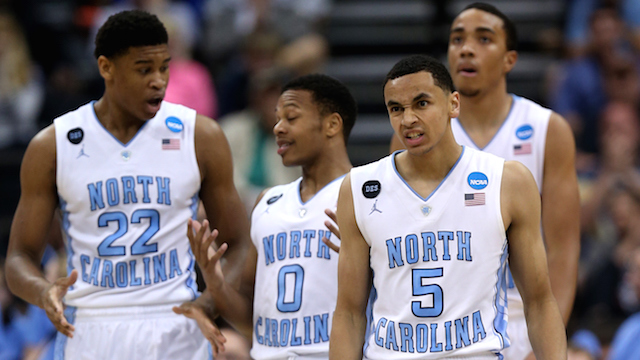 We're down to the 'Sweet Sixteen' in the NCAA basketball tournament. Actually, it'll be down to 12 teams by the time you read this with four more games on Friday night:
INDIANA VS. NORTH CAROLINA:
The CBS hype machine has been working overtime on this one. They're trying to insinuate that this is a 'matchup for the ages' between two of the most storied programs in college hoops. It's not. No disrespect to Indiana and their legacy of success but this game could turn into a mismatch. Sure, these teams have had their moments. The 1984 upset by Indiana over the Michael Jordan led Tar Heels is an iconic game in college basketball. Indiana did surprise me by getting this far, taking care of business against UT-Chattanooga and Kentucky. This looks like a bad matchup for them and the Tar Heels should send them packing.
For reasons I can't fathom, every ersatz wise guy has a problem with North Carolina's substandard three point shooting. And while their 31.5% from behind the arc isn't exactly impressive their style of play negates it's significance. With the Tar Heels size and power on the inside they get a lot of three point plays by going hard to the hole and drawing fouls. Given this stylistic emphasis complaining that UNC can't shoot the three is like saying that Floyd Mayweather doesn't have one punch KO power. That 'analysis' may be right but it's pointless in the big picture.
More so than any recent vintage Tar Heels team Roy Williams has a group of 'grown men' to work with. Guys like Brice Johnson (6'9", 228 lbs), 6'8", 230 pounds Isaiah Hicks and 6'9" 265 pound Kennedy Meeks. This is a horrible matchup for a not particularly powerful Indiana team. Tar Heels have their way in the paint and win and cover a game that isn't as close as the CBS hype would have you believe.
BET NORTH CAROLINA -5 OVER INDIANA
NOTRE DAME VS. WISCONSIN:
Not much to say about this game. Notre Dame is good at pushing around undersized opponents but that won't help them against Wisconsin. The Badgers have better size and coaching but no matter which team advances here they'll get eviscerated by double digits against North Carolina.

BET WISCONSIN +1 OVER NOTRE DAME
IOWA STATE VS. VIRGINIA:
This could be the best game of the night as the top ranked offensive efficiency of Iowa State goes head on into the nasty team defense of Virginia. Iowa State has been a license to print money over the past few years against ACC opponents (14-4 ATS) and in tournament action (also 14-4 ATS). Virginia wasn't a great team away from home–unusual for a team that plays their style of basketball. Their road record was 13-7 SU/10-10 ATS but these setbacks include a number of teams that they "should" have beaten including George Washington, Virginia Tech, Georgia Tech and Florida State. Iowa State's only losses in road or neutral settings are to NCAA tournament teams. Very intriguing matchup in which each team's strength seems to be pointed right at the opponent's 'Achilles Heel'–at least on paper. We've been big on UVA throughout the season but just can't lay this may points against an Iowa State team that could stretch the Cavs' defense like no opponent they've faced this year.
BET IOWA STATE +5.5 OVER VIRGINIA
SYRACUSE VS. GONZAGA:
Syracuse was underrated in the first two rounds of this tournament but they're overrated here. This isn't one of Jim Boeheim's better teams and Gonzaga won't be flummoxed by the matchup zone.
BET GONZAGA -4 OVER SYRACUSE