College Football Betting for September 30, 2016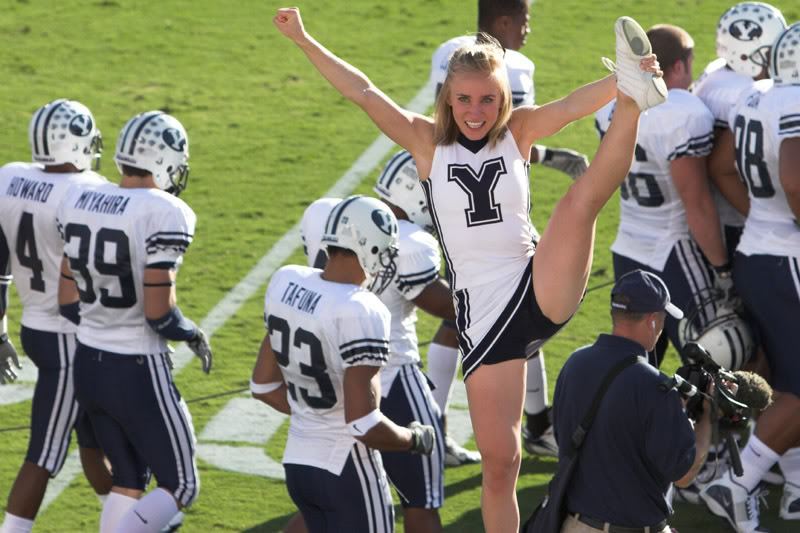 Two games on Friday's college football betting board. The Pac 12 matchup between Washington and Stanford looks too close to call so we'll focus on the stronger of the two plays in the 10:15 PM Eastern matchup on ESPN2 between BYU and Toledo:
COLLEGE FOOTBALL BETTING FOR SEPTEMBER 30, 2016:
TOLEDO AT BYU:
The Toledo Rockets are coming off of a 10-2 season in 2015 and have higher hopes this year. There's increasing talk that the Rockets could 'run the table' and finish the year undefeated. They've opened the year 3-0 against some weak opponents (Arkansas State, Maine, Fresno State) but face what might be their toughest challenge of the year as they head to Provo, Utah to face the BYU Cougars.
As a college football independent, BYU doesn't have a lot of 'easy games' on their schedule which is why their 1-3 SU record is misleading. They've faced what has to be one of the toughest schedules in the country by any metric and don't really have an 'easy game' until back to back games against Southern Utah and UMass in November. After this game they'll face Michigan State, Mississippi State and Boise State followed by a bye week.
You can get a better feel for this BYU team by looking at they're 4-0 ATS pointspread record. The Cougars have fought like crazed weasels against their tough competition. Their three SU losses have come by a total of 7 points including a 1 point loss to Utah where first year head coach Kalani Sitake went for a two point conversion late to try and win the game instead of kicking the PAT for a tie. That was followed by a determined effort in their home opener but ultimately a 3 point loss to UCLA. Last week was another show of resolve by the Cougars as they erased a 16 point fourth quarter deficit forcing West Virginia to hold on for a three point win in Landover, Maryland.
The consensus among armchair handicappers about this BYU team has been dead wrong all season. That's not surprising as that's often the case for teams in the Mountain Time Zone. They don't get much national attention relative to the East and West Coast and for that reason the public and even otherwise sharp football handicappers don't usually have a very accurate 'take' on the teams in the Intermountain West. When BYU started to decline near the end of LaVell Edwards' illustrious coaching career it took the public and even good handicappers awhile to catch on. They bit when Gary Crowton opened his tenure in Provo with a 12-2 record and didn't catch on to how bad a coach he was until he'd turned in three straight losing seasons. They were slow to catch on to the transition that Bronco Mendenhall made early in his coaching career as BYU became a physical, defensive oriented squad–the diametric opposite of what had long been considered BYU football. It doesn't really seem that they 'get' this team now.
That's why they have completely misread the setup for this game, at least in my view. The prevailing theory is that BYU will be 'drained' after starting the year with such a tough schedule and so many close games. They'll thus be 'ripe for the picking' for a Toledo team catching a better program at just the right time. Here's the problem with that theory–that's been the 'conventional wisdom' for the past three games and it's been wrong every time. First, BYU wouldn't be able to compete against Utah coming off a season opening win. Then BYU wouldn't be able to compete with UCLA after coming off that tough rivalry game against Utah. Then BYU wouldn't be able to compete against West Virginia coming off back to back emotional games–against Utah and in coach Sitake's home debut.
Now instead of realizing that perhaps they don't have a good read on this Cougars' team there's plenty of people coming back with the same theory. In my estimation, they'll be wrong for the fourth straight game here. This is a very mature team–perhaps the most mature in college football history due to the prevelance of 23 and 24 year old returned missionaries on the roster. They'll likely view this game where they take a step down in class as more of an opportunity to put a much needed win in the books. It's also only their second game of the year at home and they'd no doubt love to give their coach his first win at LaVell Edwards Stadium.
BYU's pointspread record at home isn't overwhelming (7-6 ATS L3) but that doesn't mean it's not a tough place to play. This is especially true for teams unfamiliar with the effects of playing at altitude–like a Toledo team that plays their home games at 615 feet above sea level. The Rockets have lost 6 of their last 7 games West of the Rocky Mountains and perhaps more importantly they haven't played at anything resembling high altitude since a win over a pitiful Wyoming team in Laramie back in 2012. Now they're going to play a very physical team–something they don't see in the MAC–on the road at 4,515 feet above sea level. Factor in the Rockets' 3-0 SU record and they're likely feeling better about themselves than perhaps they should. Cougars win and cover here.

BET BYU -3.5 OVER TOLEDO