College Football Betting for September 29, 2016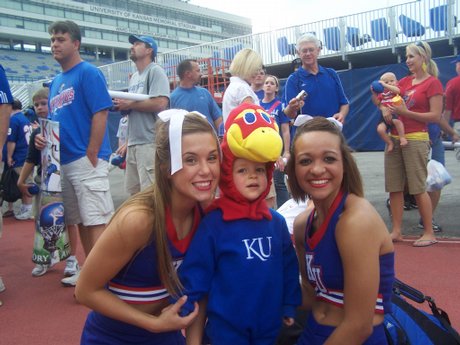 Two college football games for Thursday, both expected to be mismatches based on the betting line. Two games, a combined pointspread of -58.
COLLEGE FOOTBALL BETTING FOR SEPTEMBER 29, 2016:
KANSAS AT TEXAS TECH:
The University of Kansas Jayhawks are among the elite programs in college basketball. Their football program? Not so much…the Jayhawks football team last had a winning season in 2008. Since then:


2009: 5-7
2010: 3-9
2011: 2-10
2012: 1-11
2013: 3-9
2014: 3-9
2015: 0-12
They've been through four coaches since their last winning season. David Beatty is now the head coach and he's got a huge mess to clean up. What's amazing about Kansas is not just how bad they've been for nearly a decade now but how completely non-competitive they've been in the past few seasons. In the last three seasons they're 4-23 straight up (two of the wins, incidentally, were against FCS level competition). During that timeframe they're 8-18 against the spread. As an underdog they're 1-22 in the last three years for a pointspread record of 6-16. 0-12 SU on the road and 2-9-1 ATS. 4-19 SU on turf 7-15 ATS. 1-14 SU after two or more SU losses 4-10 ATS. 1-17 in Big 12 play for a pointspread record of 6-12.
To be this bad against the spread requires a special level of futility. Everyone knows you've got a lousy team so you're not 'sneaking up' on anyone. The 'public' isn't lining up to bet on the Kansas football team. There are plenty of bad football teams but some are at least marginally competitive against the spread. That's the way sports betting is supposed to work. Bookmakers hate two things–teams that win and cover every week and teams that lose and fail to cover every week. In the past three seasons just blindly betting against Kansas would have yielded a winning percentage of just under 70%.
For a team to be *this* bad against the spread they have to not only be lousy but to exceed the expectations of linesmakers and the betting public about how bad they are week after week after week. Kansas football is mind boggingly bad. And it's not just in recent years. Since 1992, a bettor betting against Kansas on a week by week basis would be 152-115 for a 56.9% winning mark. As an underdog, the Jayhawks are 27-147 SU since 1992 and 67-105 ATS. That's a 60.3% winning percentage–no handicapping required. Just bet against Kansas as a dog at every opportunity.
These type of longterm trends don't work forever. Either teams will get better, the linesmakers will catch up with how bad they are or some combination thereof. I'm not the least bit sure that Kansas has improved but I am of the opinion that the second part of the scenario will come to pass–the linesmakers may be catching up with how amazingly lousy the Jayhawks' football program really is.
But lets talk about the Texas Tech Red Raiders for a moment. They've been an offensive Juggernaut this season. They're #2 in the country in yards per game (679) and in scoring offense (61). So we've got a team that drops 61 points per game on opponents and they show no mercy to even good programs. They dropped 55 points on Arizona State on 9/11/16 and that's a legit football program. But somehow Texas Tech is just 2-1 straight up? How is that possible? Pretty simple really. In the game against Arizona State the Red Raiders allowed 68 points and 652 yards of total offense.
I've been handicapping sports for a long time and I'm not sure I've ever seen a college football team so prodigious on offense and so downright inept on defense. Sure, 'defense' is a relative concept in the Big 12 and there's been plenty of high scoring teams with a porous stop unit. None of them can compare to Texas Tech who currently rank #124 in the country in total defense allowing 531 yards per game. There's only four teams with worse defensive yards per game stats (Rice, Hawaii, Texas State and Bowling Green). The Red Raiders are just as bad in the defensive points per game standings allowing a mere 43.3 points per game. Keep in mind that Texas Tech's numbers include a game against Stephen F. Austin–a FCS team that went 4-7 last year. Against FBS opponents the Red Raiders have allowed an average of 612 yards against and 56.5 points. Using those numbers the Texas Tech defense is the worst in the FBS by 1.2 points and 54 yards per game over Bowling Green.
To be fair, the potency of the Texas Tech offense is legit–they've scored 57 PPG against their FBS foes–and having that kind of offense allows a team to play 'fast and loose' on defense. But that still doesn't change the dynamic and the net result being that I don't think I've ever seen such a good offense combined with such a bad defense. Not surprisingly, Texas Tech has dominated the series SU winning 12 of the last 13 meetings but are just 8-5 ATS. They're 5-1 on their home field against the Jayhawks but just 3-3 ATS. The Red Raiders did win and cover in the last home meeting (2014) but they were just -11.5. Last year in Lawrence they won 30-20 as -33 point favorites. The Kansas defense looks like the 1985 Chicago Bears compared to Texas Tech–they're #52 in total defense (370 yards per game) and #80 in scoring defense (28.7 PPG).
Texas Tech has a massive game on deck (10/8) playing at Kansas State who has one of the best defenses in college football. That means their focus here is questionable. Kansas might not be a good team but the prices against them are getting out of hand. This is especially true against what might be a historically bad Texas Tech defense.
BET KANSAS +28.5 OVER TEXAS TECH