Classic NL West Matchup as Underdog Rockies Travel to Arizona for NL Wild Card Game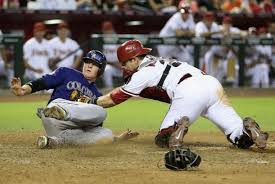 Who: Colorado Rockies v. Arizona Diamondbacks
When: Wednesday October 4th, 2017 8:00PM EST
Where: Chase Field—Phoenix, Arizona
The Rockies and Diamondbacks are no strangers to one another, as they met in the regular season a total of 19 times. These two NL West rivals have been going at it for years, but Wednesday night will be the first time either team has tasted post-season baseball in quite some time. In fact, the Rockies have not been to the post-season since 2009, while the Diamondbacks have a playoff drought that goes back to 2011. Naturally, this being a one-game playoff, something has to give.
Overall, the Diamondbacks have fared better than the Rockies in their matchups during the regular season. Officially, the D-Backs won the regular season with 11 wins versus 8 losses. With that being said, it is clear to see that Arizona was not totally dominant, and definitely showed some signs of weakness through their many series with the Rockies.
Though the regular season records might be similar, the fact of the matter is that when you look at the statistics a bit closer, the Diamondbacks did have quite the clear edge. In those aforementioned 19 games, not only did the Diamondbacks win more, they also drastically outscored their Colorado opponents. The D-Backs had a more than +30 run differential against the Rockies, outscoring them by a tally of 101-69. We already know that both of these teams have offensive firepower, but when you look at that stat it is decisive in the eyes of many. This is only a one-game affair and, as we have seen in year's past, anything can happen.
Game Overview and Analysis
Despite being heavily outscored by the Diamondbacks during the regular season series, the Rockies (+150) will head to Phoenix as only slight underdogs. This is kind of confusing when you consider that they will be starting 2-year veteran Jon Gray (10-4 3.67 ERA), a guy who has had—by most accounts—a very average year. In fact, this all grows even more confusing when you consider just how powerful the D-Backs' offense is. Despite the abundance of confusion, he will be making the start, and the good news about all of this is that he is in pretty solid form. He went 4-1 through the month of September and never gave up more than 3 runs in an outing. He will have momentum on his side, but apart from that the playoff atmosphere will be quite daunting for the 25-year old.
The Rockies' offense is a more than capable side and it is looking like they may need to back their pitcher up straight away. If the Rockies need to go to the bullpen early this may spell their end, because their bullpen is nothing to write home about. A lot of things need to go right, but the Rockies will have a fighting chance to extend their first post-season appearance in 8 years beyond the first day.
As for the Diamondbacks (-160), they will be sending a person that is, quite literally, the polar opposite of Jon Gray to the mound. The D-Backs will start 17-year veteran Zack Greinke (17-7 3.20 ERA). Despite his age, Greinke has had a solid season this year. He has over 200 strikeouts and regularly keeps his earned run tally below 3, so what's not to like? He is only 2-1 against the Rockies in 2017 and has a few no-decisions to go along with that record. I am not saying the Rockies have his number, but they are definitely much more comfortable with Greinke on the mound than most other teams might be.
For me, this game is going to come down to the performance of the Diamondbacks' bats. With one of the most high-octane batting lineup in MLB, the Diamondbacks are being considered favored simply because, in the absolutely worst-case scenario, they can outpace the Rockies on offense. The Diamondbacks finished the season scoring double-digit runs on many occasions, and if that happens on Wednesday night I think there is little chance for the Rockies to make it through to the ALDS.
Betting Prediction
As far as a moneyline bet is concerned, I think you have to go with the Diamondbacks (-160) in this one. I love this bet because I truly think the Diamondbacks are leaps and bounds better than Colorado. -160 might not be the best odds, objectively speaking, but considering the teams playing I really do like it.
As far as the point spread is concerned, BetOnline lists the Diamondbacks as -1.5 runs favorites (+120). As was mentioned above, they have a high-powered offense that can light up like dynamite, so I feel safe in saying I think they will cover this spread.
Finally, there is the matter of the over/under. It is now listed at 8.5 total runs (-120/+100) and I think this game has a very good chance of going over (-120). This total was exceeded on 9 of the 18 times these two teams met in the regular season.