Cavs Not Given Much Shot of Extending Series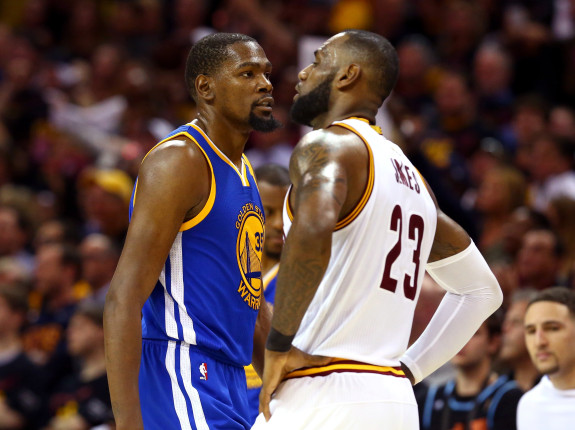 When the Cleveland Cavaliers enter Oracle Arena Monday night, they will do so as underdogs for the 5th consecutive time during this NBA Finals series. This time around, Bovada is not giving the Cavs much of any shot, and has them listed on the moneyline at +255. Conversely, the Warriors are heavy favorites at -310. Despite Cleveland having won Game 4, tonight's lines really should not come as much of a surprise. The Cavs may have won, but it took perhaps their best performance of the year to steal just one game away from the strongest team the NBA has ever seen.
Expect Lebron and Co. to come out firing, but there are few objective opinions that see the Cavs emerging victorious tonight in Oakland.
What the Cavs Did Correctly
Through the first 3 games of this year's NBA Finals, all anyone could focus on was what that Cavs were doing wrong. Lebron was making passes he shouldn't, role players were nowhere to be found, and the list goes on. In Game 4, however, the Cavs switched up the game plan, and along with some change came great success. The +175 Cleveland Cavaliers scored more than 80 points by halftime, and ended up cruising to their first—albeit unlikely-victory.
As ESPN's Zach Low puts it, "They slowed the pace a bit in Game 4, and leaned harder on the Warriors with sheer physicality that will take more of a toll the longer this series goes — provided the officials allow it. Tristan Thompson woke up. And their two transcendent offensive fulcrums are gradually figuring out ways to puncture the Warriors' defense, just as they did over the last four games a year ago."
What the Warriors Need to Change
Even if we were being hypercritical of the Warriors, there is not much that we can point to as reasons why they were unable to complete the sweep on Saturday. The only stat that does stick out—and sticks out quite a bit—is the fact that Golden State shot just over 28% from beyond the arc. The previous 3 games did not see that statistic dip too far below the 40% mark. Apart from that, there is not much you can say about a loss that saw them score 116 points. In essence, while the Warriors played well on Saturday, the Cavaliers played flawlessly.
So, with that being said, the one thing that needs to change on Monday night is the Warriors' finishing from beyond the arc. If they can turn that 28% shooting percentage into 35%+, chances are the Cavs will have few answers.
Something else the Warriors need to do is erase all hope from the minds of Cavaliers players. With just that one victory, Cleveland feels as though it is back in contention. As that confidence snowballs into Monday night, the Warriors need to come out of the gate firing. USA Today summed this up perfectly by saying, "All it took was one Cleveland victory to evoke memories of last season's Finals and generate a flicker of an idea that maybe — just maybe — the Cavaliers can turn this into a series." If the Warriors do not step on the throats of the Cavaliers straight from the opening tip, this series very well might end up at 3-2 after all.
The Picks to Make
So far this series, those who have bet on the over have been happy in just about every game except for one. Game 4 saw the 227 point over/under (-105/-110) easily eclipsed. This time around, MyBookie and many other sportsbooks have upped the over/under to 231 (-110). As far as whether we think you should go over or under, our opinion is that same as it has been all series long. The Warriors are going to get theirs, and so long as the Cavs can even come close to keeping pace, this game will also go over. Seeing as there isn't much more potential financial benefit in taking the under, the over seems to be the most solid pick here.
As far as outright winners are concerned, this is a wager we are suggesting you stay away from. The Warriors are such heavy favorites that you would need to risk a boatload to win anything worthwhile, while the Cavs are such large underdogs wagering on them seems like more of a waste than anything else. If you take anything, take the Warriors moneyline, but seeing as the odds are going to consistently be -300 or worse, meaning that you are going to need to risk a lot to win a little.
As far as the 8.5 point spread, this is yet another wager we recommend staying away from. The Warriors can very easily cover that, but after last game there is no way of saying for certain.
For the 3rd game in a row, we really like Bovada's player prop regarding a Lebron James triple-double. This hit last game, and is currently listed at +125. Being that Lebron tends to play well when his back is against the wall, we highly recommend you giving this wager a shot.