Blake Griffin Out After Breaking Hand In Fight With Clippers' Equipment Manager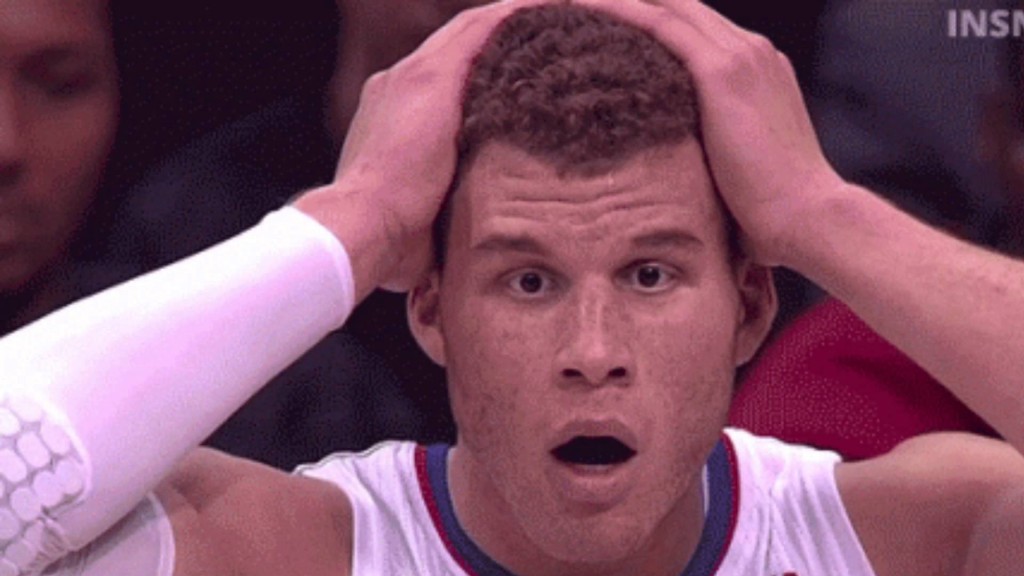 The NBA circa 2016 is borderline unwatchable. The latest case in point–Blake Griffin, overrated power forward for the Los Angeles Clippers. It's no secret that he's not a rocket scientist but his stupidity has reached a nadir. Griffin is out 4-6 weeks after breaking a bone in his hand. He incurred the injury in a fight–not losing his temper in a moment of competitive intensity or defending a teammate from the thuggish play of an opponent. He broke his hand in a fight with a team equipment manager at a restaurant in Toronto the day before a non-competitive loss to the Raptors.
Gee, remember all of those fights with Utah Jazz equipment managers that Karl Malone got into during his 19 year NBA career? Oh that's right–he *never* got in a fight with a teammate, a coach, a team staff member or anyone else. All he did was average a double/double for his career during the most competitive era in NBA history. Sure, he went upside Isiah Thomas's head with his elbow but Zeke had it coming. That's why Malone was a warrior and a hall of famer and why Griffin is an overrated punk in a league full of them. Forget comparisons of the current vintage Golden State Warriors to Michael Jordan's Bulls. MJ had to play guys like John Stockton, Karl Malone, Patrick Ewing, Charles Barkley, Clyde Drexler and Kobe Bryant every night. The Warriors have to play guys like Blake Griffin and LeBron 'wahh my shin'…er….'wahh I don't like my coach' James every night. Golden State is an excellent team but we'll never know how good they are due to the negligible level of competition they play. And that negligible level of competition and the overpaid and underperforming babies that comprise it is why intelligent sports fans would rather watch replays of NHL hockey games than live NBA action.
Apparently the equipment manager–a guy named Matias Testi–is friends with Griffin. It's not apparent whether he was part of Griffin's 'entourage' that gravy trained his way into a job with the team or if he became a fawning supplicant after Griffin joined the team. For what it's worth, Griffin has 'apologized' and Doc Rivers called it 'frustrating' in the understatement of the century.