'Big Brother' Season 19 Finals Betting Odds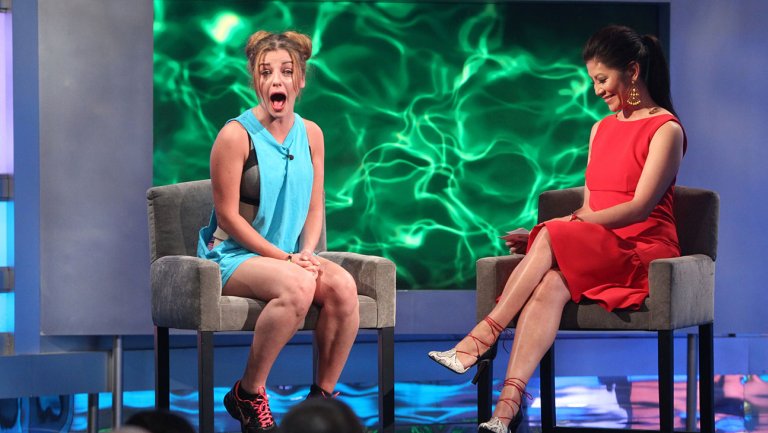 –'Big Brother' will return for a 20th season in 2018.
–'Big Brother' is a spin-off of a Dutch TV series of the same name.
–'Big Brother' airs Wednesday, Thursday and Sunday on CBS TV.
Did you ever have an experience that you were dreading, that was miserable while it was going on but after it was over you kind of missed it? Summer camp? Marriage? A prison stint? Something like that? That's basically the way I feel right now writing up the final set of 'Big Brother' odds for Season 19. I really dreaded doing the show this year and was constantly griping about it while it was going on. But now that we're on the cusp of determining the winner I'm thinking that I'll miss checking up on my 'adopted family' of hot chicks and tatted up dudes. Sure, there will be other reality shows–in fact, September is just chock full of reality shows that are starting and ending–but there was something unique about this dysfunctional bunch of 'Big Brother' contestants. It wasn't that they were particularly likable. To the contrary, the 'Big Brother' Season 19 crew might have been one of the most unctuous group of reality show competitors ever. In particular, Paul Abrahamian might be the biggest 'heel' since the original reality show villian Richard Hatch aka the winner of the first season of 'Survivor'.
Another big component of the 'Big Brother' Season 19 cast was Raven Walton. She was one of the most attractive women ever to grace a reality show cast, at least until she opened her mouth. In her official CBS bio she described herself as 'quirky, outgoing and bubbly'. She's definitely 'outgoing and bubbly' (every girl describes herself as 'quirky' no matter how bland and normal she might be) but she might be more than that–terms that 'Survivor' fans used to describe her included 'certifiably nuts','pathological liar','fraud' and 'scam artist'. She even prompted the creation of a Twitter hashtag #ravenexposedparty that attempted to 'fact check' her countless lies, exaggerations and general inaccuracies. Here's a partial list compiled by a fan on Reddit:
She claims to be a ghost hunter, but she was sh*tting bricks during horror challenge.
She hurt her foot and acted like she was snipped.
She has an inverted spine
She was being scouted for the Olympics but shattered her foot growth plate.
She has 20 different accents
She's a member of Mensa
Her mother says she's a virgin
She Lost a competition because her pacemaker was shaking
She was almost kidnapped
Claims Josh hit her with a pan
Claims Josh peaks on her in the shower
Cody tried to kiss her and she turned him down
Magnets pose a danger to her
She once got food poisoning from eating at outback
Her dance partner dropped her, resulting in stitches on her chin, a concussion, brain bleed, and blindness in her left eye.
She said her mom was struck by lighting
She said her mom ran a mile in 5 minutes, and currently holds the state record.
She said she needs surgery on her whole entire body, she's broken
She developed arthritis all of a sudden
She repeats everything Paul says.
Her GPA in College was "dance"
Here's an entire list of inaccuracies and exaggerations specific to her health issues:
Raven Walton health inaccuracies (TamaraTattles.com)
She's been accused of exaggerating her gastroparesis for attention:
Big Brother 19: Is Raven Walton exaggerating her gastroparesis for attention? (Fansided)
'Big Brother 19′ Raven Walton continues to say she's dying, has over 30 illness (BlastingNews.com)
and for personal financial gain:
BB19 Houseguest Caught Lying About Their Illness To Get Donations? (ConversationWorthy.com)
Big Brother 19 Spoilers: Is Raven Walton Using Her TWO Terminal Illnesses To Take Advantage of BB19 Fans?((CelebDirtyLaundry.com)
Her mom even got in on the act, encouraging Raven supporters to harass anyone online who criticized her daughter:
Big Brother 19 spoilers tease that Raven Walton's mother created a social war by encouraging her fans to attack those who didn't like her daughter. It all started on Sunday, July 23 when Raven's mother, Stacy Griffin-Sawyer, encouraged her Facebook friends to ruin Raven's haters' lives by reporting them to Child Protection Services and calling their place of employment to get them fired.
Mom and her friends encouraged fans to take this to ridiculous–not to mention illegal–extremes by doxing Raven's haters:
The social media war reached a boiling point resulting in Stacy's (Raven's mom) friend publishing confidential information about Raven's haters including their place of employment, residential address, and picture of their families. When asked to remove private information and pictures, they refused. They basically said that if it is public information, they will blast it all over social media. One of the Facebook users gave them a piece of good advice, but they refused to listen. The user explained that Big Brother fans could be relentless and to go to war with them would not be a good idea. It's best to ignore the offensive comments about Raven. Instead of seeing this as good advice, they decide to go to the user's profile and post pictures of her children.
Wow….anyway, there's still 'Celebrity Big Brother' to look forward to:
'CELEBRITY BIG BROTHER' ANNOUNCED
The other big news revealed during Season 19 was an announcement of the first ever US version of 'Celebrity Big Brother'. The first season of the spin-off will begin in Winter 2018 and as of yet no celebrities have been attached to the project. They've had 'Celebrity Big Brother' in the UK now and some of the celebrities featured have been Pamela Anderson, Gary Busey, Stephen Baldwin, Perez Hilton, Ivana Trump, and MTV's Spencer and Heidi Pratt. In other words, we're not talking about 'A Listers'. Or as Julie Chen puts it: "It's not going to be all Oscar winners."
Here's the final odds update for Season 19:
'BIG BROTHER' SEASON 19 PROPOSITION BETTING ODDS
TO WIN 'BIG BROTHER' SEASON 19
Paul Abrahamian: -350
Christmas Abbott: +225
Josh Martinez: +500
TO FINISH SECOND 'BIG BROTHER' SEASON 19
Christmas Abbott -120
Josh Martinez: +135
Paul Abrahamian: +250
TO FINISH THIRD 'BIG BROTHER' SEASON 19
Josh Martinez: -115
Christmas Abbott +125
Paul Abrahamian: +250
'BIG BROTHER' EXACTA
Paul/Christmas: -150
Christmas/Paul: +250
Paul/Josh: +500
Christmas/Josh: +750
Josh/Christmas: +1200
Josh/Paul: +1500
Winner and runner up in exact order
'BIG BROTHER' SEASON 19 FINALS PROPOSITION BETTING ODDS
FINAL RATING FOR THE WEDNESDAY, SEPTEMBER 20 'BIG BROTHER' EPISODE AS REPORTED AT 'TV BY THE NUMBERS'
Over 1.7: -150
Under 1.7: +130
FINAL SHARE FOR THE WEDNESDAY, SEPTEMBER 20 'BIG BROTHER' EPISODE AS REPORTED AT 'TV BY THE NUMBERS'
Over 1.7: -130
Under 1.7: +110
TOTAL VIEWERSHIP OF THE WEDNESDAY, SEPTEMBER 20 BIG BROTHER' EPISODE AS REPORTED AT 'TV BY THE NUMBERS'?
Over 6.25 million: -150
Under 6.25 million: +130
'BIG BROTHER' SEASON 19 FINISH POSITIONS
FOURTH PLACE: Kevin Schlehuber
FIFTH PLACE: Alex Ow
SIXTH PLACE: Raven Walton
SEVENTH PLACE: Jason Dent
EIGHTH PLACE: Matthew Clines
NINTH PLACE: Mark Jansen
TENTH PLACE: Elena Davies
ELEVENTH PLACE: Cody Nickson
TWELFTH PLACE: Jessica Graf
THIRTEENTH PLACE: Ramses Soto
FOURTEENTH PLACE: Dominique Cooper
FIFTEENTH PLACE: Jillian Parker
SIXTEENTH PLACE: Megan Lowder
SEVENTEENTH PLACE: Cameron Heard