ALDS Game 2: New York Looks to Bounce Back Against Favored Indians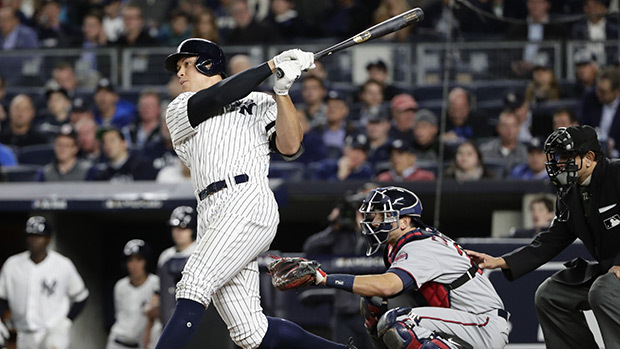 Who: New York Yankees v. Cleveland Indians
When: Friday October 6th, 2017 5:00PM EST
Where: Progressive Field—Cleveland, Ohio
In the AL Wild Card Game earlier this week, the Yankees' offense seemed to be unstoppable. After going down 3-0 in the top of the 1st inning, everyone was under the impression that it was going to be tough for New York to mount a comeback. Then, in the next half of the same frame, the game was tied within the blink of an eye. The offense continued to hammer the Twins' pitchers and ended up winning by a comfortable margin.
On Thursday, the Yankees traveled to Cleveland to take on the Indians in the first game of their ALDS and the offense we saw from New York was quite the opposite of what we had seen a few days earlier. Thanks, in large part, to the play of Trevor Bauer, who pitched just shy of 7 complete, scoreless innings, the Indians cruised to a 4-0 victory. Thanks to a quick turnaround, the Indians and Yankees will met again on Friday for Game 2 of their series.
Perhaps the biggest storyline so far is the fact that the Indians' best pitcher, Corey Kluber, did not get the start in Game 1. Rather, Terry Francona decided to save him for Game 2. At first, this decision was greeted by plenty of dirty looks, but now that we have seen what happened in Game 1 there are few people questioning Francona's decision-making. If the Yankees cannot get anything going tonight, they will run the risk of being dug into a hole that might be too deep to overcome. Things are not looking too good for the Bronx Bombers, if we are being honest, and it is going to take something special for them to advance through this series.
Game Overview and Analysis
When the Yankees (+206) take the field on Friday night, they will do say as fairly heavy underdogs. Taking the mound for New York will be 16-year veteran CC Sabathia (14-5 3.69 ERA). Despite his age, Sabathia has really turned things up this year, and especially towards the end of the season. He will be entering this game on the back of a 5-0 record that stretches back to the middle of August. The Yankees, an otherwise youthful team, are looking to the years and years of experience that Sabathia lays claim to. CC has not faced Cleveland this year, so it is tough to say how he might match up against their batters.
As for the Yankees offense, they need to really turn things around in Game 2. They did not manage even a single run in the series opener, and the team we saw put 8 past the Twins seemed nowhere to be found in Cleveland. Perhaps this is the Yankees' youth and inexperience shining through, or perhaps a momentary glitch. Their performance on Friday night will undoubtedly help us determine which of the two phrases is most applicable.
When the Indians (-230) take the field on Friday night, they will be regarded as heavy favorites primarily due to who they are sending to the mound. Corey Kluber (18-4 2.25 ERA) has been an absolute man amongst boys all season long, and has accrued a 10-1 record over the course of his final 12 starts of the season. Kluber does just about everything you want a starting pitcher to do. He strikes opponents out, doesn't give up runs, and can regularly last 7+ innings. There are very few MLB pitchers who can lay claim to even 2 of those 3 items, and Kluber is in command of the board.
Kluber has already faced New York once, and the stat figures from that game will be worrisome for Yankee fans. In his only start versus New York this year, Kluber pitched a complete 9 innings, gave up only one earned run, and struck out 11. In the entire game the Yankees managed only 3 hits.
Regardless of what the Indians' offense does, I think Kluber is more than capable of putting his team in a position to win. Whether the Indians score 1 or 10 runs, I am very much liking their chances of extending the lead in this series.
Betting Prediction
I do not love the (-230) odds being offered by BetOnline for this one, but I have to say that the Indians' moneyline is the correct one to take. To make a long story short, I think you would have to be foolish to bet against Kluber, especially when you consider his record over his most recent 12 starts.
The Indians are being touted as -1.5 run (-113) favorites in this matchup, and I think they should be able to cover. Between their ability to hit and Kluber's ability to keep opposing batters from hitting, I think the Indians should take care of New York rather easily for a second consecutive night.
Finally, there is the over/under, which is currently listed by BetOnline at an even 7 runs (-107/-113), Because of the sheer talent of both these pitchers, I think you should go with the under (-113) in this one. Having said that, this bet is as much of a toss-up as any seeing as both offenses have the power to score a lot of runs.