2017 Emmy Award Nomination Odds Limited Series/TV Movie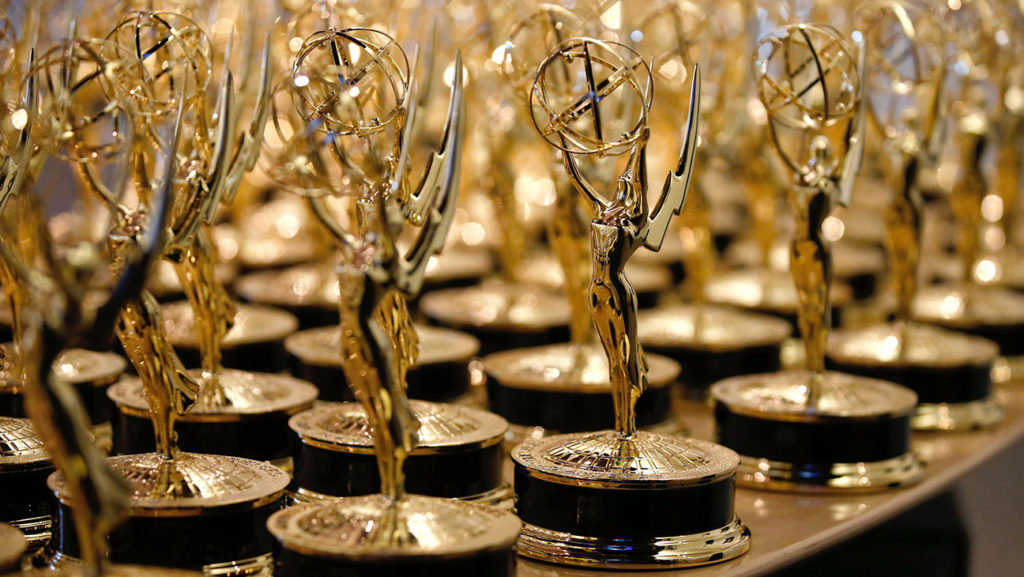 –The 2017 Emmy Awards will be held on September 17, 2017
–Stephen Colbert will host the Emmy Awards broadcast.
–Nominations will be announced on July 13, 2017.
We ran through the important dates in the history of the Emmy Awards in our previous article. The Primetime Emmys remains the 'marquee show' amid an almost impossible to quantify array of technical awards, news awards, regional awards, documentary awards, etc. The show first aired in 1949 and has been an annual event ever since.
Until 1974 the prime time shows were honored in an event called simply the 'Emmy Awards'. That was before a dedicated show and ceremony was created to honor daytime programming like soap operas and game shows. Thus the 'Daytime Emmys' were born forcing this show to become the 'Primetime Emmy Awards. Despite a dramatically changing broadcasting environment the Emmy Awards solider on honoring the best in prime time television.
THE HIGHEST QUALITY TELEVISION IN HISTORY?
While the legacy broadcast networks are trying to find a foothold in the new digital world all around them producers are creating a ton of great TV programming. There may be more quality TV programming on now than at any point in history. Take a look at the names on the nominee lists–there's dozens of high Q score 'A Listers' that twenty years ago wouldn't have touched television unless it was the only thing standing between them and financial insolvency. Today, it's not only a completely acceptable career move for an actor it actually has its own cachet.
CELEBRATION OF TELEVISION EXCELLENCE:
In this series of articles we'll look at the long list of potential nominees in the major categories and set some prices on which ones will be selected to compete for the Emmy Award therein. Nominations are announced on July 13, 2017 with the awards broadcast hosted by Steven Colbert set for September 17, 2017. For those of you scoring at home, a 'Limited Series' is what we used to call a 'miniseries' back in the day. According to Emmy rules it must consist of two or more episodes of at least 150 minutes in length and tell a complete closed ended story:
68TH PRIMETIME EMMY AWARD NOMINATIONS 2017 BETTING ODDS
TO BE NOMINATED FOR OUTSTANDING LIMITED SERIES
The Night Of: +175
Fargo: +250
Feud: Bette and Joan: +250
Big Little Lies: +450
When We Rise: +450
American Crime: +450
Genius: +750
Black Mirror: +1500
The Young Pope: +1750
American Horror Story: Roanoke: +1750
Gilmore Girls: A Year in the Life: +1750
Guerrilla: +1750
The Kennedys: After Camelot: +1750
Witness for the Prosecution: +2150
Shots Fired: +2150
Madiba: +2150
Mars:+3750
Emerald City: +3750
Crisis in Six Scenes: +3750
The White Princess: +3750
TO BE NOMINATED FOR OUTSTANDING TV MOVIE
Sherlock: +175
The Wizard of Lies: +175
Churchill's Secret: +450
Immortal Life of Henrietta Lacks: +450
Dark Angel: +550
Custody: +550
Killing Reagan: +950
Wild Oats: +1500
Looking: The Movie: +2750
Sister Cities: +2750
Anne of Green Gables: +3750
Beaches: +3750
Christmas of Many Colors: +3750
TO BE NOMINATED FOR OUTSTANDING MOVIE/MINI ACTRESS
Susan Sarandon: +250
Jessica Lange: +250
Reese Witherspoon: +450
Nicole Kidman: +450
Felicity Huffman: +450
Carrie Coon: +450
Viola Davis: +650
Michelle Pfeiffer: +650
Regina King: +650
Bryce Dallas Howard: +1500
Lauren Graham: +1750
Cynthia Nixon: +1750
Mary Louise Parker: +1750
Sanaa Lathan: +1750
Oprah Winfrey: +2100
Joanne Froggatt: +2100
Shirley MacLaine: +3750
Katie Holmes: +3750
Alexis Bledel: +3750
Idina Menzel: +3750
Freida Pinto: +3750
Jodie Comer: +3750
Nia Long: +3750
Maddie Baillio: +3750
Alyvia Alyn Lind: +3750
Andrea Riseborough: +3750
TO BE NOMINATED FOR OUTSTANDING MOVIE/MINI ACTOR
Robert De Niro: +250
Riz Ahmed: +350
John Turturro: +350
Ewan McGregor: +350
Geoffrey Rush: +650
Alfred Molina: +650
Benedict Cumberbatch: +650
Lawrence Fishburne: +750
Michael Gambon: +750
Guy Pearce: +1750
Jude Law: +1750
Benito Martinez: +1750
Harvey Fierstein: +1750
Toby Jones: +1750
Michael Kenneth Williams: +3750
Jonathan Groff: +3750
Woody Allen: +3750
Tim Matheson: +3750
Matthew Perry: +3750
Stephan James: +3750
TO BE NOMINATED FOR OUTSTANDING MOVIE/MINI SUPPORTING ACTRESS
Kathy Bates: +250
Judy Davis: +250
Ellen Burstyn: +450
Sarah Paulson: +450
Catherine Zeta-Jones: +450
Helen Hunt: +750
Laura Dern: +750
Mary Elizabeth Winstead: +1250
Adina Porter: +1650
Renee Elise Goldsberry: +1650
Shailene Woodley: +1650
Rose Byrne: +1650
Lili Taylor: +1750
Sandra Oh: +1750
Alison Wright: +1750
Lindsay Duncan: +1750
Emily Watson: +1750
Diane Keaton: +1850
Angela Bassett: +1850
Jennifer Hudson: +1850
Rachel Griffiths: +1850
Cherry Jones: +1850
Emily Skeggs: +1850
Jeannie Berlin: +2150
Kelly Bishop: +3250
Jacki Weaver: +3250
Lily Rabe: +3250
Ariana Grande: +3250
Jackie Hoffman: +3250
Miley Cyrus: +3750
Hayden Panettiere: +3750
Carrie Preston: +3750
Jennifer Nettles: +3750
Romola Garai: +3750
Kim Cattrall: +3750
Demi Moore: +4250
Jessica Lange: +4250
Elaine May: +4250
Rosie O'Donnell: +4500
Whoopi Goldberg: +4500
TO BE NOMINATED FOR OUTSTANDING MOVIE/MINI SUPPORTING ACTOR
Martin Freeman: +350
Hank Azaria: +350
Stanley Tucci: +350
Courtney B. Vance: +450
Michael Stuhlbarg: +750
David Thewlis: +750
Idris Elba: +1500
Richard Cabral: +1650
Cuba Gooding, Jr: +1650
Connor Jessup: +1650
Richard Dreyfuss: +1650
Austin McKenzie: +1650
James Cromwell: +1750
Martin Short: +1750
Alexander Skarsgard: +2500
Jim Gaffigan: +2500
Michael Kenneth Williams: +2500
Andre Holland: +3450
Paul Sparks: +3450
Denis O'Hare: +3750
Will Patton: +3750
Martin Sheen: +3750
Ricky Schroder: +3750