2017 Academy Awards Post Nomination Betting Odds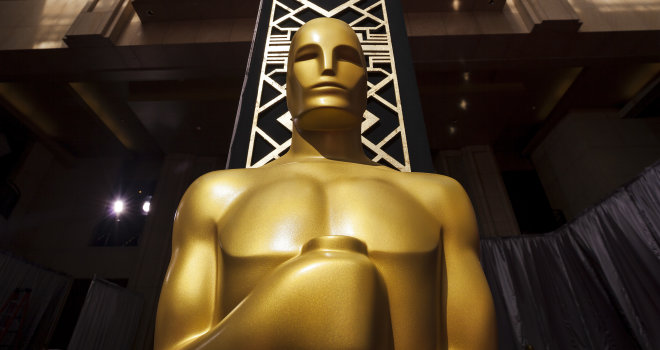 –The 89th Annual Academy Awards will be held on February 26, 2017.
– 'La La Land' is nominated for 14 Academy Awards equaling 'Titanic' and 'All About Eve' for most ever.
– There are 7 first time nominees in the Academy Awards' four acting categories.
The 89th Annual Academy Awards will take place on February 26, 2017 at the Dolby Theater in Los Angeles. Jimmy Kimmel will serve as this year's host as the Academy of Motion Picture Arts and Sciences (AMPAS) honors 'excellence in cinematic achievements' by handing out their iconic 'Oscar' statuettes. The statuettes 'real name' is the 'Academy Award of Merit' but they long ago co-opted the 'Oscar' moniker and relegated the 'official' designation to the status of 'trivia question answer'.
Awards shows are fun events for betting since they combine the best of both worlds. There's plenty of statistically based betting propositions in the awards in the various categories but there's also plenty of room for fun 'novelty' type wagers. I'm already working on a wide variety of 'novelty' bets for the Academy Awards but first things first–with the nominations having been released on January 24 it's necessary to update the odds in the major categories and add in the lower profile ones honoring technical achievement.
'LA LA LAND' COULD DOMINATE THE 2017 OSCARS
'La La Land' has not only run roughshod over the 'precursor' awards held to date it's already made Academy Award history. The film about struggling artists trying to make it in Los Angeles racked up 14 nominations and puts 'La La Land' in a three-way tie with 'Titanic' and 'All About Eve' for most ever. It has a great chance to lay to waste the Academy Awards as well since Hollywood types love 'self referential' films about their industry. It also benefits from being a light hearted and enjoyable film in a year where there's not a really formidable challenger across all of the awards categories.
Other storylines in the 2017 Academy Awards–if it seems like Meryl Streep has been nominated every year since you can remember it's because she more or less has. She's nominated for 'Best Actress' again this year for her performance in 'Florence Foster Jenkins' and while she's not given a great chance to win (I've got her at +3500) it's noteworthy for being her twentieth career nomination. She's been nominated for 'Best Actress' sixteen times and 'Best Supporting Actress' four times. Streep not only holds the record for most nominations by an actor she's essentially the Wayne Gretzky of the thespian set–no one else is even close. Number two is a tie between Bette Davis and Jack Nicholson who have twelve each (and since Nicholson hasn't appeared in a film since 2010 it's unlikely he's taking a run at Streep at age 79). Al Pacino has 8 and that's the best of any 'active' actor. After that, there's a bunch of actors with 7 including the still active Cate Blanchett, Denzel Washington, Kate Winslet, Robert De Niro and Jeff Bridges. Considering that some of the best actors of the past few decades like Gene Hackman, Tom Hanks, Sean Penn and Daniel Day-Lewis have only five nominations and you start to realize what a massive accomplishment it is to rack up 20. It doesn't look like anyone else will come close for a long time–35 year old Natalie Portman has three as do 42 year old Joaquin Phoenix, 43 year old Christian Bale and 47 year old Edward Norton.
Mel Gibson has successfully overcome his decade or so of controversy and boorish behavior and is nominated for 'Best Director' (Hacksaw Ridge). That makes it 21 years since Gibson was last nominated–that was back in 1996 when he won Best Director and Best Picture for 'Braveheart'. At the other end of the spectrum, there are seven first time nominees in the four acting categories including 20 year old Lucas Hedges (Best Supporting Actor in 'Manchester by the Sea). Lin-Manuel Miranda is nominated for 'Best Original Song' and a win would put him among a dozen other people including Rita Moreno, Helen Hays and Audrey Hepburn who have won an Oscar, Tony, Grammy and Emmy Award.
TO WIN ODDS FOR THE 89TH ANNUAL ACADEMY AWARDS
Film to win the Academy Award for 'Best Picture'
La La Land: -750
Moonlight: +1250
Hidden Figures: +1500
Manchester By The Sea: +2500
Lion: +5500
Arrival: +5500
Hacksaw Ridge: +6500
Hell or High Water: +7500
Fences: +7500
Director to win the Academy Award for 'Best Director'
Damien Chazelle (La La Land): -750
Barry Jenkins (Moonlight) +500
Kenneth Lonergan (Manchester by the Sea): +4500
Mel Gibson (Hacksaw Ridge): +6000
Denis Villeneuve (Arrival): +6000
Actor to win the Academy Award for 'Best Actor'
Casey Affleck (Manchester By The Sea): -150
Denzel Washington (Fences): +175
Ryan Gosling (La La Land): +1200
Andrew Garfield (Hacksaw Ridge): +2100
Viggo Mortensen (Captain Fantastic): +3500
Actress to win the Academy Award for 'Best Actress'
Emma Stone(La La Land): -250
Natalie Portman (Jackie): +450
Isabelle Huppert(Elle): +450
Meryl Streep(Florence Foster Jenkins): +3500
Ruth Negga(Loving): +4500
Actor to win the Academy Award for 'Best Supporting Actor'
Mahershala Ali(Moonlight): -450
Dev Patel(Lion): +750
Jeff Bridges(Hell or High Water): +1250
Michael Shannon(Nocturnal Animal): +1250
Lucas Hedges(Manchester by the Sea): +2750
Actress to win the Academy Award for 'Best Supporting Actress'
Viola Davis(Fences): -1250
Michelle Williams(Manchester By The Sea): +1750
Naomie Harris(Moonlight): +1750
Octavia Spencer (Hidden Figures): +2500
Nicole Kidman(Lion): +2750
Winner of the Academy Award for 'Best Original Screenplay
La La Land: -250
Manchester by the Sea: +175
The Lobster: +3500
Hell or High Water: +5000
20th Century Women: +6000
Winner of the Academy Award for 'Best Adapted Screenplay'
Moonlight: -550
Arrival: +750
Hidden Figures: +1250
Fences: +1750
Lion: +3000
Film to win the Academy Award for 'Best Animated Feature'
Zootopia: -750
Kubo and the Two Strings: +900
Moana: +1250
My Life as a Zucchini: +3000
The Red Turtle: +3000
Film to win the Academy Award for 'Best Cinematography'
La La Land: -750
Moonlight: +950
Arrival: +1250
Lion: +2500
Silence: +3500
Film to win the Academy Award for 'Best Costume Design'
La La Land: -250
Jackie: +450
Fantastic Beasts and Where to Find Them: +750
Allied: +1500
Florence Foster Jenkins: +1750
Film to win the Academy Award for 'Best Feature Documentary'
OJ: Made in America: -450
13th: +750
I Am Not Your Negro: +750
Life, Animated: +2500
Fire at Sea: +3750
Film to win the Academy Award for 'Best Short Subject Documentary'
Joe's Violin: 175
Extremis: +150
The White Helmets: +750
4.1 Miles +2500
Watani: My Homeland: +2750
Film to win the Academy Award for 'Best Film Editing'
La La Land: -950
Moonlight: +1500
Arrival: +1500
Hacksaw Ridge: +1500
Hell or High Water: +2500
Film to win the Academy Award for 'Best Foreign Language Film'
The Salesman: -110
Toni Erdmann: +125
A Man Called Ove: +750
Tanna: +5000
Land of Mine: +5000
Film to win the Academy Award for 'Best Makeup and Hairstyling'
Star Trek Beyond: -400
Suicide Squad: +500
A Man Called Ove: +500
Film to win the Academy Award for 'Best Original Score'
La La Land: -2150
Moonlight: +1500
Passengers: +2500
Lion: +2500
Jackie: +2500
To win the Academy Award for 'Best Original Song'
"City Of Stars" (La La Land): -500
"Audition (The Fools Who Dream)"(La La Land): +950
"How Far I'll Go" (Moana): +950
"Can't Stop The Feeling" (Trolls): +1750
"The Empty Chair" (Jim: The James Foley Story): +2500
Film to win the Academy Award for 'Best Production Design'
La La Land: -950
Fantastic Beasts and Where to Find Them: +1500
Arrival: +1500
Hail, Caesar!: +2000
Passengers: +2500
Film to win the Academy Award for 'Best Animated Short'
Piper: -350
Blind Vaysha: +750
Borrowed Time: +1500
Pear Cider and Cigarettes: +2500
Pearl: +3500
Film to win the Academy Award for 'Best Live Action Short'
Ennemis Intérieurs: -150
Time Code: +250
Sing: +700
La Femme et le TGV: +1200
Silent Nights: +1750
Film to win the Academy Award for 'Best Sound Editing'
Hacksaw Ridge: -200
La La Land: +350
Arrival: +500
Deepwater Horizon: +4000
Sully: +5000
Film to win the Academy Award for 'Best Sound Mixing'
La La Land: -650
Hacksaw Ridge: +750
Arrival: +1500
Rogue One: A Star Wars Story: +3500
13 Hours: The Secret Soldiers of Benghazi: +7000
Film to win the Academy Award for 'Best Visual Effects'
The Jungle Book: -450
Rogue One: A Star Wars Story: +850
Deepwater Horizon: +2100
Doctor Strange: +2500
Kubo and the Two Strings: +3500