10 Times JR Smith Almost Derailed His Career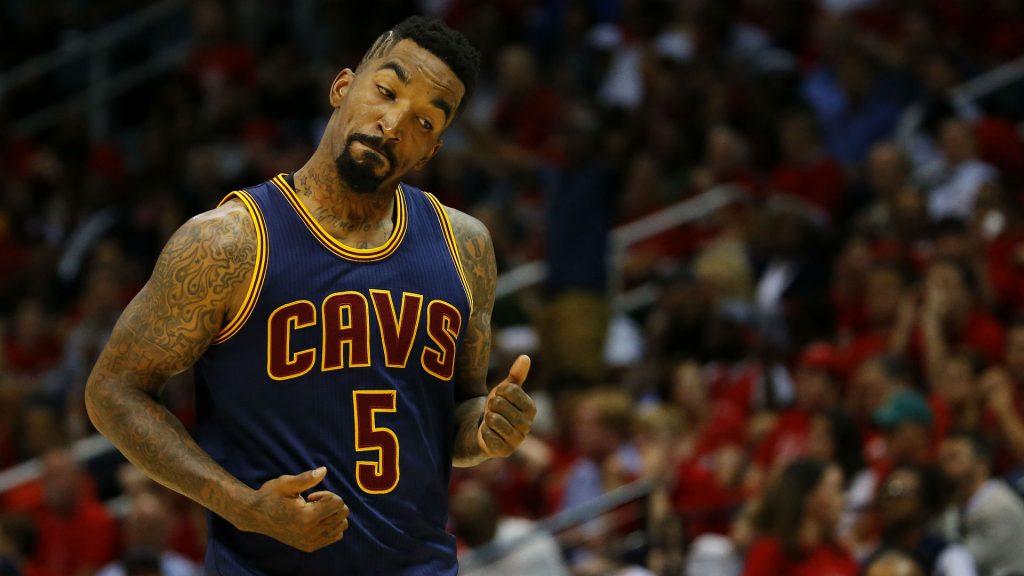 At an age when many NBA players are on their way out of the league and wondering where their money went, J.R. Smith signed what's easily the richest contract of his career.
The 31-year-old Smith signed a 4-year, $57-million deal with the Cleveland Cavaliers, which makes him the 10th-highest paid shooting guard in the league.
Looking back on Smith's career, it's almost hard to believe that the 12-year veteran has made it this far. From motor-scooter arrests to drama in China, Smith has had plenty of incidents that have almost derailed him.
That said, let's look at 10 times that Smith nearly sent his basketball career into the tubes.
1. Smith Suspended for Nuggets/Knicks Brawl in 2006
While Smith has had may trials and tribulations, the one that brought him the biggest suspension was a brawl between his team, the Denver Nuggets, and the New York Knicks.
Driving to the basket, Smith drew a flagrant foul from the Knicks Mardy Collins. Smith jumped up and got in Collins' face, which drew both teams to the court. Smith and Nate Robinson then got into a scuffle and had to be separated. JR would be suspended 10 games for the melee, and he also suffered a torn meniscus during the foul/fight that caused him to miss several weeks.
2. Smith Gets Into Car Wreck, Ejected from Car
On June 9, 2007, Smith ran a stop sign in his SUV and collided with another car. Smith and a passenger, Andre Bell, were ejected from the car because they weren't wearing seat belts. Smith was lucky to have avoided life-threatening injuries, but Bell died from head injuries.
Prosecutors didn't pursue Smith on vehicular manslaughter charges, but he was sentenced to 90 days in Monmouth County (NJ) jail. Smith was later released after serving 24 days in jail and completing 500 hours of community service.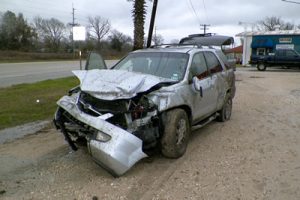 3. Carmelo Anthony and Smith Get Into an Accident
Just months prior to the fatal car crash, Smith and (then) Denver Nuggets teammate Carmelo Anthony were involved in an accident on February 2, 2007. Neither player was hurt and no charges were filed. But this crash would play into the next problem.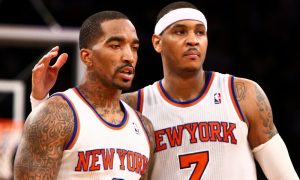 4. NBA Suspends Smith for Poor Driving Record
Smith's fatal accident case finally wrapped up in 2009. The NBA then chose to suspend him for seven games for the 2009-10 season, citing his poor driving record.
One can't argue with the NBA, given that Smith was involved in two wrecks, had eight speeding violations, and had his license was suspended 5 times within 8 months.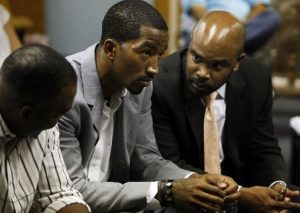 5. Chinese Team Fines Smith $1m for Missing Practices & Faking Injury
During the 2011 NBA lockout, JR Smith decided to make some extra cash by playing in the Chinese Basketball Association. He signed a record deal with the Zhejiang Chouzhou Golden Bulls worth $3 million and appeared to be well worth the money, averaging 34.4 points while shooting 47.8% from the three-point line.
But beneath the numbers, the Golden Bulls were pissed at Smith for missing practices and reportedly faking an injury. They withheld $1,078,500 of his salary, claiming that Smith missed 80 practices over 4 months. As if this wasn't enough, he was also forced to send his sister, Stephanie, home after she got in two fights with opposing fans.
6. NBA Fines Smith for Posting Model on His Twitter Account
Wanting to express his love of booty, Smith tweeted a picture of model Tahiry Jose wearing a thong in his bed, with the caption: "I can't watch the game like this! Damn you @TheRealTahiry."
The smitten JR was fined $25,000 by the NBA for posting inappropriate content. He quickly deleted the tweet and apologized for the distraction he caused the New York Knicks.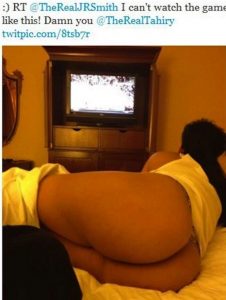 7. Smith Arrested for Riding a Motor-Scooter
Apparently, you can't even ride a motor-scooter when your license is suspended. Smith found this out the hard way in 2012, when he was arrested in Miami for riding a scooter without a valid license. Having already suspended Smith in 2010, the NBA overlooked this incident.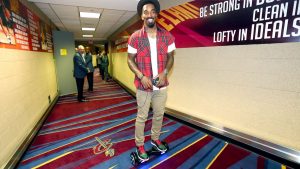 8. George Karl Has No Idea What Planet Smith Comes From
During his 2006-07 campaign with the Denver Nuggets, JR Smith made his first trip to the postseason. Unfortunately, this was nothing like his 2015 championship run with the Cleveland Cavaliers as he failed to make a single three-pointer in four games.
One three-point miss in particular drew coach George Karl's ire, as JR took it upon himself to win Game 4. The only problem is that the play was supposed to Carmelo Anthony or Allen Iverson.
"He's done, I have no idea what planet that came from," said Karl. "And then, of course the one with eight seconds to go, from 50 feet, I just love the dignity of the game being insulted right in front of me."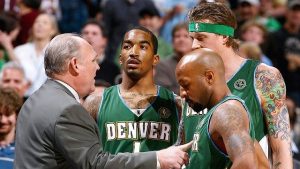 9. Smith Suspended for Nightclub Incident
In 2007, Smith ran into more trouble at a Denver nightclub after being charged with disturbing the peace and destruction of property. The Nuggets suspended Smith for three games to open the 2007-08 NBA season.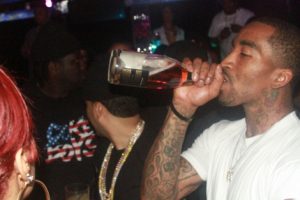 10. Smith Fined for Repeatedly Untying Opponents' Shoelaces
JR Smith has never been a conventional player, and perhaps nothing highlights this better than the final incident on this list. Smith was fined $50,000 for unsportsmanlike conduct as he continually untied opponents' shoelaces. The same season saw him suspended for 5 games after he violated the NBA's anti-drug policy.
Following the 2014 season, he was shipped from the Knicks to the Cavaliers as a throw-in piece. But as he showed in helping Cleveland win the 2015 NBA Championship, Smith is certainly no throw-in.